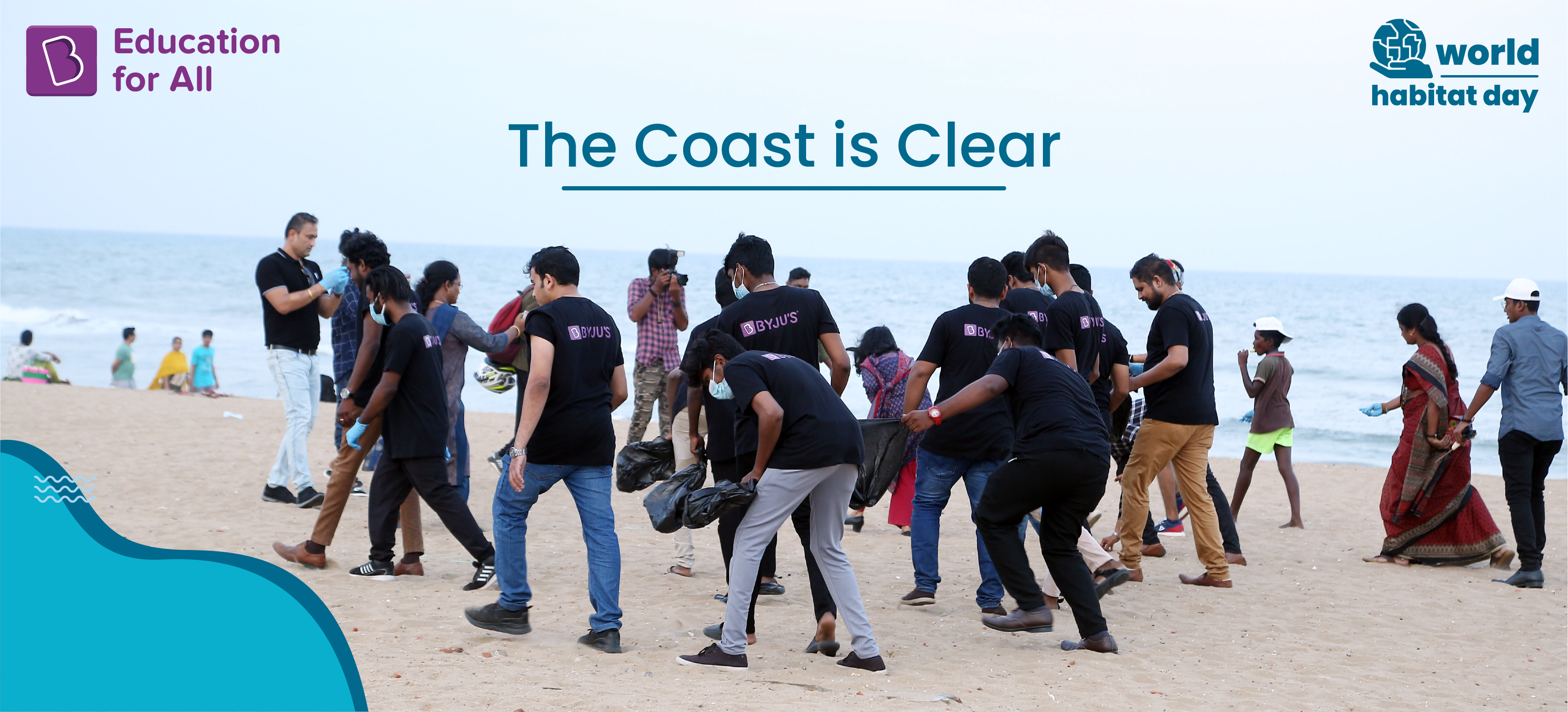 In the last decade, single-use plastics have been found in places they are not meant to be – lodged over a turtle's head, tangled within a whale's belly, or scattered across the coastal ecosystem. The increased usage of this material for a temporary period has worsened the state of landfills, too.
Different ecosystems and habitats have also taken a hit with the continued usage of these single-use plastics. Being an aesthetic favourite, beaches have seen countless plastic covers, plastic bottles, and others contaminate their vast expanse.
To combat this growing problem one step at a time, Walk for Plastic organised a clean-up of the Neelangkarai Beach, Chennai, for a distance of 100 metres. Our BYJUites at Chennai, too, participated in this cleanup.
On World Habitat Day, we share their experiences of making the beach cleaner and the coast clearer. As a part of this initiative, our volunteers shared three tabs with underprivileged children, who are also members of Walk for Plastic.
"Picnicking on the beach is a popular summer activity, and the large crowds that travel to the beach to spend a carefree day rarely look at the waste they leave behind. As a result, our beaches get littered with debris ranging from gum wrappers to soda cans. Most of these goods are swept away by the sea during high tide and cause immeasurable suffering to marine life," shares Jagadesh Kumar D, Sales.
He adds, "As a part of this beach cleaning activity, we collected all the wastes on the beach and differentiated the wastes by explaining the harmfulness to the living organisms."
"The beach clean-up activity was a one-of-a-kind experience that we all had. Seeing many people come together for a common cause and spread awareness was terrific. These little things give us pride in being a part of BYJU'S. We had an immense understanding of how every small action we take can contribute greatly towards the wellbeing of the environment," says Aswin K, HRBP.
He adds, "We don't have to plant acres of trees and donate lakhs for a good cause. Instead, if we can segregate our wastes at home, that itself is a major contribution."
The cleanup idea was to walk the distance and clean up the trash along the way, called "plogging".
While these trash workouts are one form of clean-up, Abishek Ranjan, Sales Operations, says that the whole idea of cleaning itself starts at home. "It is our responsibility to reduce the waste production by avoiding single-use materials even wood contributes to environmental imbalance."
"The beach cleaning activity was an excellent experience for me. I came to learn certain things, including what we can do to save mother nature, how we can reduce plastic usage, and how one can take the initiative starting from their own homes," Wrishov Sarkar, Sales, shares his experience.
"When I learned about the event from my manager, it was also the first time I heard the term "plogging". Through this beach plogging activity, one of the major waste we encountered was plastic waste. This opened my eyes to the sheer quantity of single-use plastic wastes," says Bikash Samantray, Sales, adding that the overall clean-up experience was great.
This is just one of the milestones for the volunteers at BYJU'S, among the many to come. We truly hope to make a difference with our combined efforts.
---
BYJU'S Education for All is reaching out to underprivileged children across India. Through the BYJU'S Give programme, you can contribute to this mission and help children with quality digital learning. You can donate an old device, which we will refurbish, and then use the money raised to buy a new device. In case you do not have a device, you can also donate to an NGO partner, who will use the money to buy devices for children.
In both cases, we will load our BYJU'S Think & Learn Premium content onto these devices and distribute them to children in need.
Also Read: How BYJUites Planted the Seeds for a Better Future