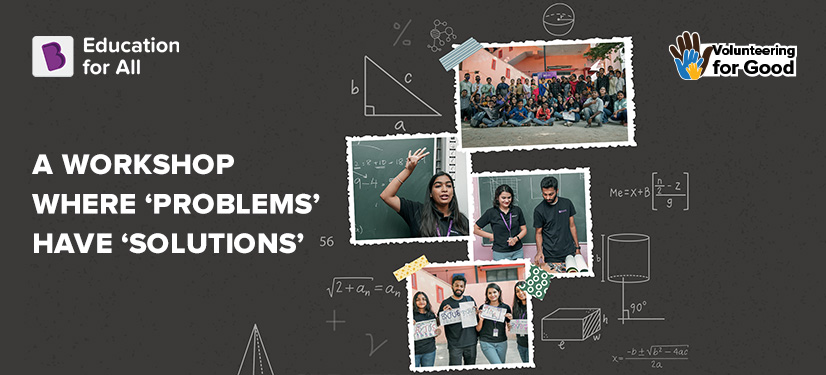 Mathematics Day is commemorated every year on December 22 to celebrate the birth anniversary of Srinivas Ramanujan, an Indian mathematician. Ramanujan is regarded as one of the greatest mathematicians of all time and has published over 4,000 theorems in mathematics.
In the field of Mathematics, his contributions go deep into number theory, mathematical analysis, continued fractions and infinite series. Though he died young, Ramanujan has left a mathematical legacy for the world to remember.
On this day, BYJUites celebrated Ramanujan's birthday with some maths-related engaging activities together with the children of Samarthanam High School, Hulimavu, Bengaluru. They conducted a workshop with entertaining games, riddles and quizzes for children aged 7-15.
"It was incredibly heartening to see the children pipe up with exciting questions and comments during our activities. They were eager to learn, and their excitement about numbers and shapes was wholesome. Even though so many kids struggle with maths anxiety, we at BYJU'S think that learning maths is about more than just memorising equations and formulas; it's also about understanding how the world functions and how you can use what you learn to improve it," said Vishwati K V, Marketing Associate.
"This interactive workshop helped students understand the importance of maths and how amusing it can be to learn. We had fun playing games, solving riddles, and doing group activities. Along with the students, we had a wonderful time, too. We were truly delighted to celebrate National Mathematics Day with these young minds," Athul Thadathil, Senior Academic Specialist, shared.
Suman Mishra, Senior Content Associate, Mathematics, said, "For me, mathematics has always been a super fun subject! I was so happy to see how much the children loved the live, hands-on workshop that my co-workers and I had meticulously planned. As always, we were able to make it a fun experience for the kids."
"It was such a valuable experience for us, too, because we got to make a change in these kids' lives. We cleared so many of their existing doubts, all while teaching new concepts as well," shared Shrishti Singh, Senior Content Associate.
Other Activities in December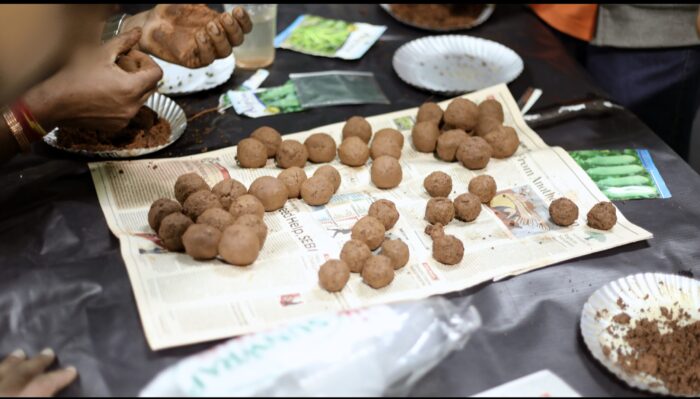 In association with The Akshaya Patra Foundation, BYJUites made seed balls at IBC Knowledge Park, Bangalore, a step towards spreading the green cover. Seed balls are marble-sized balls formed by combining dry red clay, compost, native wildflower, grass seeds and water. They are rolled by hand and dried to be sewn outside to repopulate an area with native plants. Seed balls are effective ways to reclaim the green cover in barren spaces.
Deepanjan Mitra, Senior Associate, who lent a helping hand in the cause shared, "The seed balls that we made can be dropped anywhere while travelling or provided to government schools to help them create a green environment. It was a great learning experience for all of us, and I enjoyed learning about the importance and benefits of seed balls for the environment."
"We are keen on learning and developing towards sustainable living, and this was the best opportunity for us. It gave me immense pleasure to learn and build for a better tomorrow. Let us all do our best to create a better environment for the future," said Bubhuti Kumari, Senior Business Analyst.
BYJUites have always been at the front to make a difference in the lives of children. BYJU'S Education for All hopes to organise many more such endeavours to impact the world with learning.
---
BYJU'S Education for All is on a mission to empower 10 million children by 2025 with education. Through the BYJU'S Give programme, you can contribute to this movement and help children with quality digital learning. You can donate an old device, which we will refurbish, and then use the money raised to buy a new device. In case you do not have a device, you can also donate to an NGO partner, who will use the funds to buy devices for children.
In both cases, we will load our BYJU'S Think & Learn premium content onto these devices and distribute them to children in need.
Also read: BYJUites Craft a Warm Christmas for Children in Need