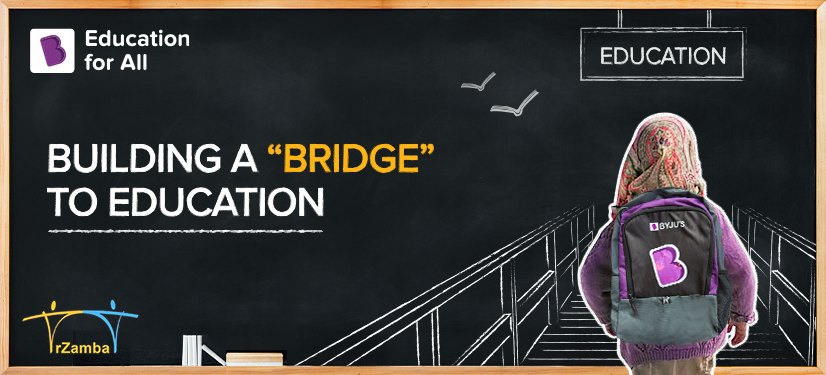 Spread across an expanse of two square kilometres on the country's border is the city of Kargil, home to a small population of Indians. While things have changed drastically since the tragic war memoirs of 1999, the fear-mongering stereotype has been no boon for the last 20 years.
While one can behold the breathtaking backdrop of the snowy mountains against the blue skies, the terrain has a different story to tell. What's concerning is that in addition to this rugged landscape, development has been sparse in Kargil, especially in the fields of education and health. And for the underserved communities of the district, education has been the least of their priorities.
But a group of friends brought in a ray of hope when they decided to change the face of education in Kargil in 2015. Led by Stanzin Saldon, the team volunteered to help the Government Higher Secondary School in Drass near Kargil, with workshops regarding adolescent health and wellbeing, non-violent communication, among others.
"We initiated a pilot project on health and sanitation. We constructed toilets for almost 300 girl students and tried to streamline the health and sanitation processes in the schools," Stanzin tells Team BYJU'S.
"During that time period, we got to experience all the challenges of working in Kargil, especially in terms of education," she adds.
While its neighbour, Leh was slowly flourishing with tourism and the subsequent support from the government, Stanzin says that Kargil's socio-economic position wasn't as favourable and this is reflected in the education system as well.
Stanzin further shares that Kargil mostly has government-run schools, while Leh has been seeing privatisation of education. In fact, the teacher-student ratio in comparison is also quite mediocre.
Furthermore, most of the schools are only functional from April to October, because when the winter sets in, the cold poses its own set of challenges. The roads get closed due to the heavy snowfall creating logistical problems.
So, in the two years that followed, they volunteered with other existing organisations and began to discover the best approach for working with government schools.
They wanted to build a programme that was multi-pronged and multi-dimensional. That's when they laid the foundation for rZamba Trust in 2017. 'rZamba' is a word that translates to 'bridge' in the Balti language, metaphorical of building a bridge to education, health, livelihood, environment, gender equality, leadership and culture.
In 2018, rZamba commenced the intensive engagement and assessment of the children in a few Higher Secondary Government Schools.
"When we conducted a basic literacy assessment, we learnt that about 70 percent of the children weren't able to read even a single sentence in English in one go. As a solution, they'd mug up the questions as they didn't know how to pass otherwise," Stanzin explains.
"Cheating became so prominent that even the community encouraged it to ensure that the students would pass."
A Model for Improvement
The team wanted to figure out a process for changing the system. A fully functional library was the first step in this direction. The libraries that were set up in the four schools they worked with, soon began to see results. Children slowly started to build interest in reading, and also developed a different perspective towards their learning.
However, the challenges kept coming. The Jammu and Kashmir Abrogation in 2019 slowed things down, with a lack of communication and hindrances in logistics.
"Kargil is closer to Pakistan while Leh is closer to China, so whenever something happens on the borders, it used to affect us directly or indirectly in many ways," says Stanzin Saldon.
However, the team slowly and steadily moved forward.
In addition to the libraries, rZamba also introduced project-based learning to work on children's foundational literacy and numeracy, along with student leadership programmes into the school curriculum. It also supported the school leaders with resources to conduct workshops along these lines.
"We saw a lot of changes through the little work we started doing with our assessments. There were more frequent visitors to the library. We also started conducting capacity building sessions for the teachers in terms of creating holistic learning environments in the school."
Community Building
rZamba didn't limit their work to just the children, but also the other members of the villages through parent-teacher conferences and village committees. In fact, they would even invite the elders to the library for engaging storytelling sessions. This way the whole village was involved in the upliftment of the children through learning.
"Our model now functions as a child-building programme, where we adopt a village itself through the school programmes," says Stanzin.
With their 30 member team, rZamba caters to about 4000 kids across different villages in and around Kargil. It is also interesting to note that 65-70 percent of these government school children are girls.
While things were running smoothly, the COVID-19 pandemic put everything to a standstill.
Another Challenge, Accepted!
With villages being miles apart, there was little to no fear of the infection spreading. However, logistics, as usual, became a challenge.
But rZamba continued its support to those villages by commencing the Learning at the Doorstep Initiative and continued its project-based learning approach. Through this initiative, they reached about 500 kids from 10 villages with the help of several learning facilitators.
Additionally, the lack of internet facilities was also an issue. So, they sent printed resources to the facilitators, who would then teach the children through these offline resources. They would then share a timely report with the team about the progress.
Digital Learning with BYJU'S Education for All
BYJU'S Education for All is on a mission to transform the lives of children with digital learning. We hope to reach more than 5 million children by 2025, and this can be achieved through our NGO partners like rZamba.
Through this partnership, BYJU'S EFA has provided the NGO with the Think & Learn Premium licences for individual children. Stanzin says that this Digital Learning Enhancement programme with BYJU'S EFA will help around 3500 children with digital content. About 1500 licences have been activated so far, and more will be activated once schools reopen in March this year.
Stanzin shares, "However, for those areas where there is limited internet access, we are in talks with the governing bodies to set up a smart classroom in schools with the BYJU'S Android box, so that children can access the content from this hub."
"We are also hoping to do more with the partnership and contextualise the content with respect to Ladakh, Leh and Kargil," she signs off.
While things have been looking bleak in these trying times, BYJU'S EFA is trying to fill the void and ensure that more children can get back to learning. With each partnership, we truly hope to make a difference by taking them a step closer to a better future.
---
BYJU'S Education for All is reaching out to underprivileged children across India. Through the BYJU'S Give programme, you can contribute to this mission and help children with quality digital learning. You can donate an old device, which we will refurbish, and then use the money raised to buy a new device. In case you do not have a device, you can also donate to an NGO partner, who will use the money to buy devices for children.
In both cases, we will load our BYJU'S Think & Learn Premium content onto these devices and distribute them to children in need.
Also Read: "Bridging" the Learning Gap with Bal Utsav