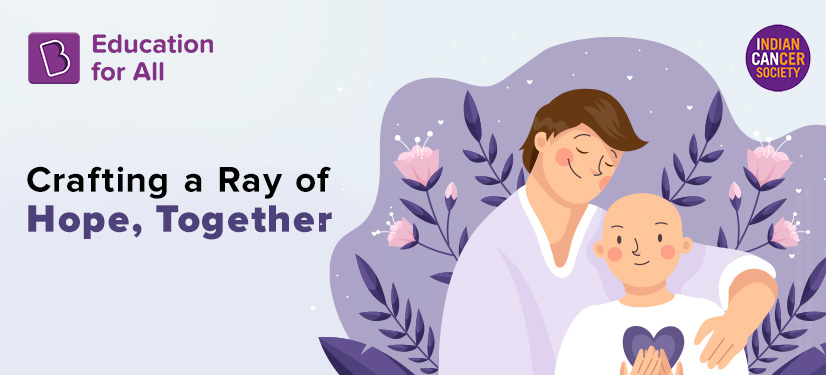 Cancer is the second-leading cause of fatalities across the world. It is a condition where the body's cells divide uncontrollably which can ultimately damage the body's systems.
Millions of lives can be saved by creating awareness for prevention, early detection, and treatment. With such a mission on their mind, the Indian Cancer Society (ICS) was formed.
Established in 1951 by Dr. D.J. Jussawalla and Mr. Naval Tata, ICS is India's first voluntary, non-profit, National Organization for Awareness, Detection, Cure, and Survivorship of those affected with this disease.
Since its inception, the Mumbai-headquartered organisation has been fighting cancer across India and has been a ray of hope for thousands of underprivileged cancer patients.
"Most of the patients come to us from all over the country and can't afford two meals a day. In such cases undergoing treatment is beyond their capacity," says Madhav Nene, Director – Marketing, ICS.
"The society is entirely dependent on public support for its various activities concerned with financing the treatment and rehabilitation of cancer patients and for spreading cancer awareness and its early detection," he adds.
Affordable Cancer Care
Indian Cancer Society works under two main verticals – awareness, screening, treatment, and cure of cancer, cancer insurance, survivorship and rehabilitation, Medical Education, Registry & Research.
While cancer is a severe concern for the affected, it becomes very important to spread awareness about the same. ICS aims to educate at least 50% of the Indian adult population about cancer awareness in the next 5-10 years.
"We also conduct regular screening to propagate the successful sustainable treatment support model of offering cures to the poor and expand in States where CCF does not have a footprint. We also increase the outreach through a special insurance coverage for low-income families afflicted by cancer but not covered by Government programmes," says Madhav.
ICS also advocates and establishes its survivorship model in as many hospitals and also enhances rehabilitation measures through re-skilling agencies.
Another vertical of Medical Education, Registry & Research creates a unique Medical Education Program targeting Primary Care physicians across India, and integrates them into the cancer care and cure ecosystem.
"Through our initiatives, we reach out to children between ages 5 to 18 years affected by cancer, and adults between 18 to 65 years. In the last 10 years, ICS has supported more than 16000+ patients," Madhav shares.
Education for Children with Cancer
While most children with cancer undergo treatment, their education gets compromised. However, with a little additional support, these children are sure to soar the skies.
BYJU'S Education for All is proud to have partnered with the Indian Cancer Society to help these students with access to education.
"The partnership with BYJU's Education for All is important to us and is an important leg of our Survivorship programme. It is a great support for students in their education. The beginning has been good and we see a lot of potential going forward, especially for students from classes 4 to 12," Madhav says.
National Cancer Awareness Day is celebrated on November 7 every year, on the occasion of the birthday of renowned scientist, Marie Curie.
Sharing his thoughts on the event, Madhav shares, "Prevention is better than cure. Cancer is treatable when detected early. We should not fear but ensure regular health check-ups to stay two steps ahead of cancer."
BYJU'S Education for All hopes to reach millions of children across India, who do not have access to education. Through our NGO partners and non-profits like ICS, we are working towards making education a reality for children across different walks of life.
---
BYJU'S Education for All is on a mission to empower 10 million children by 2025 with education. Through the BYJU'S Give programme, you can contribute to this movement and help children with quality digital learning. You can donate an old device, which we will refurbish, and then use the money raised to buy a new device. In case you do not have a device, you can also donate to an NGO partner, who will use the funds to buy devices for children.
In both cases, we will load our BYJU'S Think & Learn premium content onto these devices and distribute them to children in need.
Also read: Supporting Children's Dreams and Aspirations: ARCH Development Foundation