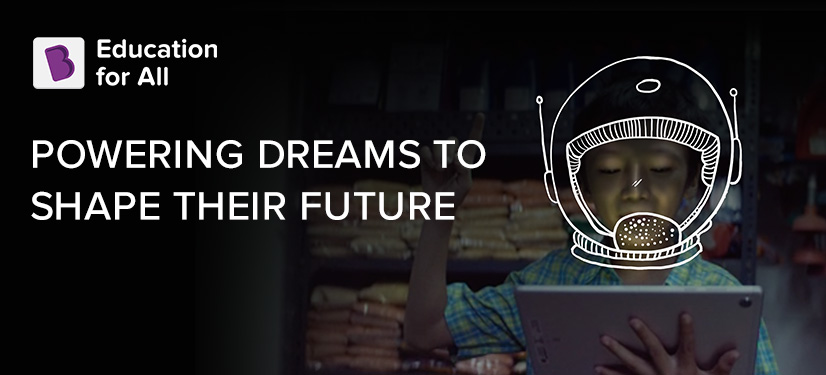 Education around the world has not been the same for every child. While some children have the privilege of getting all the extra support for their studies, millions are far from even getting the basics.
However, over the years, the immense support from several government initiatives, NGOs, non-profits, and CSR efforts has cleared the skies of their future. Each of them has provided children with access to better opportunities that can help them change their lives and make their own decisions.
One such initiative is BYJU'S Education for All, which hopes to impact children far and wide with the power of learning.
Watch this heartwarming video about our vision and mission and how we hope to impact young learners from all walks of life.
Since its inception, BYJU'S EFA has been on a mission to ensure fair and equal education for children. Intending to drive education in every corner of our country, we hope to reach 10 million children and bridge the learning gaps to empower them further.
In the last two years, we have impacted over 5.5 million children across 400+ districts. With our strong partnership with over 175 non-profits and tie-ups with the various state governments, we have the power to shape the futures of millions of children.
With our Global Partner, Lionel Messi, BYJU'S Education for All further hopes to make education a choice for millions of children worldwide and ensure accessible and equitable education for all.
Drop a heart in the comments if you loved this video as much as we did making it!
Share this on your social media pages and help us spread the word about BYJU'S Education for All.
---
BYJU'S Education for All is reaching out to underprivileged children across India. Through the BYJU'S Give programme, you can contribute to this mission and help children with quality digital learning. You can donate an old device, which we will refurbish, and then use the money raised to buy a new device. In case you do not have a device, you can also donate to an NGO partner, who will use the money to buy devices for children.
In both cases, we will load our BYJU'S Think & Learn Premium content onto these devices and distribute them to children in need.
Also Read: From Kashmir to Kanyakumari: Ensuring Education for All