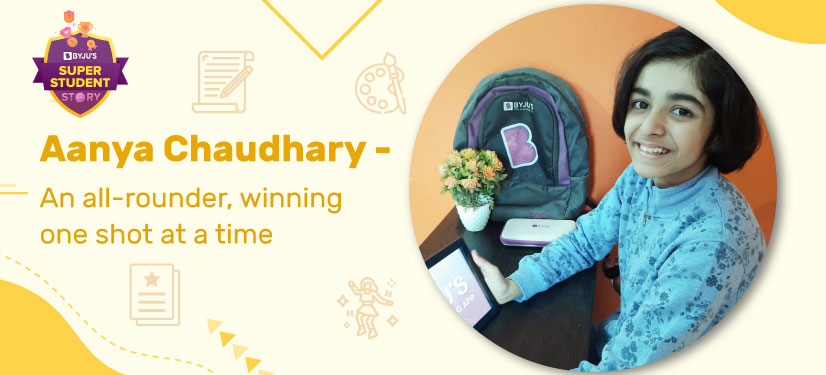 For Aanya Chaudhary, her day starts and ends with badminton. In fact, this has been her schedule for the past two years, and it doesn't look like she is slowing down. At just 14 years of age, Aanya is not only a winner of several badminton tournaments (most recent being a district level tournament where she won a silver medal), but has also won a number of dancing, drawing and essay-writing competitions. To top it all, she's a member of the Guinness World Record for the longest painting with numbers.
When asked about the inspiration behind her craze for badminton, Aanya says " My father is the reason why I am into badminton, while my mother is the reason why I am able to pursue it. Not only does she  ensure that I eat everything necessary to improve my stamina and endurance, but also takes care of keeping me inspired. In fact she shares inspirational quotes with me on a daily basis to keep me going." 
Just like in sports, Aanya is quite the achiever in academics. "When it comes to her studies we trust BYJU'S." says Aanya's father, who adds, "The explanation is great. We love how she can cover any topic anywhere, even when she's missed them in school. We have subscribed to BYJU'S for all our three kids. In fact, because of BYJU'S, she recently topped in the Vidyarthi Vigyan Manthan, at district level.". Adding to this, Aanya says, "I love using BYJU'S. I get all my doubts solved through my mentor. I like how easy it is to understand the concepts with BYJU'S."  
Although Aanya  wants to become a sportsperson in the future, she's also equally interested in all things related to space. "I would love to become an astronomer," she says, adding," I find space and any information about the functioning of the universe very intriguing. I would like to pursue a career in sciences, but I can continue sports on the side." she elaborates. To this, her father reassuringly says, "We will support her in whatever she does. As a parent I feel like the most important lesson I want my kids to learn is to develop an attitude of sportsmanship. It teaches one to be humble and deal with failures gracefully." 
With a determination like hers and the support of such amazing parents, we are sure Aanya will be able to pursue anything that inspires her. We wish her all the best for her future endeavours.
If you enjoyed reading this, you may also like
Agricultural Waste into Paper? Here's How Ranjita Figured Out a Way to Help Farmers
15 medals in 14 years: Dhruvil Gala on BYJU'S role in his love affair with competitive examinations