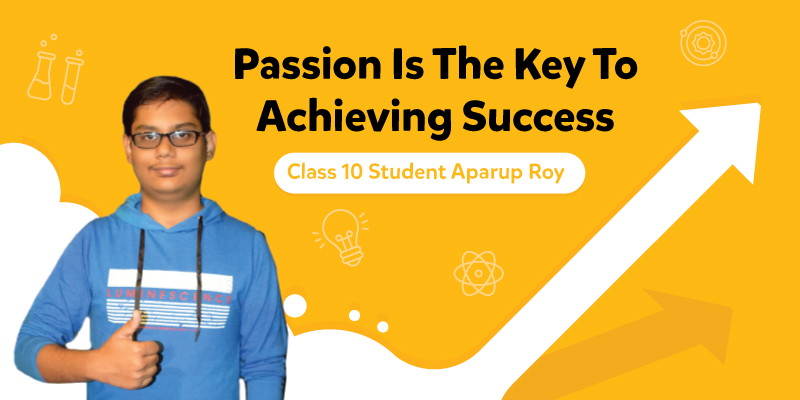 Aparup Roy, a Class 10 student from Durgapur, West Bengal, wants to become an ISRO scientist when he grows up. The 17-year-old believes that passion and time management are the two key ingredients required for achieving this dream.
"When you are passionate about something, you do not have to take out time separately. I have always believed that hard work is the key to success. You have a total of 24 hours, so does every other person. Even Albert Einstein had the same 24 hours a day to achieve what he did in his lifetime. It all depends on how well you manage the 24 hours in your day," he says.
For Aparup, his success mantra seems to have worked out quite well. He already has two books on Chemistry published under his name, two research papers published in internationally-recognised journals and several other accolades in the field of space, science and research. Aparup's first book is called Problems in General Chemistry and it was published in May last year. His second book is named Master ICSE Chemistry Semesters (I & II) [Class X] and it was published in August 2021.
Love for all things Science
So we asked him how his stint with research began and more about his journey. "It all began during the lockdown period in 2020, when I realised that I have only been focusing on my academics, that is majorly what is taught in school. I hadn't thought about extra-curricular activities or doing something other than just immersing myself in studies. That's when I decided to do something. Given my love for science, I came across ISRO's 'Young Scientist Programme' that is offered to school students," he recalls.
ISRO's 'Young Scientist Programme' or 'Yuva Vigyani Karyakram' is held each year to provide basic knowledge on space technology, space science and space applications to students of Class 9 onwards.
While researching the programme and its selection criteria, Aparup came across the fact that the selection is based not only on one's academic performance but also extracurricular activities. "I went ahead and registered despite that, with just my Class 8 results. Five days later the results were announced. All over India, around 32 students were selected for the programme. I was extremely anxious and searched for my name on the list. Unfortunately, I did not make it," he adds.
But this did not stop Aparup from striving harder. "On that day, I realised only following the school curriculum will not help. I wanted to do something more, especially extracurriculars, and lockdown looked like the perfect time to learn new things as we did not have regular classes," explains the 17-year-old.
Aparup did not accept defeat. Soon after this, he took the Goprep Talent Search Examination (GTSE). It is a talent search-cum-scholarship exam that recognises India's top 1000 students and rewards them with a scholarship. It is an online-based national level exam for students of Classes 8-12. Students from anywhere in the country can take part in it. GTSE is a two-round talent search competition that tests students' proficiency in Maths and Science. "I took the exam for the first time and got a bronze medal; the second time when I tried I got a silver medal. I got quite motivated and was determined to do more when I qualified for this exam," he says.
At this time, ISRO had come up with a bigger opportunity, the ISRO Cyberspace Competitions 2020. For Classes 9-12, they conducted an essay competition on ideas about how to solve space science challenges. "You will get a total of six hours to write the essay. I could use only 3-4 hours as I had my regular school classes at that time. After a month or so, the results were declared and to my surprise, I had not only qualified but secured an All India rank 11. Nearly five lakh students compete every year, out of which only 500 are selected and get a chance to feature on ISRO's website," Aparup recalls.
Working towards the dream
The 17-year-old has always dreamt of becoming a scientist and these accomplishments helped him to move towards his ultimate goal. "I have always liked Chemistry. I would play around conducting various experiments with things available at home as schools were closed during the lockdown. I have performed the experiment of dissolving salt in water to conduct electricity quite a few times. While doing that I have made various new observations that haven't been looked at before. I communicated this information to a few MIT scientists. Luckily, they responded and asked me to be a part of an interview. If I qualify, I would get a chance to do research with one of their journals. They would provide mentors and scientists who would help me to solve my queries or questions and also help me to publish. I did get selected for their mentorship programme and am continuing to do research with them," shares Aparup. The Journal of Emerging Investigators is a science journal and mentorship programme that publishes research by middle and high school scientists.

Aparup's love for science and chemical experiments has been nurtured since he was a child. "I have always been fascinated by the concept of atoms and molecules, how they combine with different forces and come together to make new molecules. I am also interested in learning more about quantum chemistry and quantum mechanics."
Until 2020, Aparup had been conducting all his experiments and research at home, but he realised that if he had to do more he needed a proper lab with more equipment. "I wrote to the Head of the Department of Chemistry at NIT Durgapur, and he agreed stating that I needed a recommendation letter from my school. I managed to get that after the lockdown was lifted in 2020 and I am continuing to do my research at a lab in NIT now," exclaims the Class 10 student.
Aparup also received a certificate of appreciation for achieving medals and certificates in different academic activities from the India Book of Records in February last year.
The BYJU'S touch
In all of this, BYJU'S played an integral role in helping Aparup manage his studies and continue with his research. "I took up BYJU'S in Class 7. My mentor has helped me throughout, and whatever questions I have are instantly answered by them. I love their Ask a Doubt sessions. The videos available on the app are also extraordinarily helpful. Whenever you watch something, your brain grasps things better as compared to reading from a book. BYJU'S taught me to be passionate about what I do. And the way their teachers go to great levels to explain a topic or a concept so that the student understands it properly, is unparalleled. This way the student earns a lot of confidence and it helps to build a strong base. I would say I was not very good with Chemistry earlier, but then BYJU'S came into the picture and with their video lectures and doubt-clearing sessions, I understand all of it so much better," he concludes.
Team Storyweavers wishes Aparup all the best for his future endeavours.
Also read: "If You Study With BYJU'S, Success Will Automatically Follow": Rushi Parmar
BYJU'S Student Sanjivni Roy On Securing 2nd Position In The NLTS Exam