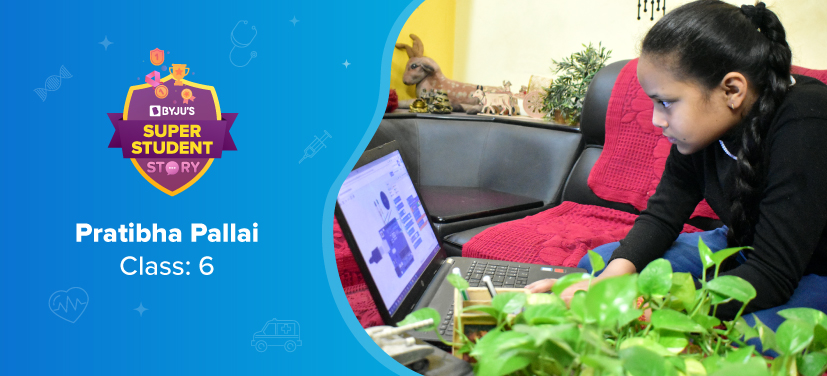 "I want to do something better for society. For that, I am preparing to become a doctor -cum-entrepreneur and set up a hospital that will revolutionise the field of medicine and treatment."
That's sixth-grader Pratibha Pallai, from Odisha, who is not your ordinary 11-year-old girl. She is one of those bright minds who has envisioned a better future for society and is working smoothly towards it. TeamStoryweavers recently interacted with her to know about her big future plans and her unique dreams and her answers totally baffled us! "I want to open a hospital in the future which is run by robots. You see, technology has great potential in the field of medicine, and I want to utilise it for the betterment of society," she says, as a matter of fact.
If that didn't amaze you enough, here's more. Although just in sixth grade, she is already planning a route to fulfil her dreams. Her father, Bhupesh Pallai, who is an Indian Army veteran and has now joined the world of technology, envisions a future that is technologically equipped, and encourages his daughter to explore this field and utilise the benefits of technology. He says, "Pratibha has a keen interest in robotics. So we have enrolled her for a course. They recently conducted an online robothon where she got an opportunity to showcase her talent and build a model from scratch."
Watch Pratibha and her parents speak about her love for robots, future plans and how BYJU'S is playing an active role in her life.

If Covid-19 has encouraged people to explore their creative sides and nurture new hobbies, Pratibha is in no way different. Her love for technology and dream of helping people inspired her to look for a solution for the problems caused by the pandemic. While enrolling for the robothon in July 2020, she created a Covid-19 Human Detector System using Arduino. Her idea was to create a model that could alert people about containment zones by ringing a buzzer. Once complete, her model will be able to help people by keeping them informed about containment zones in a COVID affected area. Her hard work was well received when her model was shortlisted as one of the top three best projects.

"Pratibha is a very self-dependent girl who knows what she is doing," says her mother, Basanti Pallai. "We never had to nudge her to study. She would decide on her own and complete her studies before going to bed every night. It is her enthusiasm and interest in studies that makes her an achiever."
Adding fuel to her learning interest is BYJU'S – The Learning App. The visuals and easy- to-understand animated lessons help her learn better. "BYJU'S app is more than just a learning buddy for me. The app has such interesting video interactions for each topic that I never get tired of studying. Instead, the way teachers teach through the app helps me to grab the basics really fast," says Pratibha. When asked who her favourite teacher is, she promptly admits, "Divya Ma'am! Her study videos are just amazing! She makes even the toughest concepts seem super easy. Watching her explain topics with such confidence has also inspired me to speak confidently in public." 
A true achiever in all sense, we are sure that this budding enthusiast will fulfil all her dreams. Team Storyweavers wishes her all the best for her endeavours.