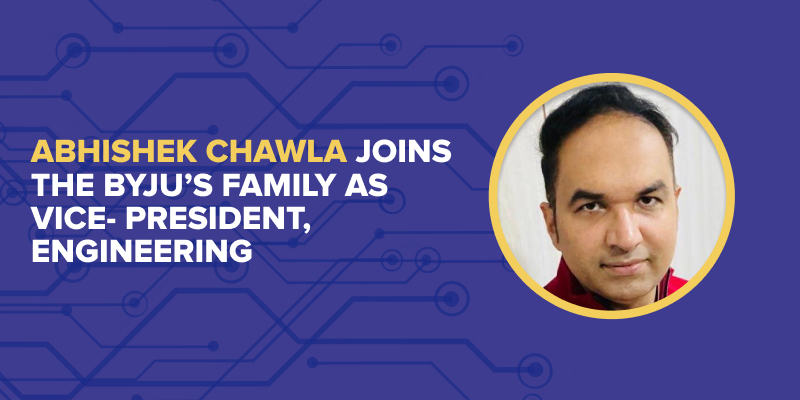 Abhishek Chawla has been appointed as Vice-President, Engineering at BYJU'S. Over the past two years, BYJU'S has been steadily scaling its technology and engineering vertical as it continues to invest in the powerful synergy of technology, innovation, and education. Abhishek's  appointment is part of this comprehensive strategy to further enhance BYJU'S world-class learning products, accelerate creative development, and create large-scale impact. 
In his new role, Chawla will lead the supply chain and payments technologies across the company's portfolio of products and services.  He will also plan, manage, and oversee various activities within the department to ensure that efficient operations and cost-effective systems are developed and implemented to meet BYJU'S immediate and future demands. 
Commenting on the appointment, Anil Goel, President – Technology, BYJU'S said, "The pursuit of problem-solving and great execution is at the core of BYJU'S. We are thrilled to have Abhishek join us in strengthening this foundation and transforming learning for the next generation. His strong expertise in tech innovation will further strengthen BYJU'S commitment to creating value in students' lives and providing them with high-quality learning opportunities. We look forward to working together and scaling new heights in this journey."
With over 16 years of extensive experience, Abhishek's last stint was with Paytm.  He has also worked in leadership roles at Expedia Group and Optum. He brings on board global expertise in project management, analysis, design, testing and development.
Commenting on his appointment, Abhishek Chawla, Vice President-Engineering, BYJU'S said, "BYJU'S has taken the transformative power of education to students in every part of the country through its  innovation, learning, and support. I am delighted to be associated with the vertical that formed the bedrock of BYJU'S foundation. In the last few years, the company has developed tremendously, indicating a promising future in changing the face of education. I am looking forward to building and scaling the engineering systems and empowering learners today to build a better tomorrow."