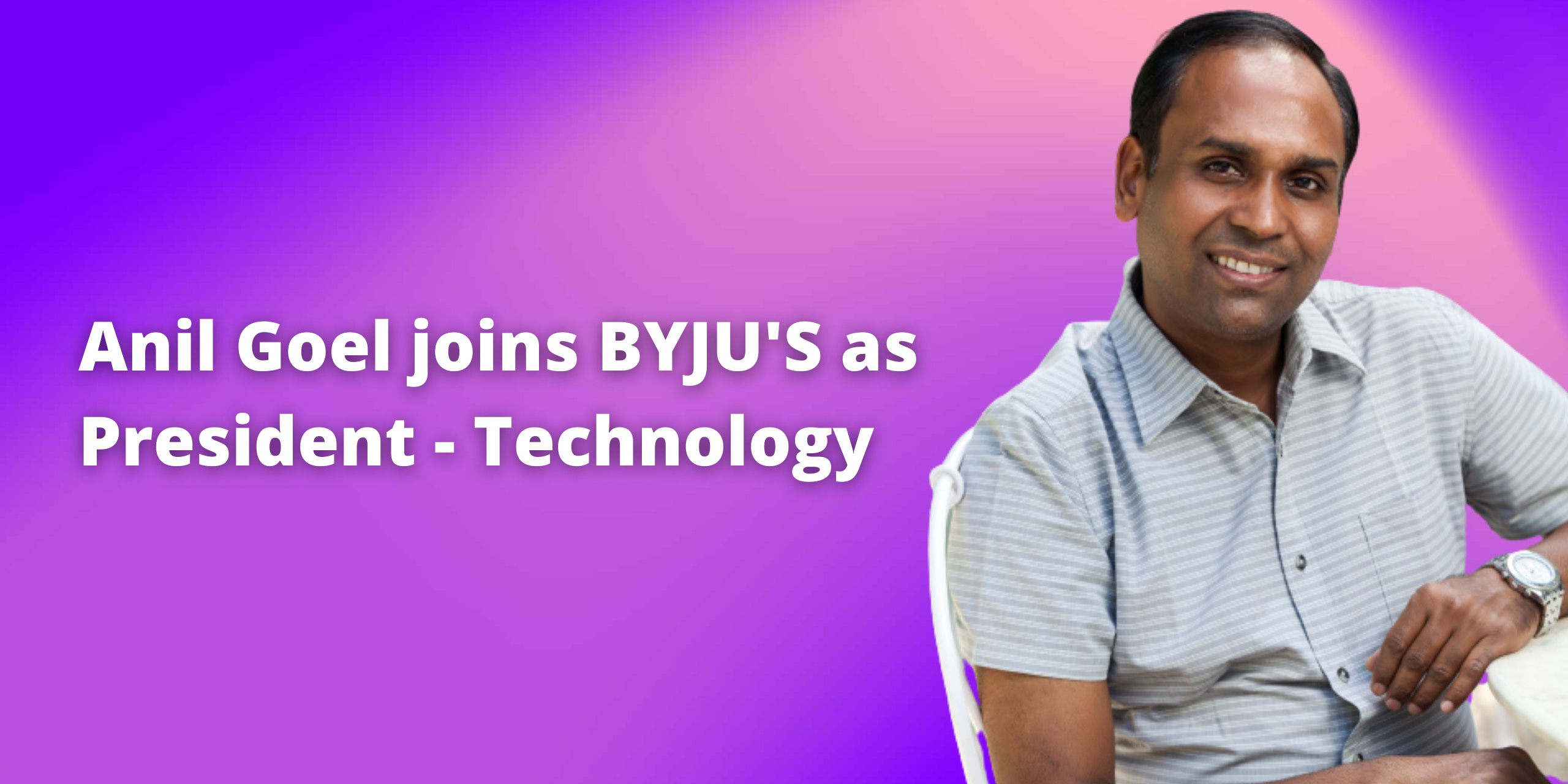 BYJU'S, the world's leading edtech company, has announced the appointment of Anil Goel as President – Technology. This announcement is part of BYJU'S commitment towards strengthening its technology innovation ecosystem.
Anil is a highly accomplished, entrepreneurial, innovative, and results-oriented technology executive. He has spent the most of his 25-year long career in the United States. Before joining BYJU'S, Anil was the Group Chief Technology and Product Officer at OYO.
In his new role, Anil will plan the direction of technology within BYJU'S and its group companies. He will be in charge of introducing new and innovative technologies to help the organisation achieve its long-term goals by improving learning outcomes and productivity. Product development, network operations, management information systems, software applications, and IT infrastructure deployment will all be under Anil's supervision.
"Anil is a proven leader with 25+ years of expertise in establishing technology systems and processes in numerous organisations," Pravin Prakash, BYJU'S Chief People Officer, said welcoming Anil to the BYJU'S family. "He will play a crucial role in the development of next-generation technology in the education space at BYJU'S. We are thrilled to have him on board and look forward to collaborating with him and assisting him in accomplishing his objectives," he added.
Anil has a B.Tech. (Hons.) in Electrical and Electronics from Birla Institute of Technology and Science, Pilani, and an MBA in Marketing from City University of Seattle. An avid sports fan, he has completed a full marathon, a 200-kilometer cyclathon, and enjoys adventure sports such as scuba diving and skydiving.
"I am excited to be a part of BYJU'S, which is revolutionising the online learning environment throughout the world," Anil Goel said of his new position as President – Technology. He continued, "Technology is a strong tool with the ability to totally transform and rethink the way education is provided. I'm excited to contribute my knowledge to help the BYJU'S team continue to deliver cutting-edge technology and constantly reinvent the learning environment. We'll focus on creating tech-driven solutions that provide high-quality education and fun learning experiences for children."
BYJU'S is committed to ensuring that it adapts to the unique learning style of every student, as per their pace, size and style of learning. Its programmes are part of the company's mission to make learning a world-class learning experience by being more contextual and visual. BYJU'S is paving the way for new-age, geography-agnostic learning tools that sit at the cross section of mobile, interactive content and personalised learning methodologies and Anil Goel's appointment is a step in that direction.