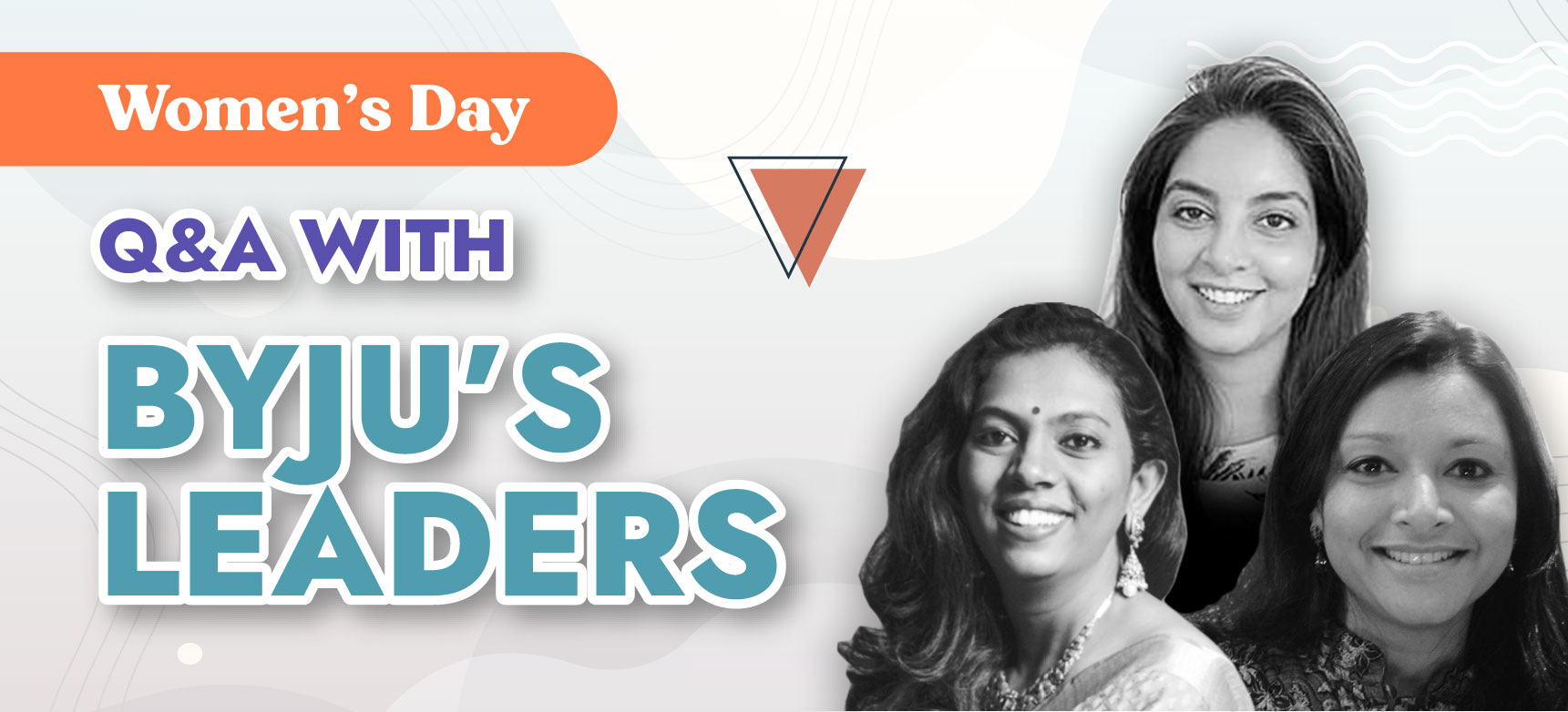 BYJU'S hosted a special panel discussion on creating inclusive workplaces on the occasion of Women's Day 2022. The panel was moderated by Vineet Singh, VP Brand & Creative Strategy and featured Prathyusha Agarwal, Chief Business Officer for BYJU'S Early Learn vertical, Mansi Kasliwal, Vice President-Social Initiatives at BYJU'S and Rachna Bahadur, Senior Vice President of International Business BYJU'S and Global GM Epic.
In a candid conversation, the women addressed questions sent in by BYJUites, which ranged from navigating through a predominantly-male workforce, to understanding and breaking biases against women in all spheres — take a look at some of the questions, and their powerful responses here:  
Young women leaders face a lot of biases. How do we make higher authorities believe that even young women can be good leaders? 
Prathyusha: When I started out, I was all of 24 years old. A young sales manager walking into Punjab at a journey cycle meeting with about 20+ almost 40-year-old men. They had all been sales in-charges for a long time, having established systems in the country. The first thing that one of the sales men said was "Madam, aap toh South Indian ho, murga nahi khate ho, daaru nahi peeti ho, uske upar ladki ho! Kya karne aa gayi yahan pe?" [Madam, you're a South Indian, vegetarian, teetotaler and on top of that, you're a woman! What have you come here to do?] Mind you, he was not even being malignant. It was just… concern. 
What always held me in good stead was — While we blame the demons outside, it is the demons inside our head we need to fight first. If you have a leadership mindset, I don't think any perception from the outside can impact you. Never let society's perspective of you frame your own perspective. So always ask yourself — Are you feeling like a leader inside? And the fact that I had come in there with a leadership capability to lead the team and take it to the largest growing sales area in the country made all the difference and allowed me to relate to them as a leader and not be held back by the stereotypes and biases that exist in the world. 
I'm happy to say I'm still in touch with all my former sales officers from the Punjab stint and we do share a chuckle every now and then about woh ladki jo sales karne aa gayi Punjab mei [the girl who landed up in Punjab with a sales job].
As leaders, how do you train yourselves to look beyond stereotypes and baggage while building teams? Not just from a gender perspective, but across the board. 
Rachna: Let me start off by saying that there isn't a perfect answer to this question. I think it's important to take away what the individual merely 'looks like' and instead focus on what they need to deliver. This is essential  in setting objectivity. That said, we're all human and some of these biases are just conditioning, they're not biases that we've engendered per say. Self awareness is vital; as is organisational awareness — knowing that an organisation has certain biases that we'd like to move the needle on. Keeping an eye out for these two points that you'd like to solve for your team or for your organisation goes a long way. Taking action and being at the cause is very important. So, ask yourself what you would change and who do you need to bring onboard to be able to make that change happen? Treat it as a business problem: Look for the root cause and the solutions, find the stakeholders to make it through and you may not get the perfect answer but you'll get somewhere better than where you started. 
From a woman's perspective in a working environment, what are some women-related myths or taboos that need to be broken?
Mansi: Culturally we've all grown up with different biases against women and some of those biases get conditioned and embedded into women's heads. If I look at my own journey, I was surrounded by women who were very liberated for their time – journalists, engineers, doctors, adventurers, explorers. The bias that I faced was actually a performance bias. So, even as a woman, if I chose to become a homemaker, which a couple of women in my family did, the bias was against them. The question was why are they still choosing to just be mothers and homemakers when they have this environment of absolute liberation? So, for me the bias was that I have to work if I have an education and put that education to good use. If I have the privilege, I have to use it to create an impact. And this is something a lot of women have faced in the past 10-15 years. On the other side of the spectrum, my work in the grassroots has shown me a different picture entirely: It starts from female infantacide and the very questioning of their existence, to therefore them not deserving a healthy meal or education and being relegated as second-class citizens. All girls up to the age of 8 don't think in terms of gender , but there is data and documentation that shows that after the age of eight they start thinking differently. STEM subjects go out of the window because society has conditioned them to believe that they are not good enough. 
Prathyusha: To add to this, a practical thing that works for me is just flip the perspective in any decision you are making and put a man in the woman's position. Then, ask yourself if you would have the same reaction to that situation. Would you be saying the same thing in your head? You don't have to try and be aware of all the biases, just replace the woman you are having this conversation/decision/image about with a man instead and ask if your present thoughts would still hold. You don't have to over intellectualise it, just flip the perspective.