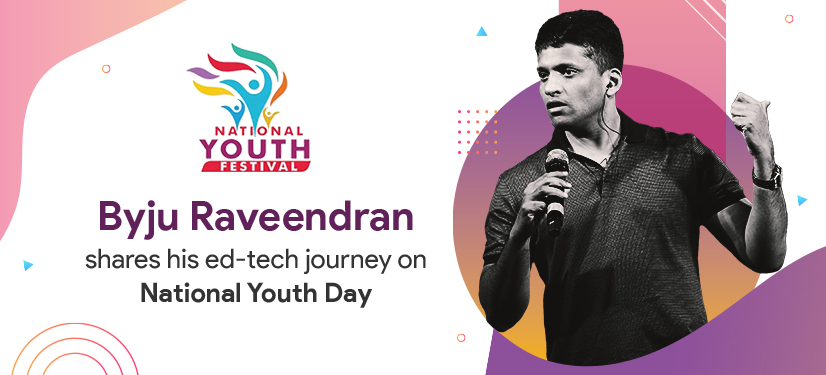 Byju Raveendran, founder and CEO of BYJU'S spoke at the prestigious 25th National Youth Festival, marked to celebrate the birth anniversary of Swami Vivekananda. Inaugurated by Prime Minister Narendra Modi, the festival was attended by youth from every district in India and was aimed to galvanize, unite and activate the young citizenry towards nation-building. 
In the impassioned interaction with the youth of the country who were tuned in to the virtual summit, Byju shared his personal story about growing up in the small village of Azhikode, Kerala and studying in a Malayalam-medium school. He reminisced on his background, adding that the impact that young India will have on the country has the potential to further build and transform it into a global economic powerhouse. It makes no difference if one is from a village or a city — the world belongs to those who are courageous and passionate.
Reflecting on the early days of his journey,  Byju in his speech said,  "Over the years, as BYJU'S evolved, so did my learnings. I always say I am an engineer by chance, teacher by choice and an entrepreneur by chance". He added, "At BYJU'S, while we began with offline sessions, we soon realised that technology is a very powerful tool that can enable millions of students to gain access to quality education. In fact, this was one of the main reasons for BYJU'S to shift from being an offline test prep class to an online learning app."
Watch the speech here:
The potential of India 
India's strength as a country lies in our abilities that are shaped by our culture, diversity and willingness to learn. We commit ourselves to public mission and national purpose. 
In Byju Raveendran's speech at the National Youth Summit, he expanded on this thought saying, "The start-up economy has made it possible for people from diverse backgrounds to achieve their goals. I myself came from a small village and if I can dream about creating the the biggest edtech company in the world, nothing can stop you. Believe in your dreams, opportunities will follow. Today we have over 38,000 startups, many successful IPOS and access to capital."
However, it's not about numbers, but the impact. The ability of today's youth to create far-reaching impact is limitless, and Byju emphatically relayed this at the summit, adding that when passion and purpose come together, impact is the next step. "Byju's was never started as a business, but was a passion intersecting with real needs. What makes a company successful is not the numbers, but the people and purpose." 
The spirit of giving back is an important part of BYJU'S philosophy, along with the constant endeavor to ensure children everywhere are getting access to the best learning tools. At the National Youth Festival, he emphasized on the collective responsibility to empower the underprivileged, drawing from his own experience of launching the BYJU'S Education For All initiative. "We launched that only 12 months back and it's already providing free education to more than 3 million students for most of whom this is the primary mode of learning. Our aspiration is not to be the largest for-profit education company in the world but also the largest not-for-profit initiative. "
A teacher always inspires, and Byju carried forward this tradition at the summit, encouraging the youth to not limit themselves. "All of us are far better than what we give ourselves credit for. All you need to do is to believe in yourself and stride towards your goal. The most important aspect is to ask yourself this – What are you passionate about and are you doing your best? Once you find that intersection, go after it like there's no tomorrow."
"Entrepreneurship is a mindset," he added. "My advice to the youth of today would be to change the game, think big, and dream without barriers. Break down your goals and think about what you need to do for today vs your long-term goals."
The power of education
Education contributes significantly to the global GDP. The global education market is predicted to be valued at least $10 trillion by 2032 due to factors such population expansion in developing markets and massive reskilling and upskilling in developing economies. This underscores how learning and teaching is one of society's most essential and powerful sectors. Byju stressed on the importance of  education for the transformation of society saying, "In India education is still the way for most of us to make it big. If we get it right, this will give us an advantage over the next many decades in becoming one of the global superpowers. In the next decade we will actually see a whole new range of jobs for our youth to take advantage of. Almost 65% of the students who are in school today will end up jobs that are not even defined yet. It's only through good education, and when I say good education I mean active learning that we can prepare them for these unseen jobs."
Today, Indian companies are creating world class products , services and solutions for the world with cutting edge technology and innovation. Homegrown talent from India are leading some of the biggest tech companies in the world. There is a lot of promise; now, we have to live up to it. With our focus on strengthening digital infrastructure in healthcare and education, and boosting employment in manufacturing, India is on its way to become a global powerhouse and unlock the potential of rural and semi-urban India."
Lessons for the leaders of tomorrow
The leaders of tomorrow are being built in the classrooms of today – and Byju believes that our best chance to provide our youth with an opportunity to build a successful life is by creating an innovative, tech-driven learning ecosystem that allows them to develop important skills for the future. The country's economy is changing and young India must be ready to take advantage of this shift. Be it in the public or private sectors, there are a lot of opportunities for the country's youth to create an impact through innovative thinking. Byju shares his thoughts on this movement saying, "Our country's youth has the power to  shape the future, and change the world – and the opportunities to make this change happen come to those who are prepared. Learning builds passion, and passion is what helps you to turn dreams into reality. Today India is building solutions and products for the world with an unlimited scope to make this bigger and better. Tomorrow, you will be in the front seat of this change, empowered with skills, education and a hunger to achieve."
Byju concluded the session with a powerful quote by Nelson Mandela — 'I never lose. I either win or learn,' to inspire India's dynamic youth to have courage and take the first step in their respective learning journeys.