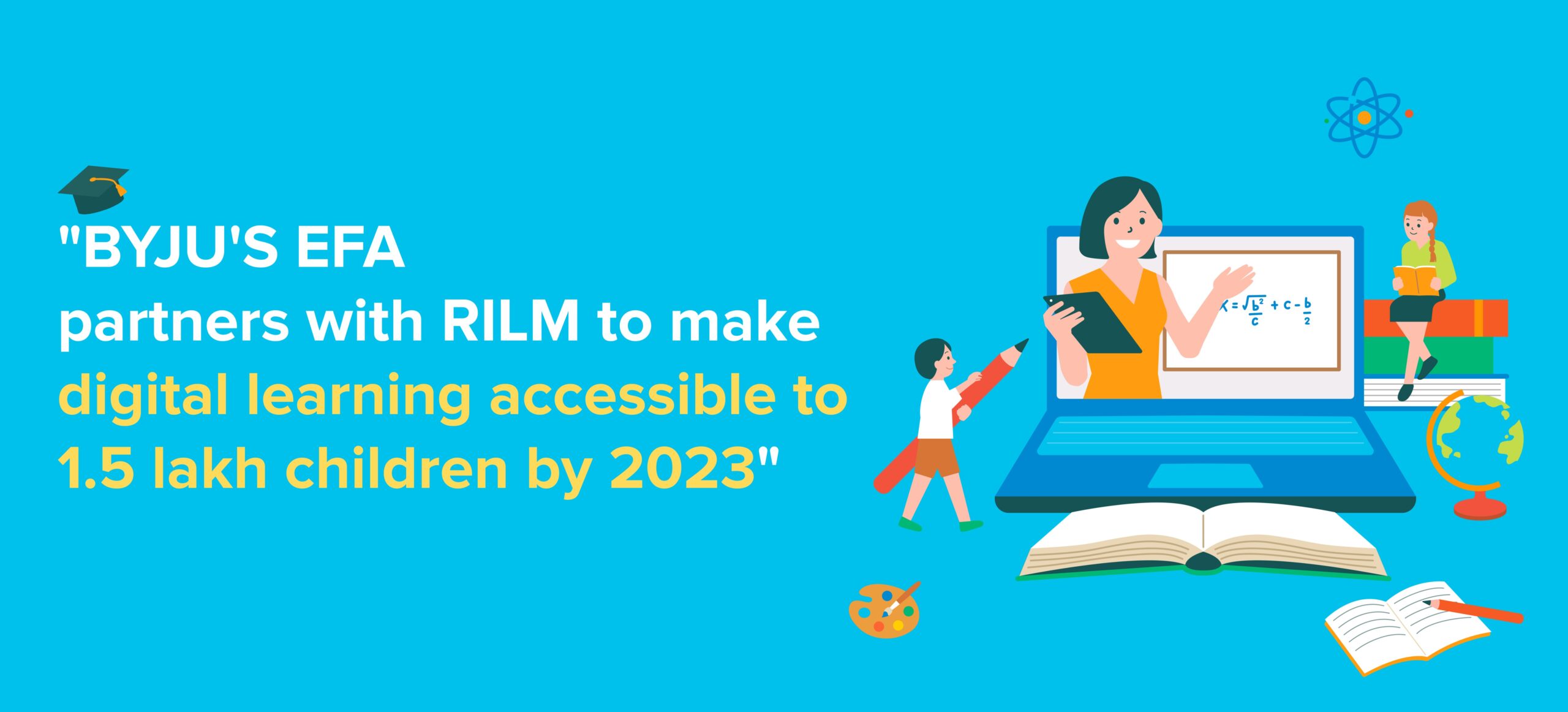 Under this partnership, BYJU'S and Rotary India Literacy Mission will work towards providing tech-driven digital learning tools to underprivileged students from classes 4 to 12
Making education affordable and accessible has always been at the core of all social initiatives at BYJU'S. With the belief that every child deserves equal access to quality learning content, and the motivation to turn this into reality, BYJU'S launched the Education for All initiative in 2020. The initiative has so far impacted 3.4 million children across 26 Indian states. 
With the aim to further fuel impactful change in the lives of students, BYJU'S 'Education for All' has announced a three-year partnership with Rotary India Literacy Mission.
This partnership aims to transform the educational journeys of 1.5 lakh children from underprivileged backgrounds across the country by 2023.
The BYJU'S Education for All initiative and RILM will work towards providing tech-driven digital learning tools to students from classes 4 to 12. Driven by a shared vision of empowering children with quality education, the initiative will enable children to access BYJU'S high-quality learning programs and engaging content.
As a first step towards this nationwide initiative, BYJU'S has already issued 100 tablets and licenses to students from lesser served communities in Hyderabad and will spread across the country in a phased manner.
Speaking on the partnership with RILM, Mansi Kasliwai, VP – Social Initiatives, BYJU'S, said, "At BYJU'S, we believe that every child deserves the right to quality education. By joining hands with Rotary India Literacy Mission, we are working towards a common goal to bridge the digital gap in education and make learning accessible to all through high-quality content and tech-driven learning programs. We are happy to associate with a like-minded partner, and hope that this collaboration positively impacts millions more."
Kamal Sanghvi, Chairman -Rotary India Literacy Mission said "Over the years, we are guided by our mission to achieve total literacy in India, and we are known nationally for our E-Siksha program, wherein we have supported over 15,000+ government schools with e-learning systems, and during the pandemic, we were the largest private-sector contributor to NCERT's PM eVidya TV Program Channels with e-content for all subjects in classes 1-10 in English & Hindi medium.  We're glad to have partnered with BYJU'S, the pioneer of India's edtech ecosystem, in further supporting this goal. We look forward to working with BYJU'S to ensure that every child, irrespective of socioeconomic condition or circumstances, doesn't have to compromise their right to education. With this partnership, we are hopeful to meet our target of empowering over 1.5 lakh students by 2023 by providing them with digital learning tools packed with BYJU'S high-quality learning programs."
This partnership is a significant step in furthering BYJU'S flagship social impact initiative, 'Education for All', which aims to bring about positive systemic change to the education ecosystem in India. With a mission to empower 10 million underprivileged children by 2025, the initiative has already impacted 3.4 million children in the remotest corners of the country through 120+ NGOs across 26+ states and 340+ districts.