BYJU'S acquisition of Tynker will enable the platform to introduce its creative coding platform to even more kids, educators, schools and coding camps globally.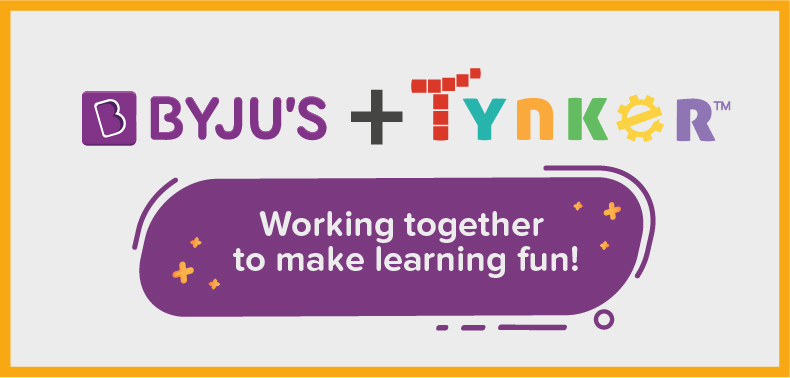 BYJU'S  is excited to welcome Tynker, the educational K-12 programming platform, into the BYJU'S family. Empowering children with future-ready skills is a key tenet at BYJU'S. Naturally, a platform like Tynker, that democratises access to coding for students, aligns with the company's philosophy. 
BYJU'S has acquired Tynker to help kids develop STEM skills in a fun and meaningful way, both at home and at school. The acquisition by BYJU'S will enable the U.S-based company to introduce its creative coding platform to even more kids, educators, schools and coding camps globally. 
In 2020, BYJU'S forayed into the code-training sector with its acquisition of WhiteHat Jr. Now, with its partnership with Tynker, BYJU'S aims to strengthen its coding offerings, structure, and algorithmic thinking to help kids generate creative outcomes. Bringing Tynker into the BYJU'S family will help guide the two edtech giants to their goal of unlocking a love for creative coding by innovating, exploring and setting new benchmarks for tech-enabled personalized learning solutions. 
"Joining forces with Tynker will unlock the ability for us to bring imagination to life for hundreds of millions of students through coding," said Byju Raveendran, Founder and CEO, BYJU'S. "Our goal is to ignite a love for programming in children globally and we feel strongly that Tynker's creative coding platform and approach to making programming fun and intuitive for kids will get us there even faster."
Over the last year and a half, BYJU'S has acquired two additional major edtech companies in the U.S. – Osmo, the award-winning playful learning system for creating healthy screen time experiences, and Epic, the leading online digital reading platform. All three acquisitions map back to BYJU'S goal of investing $1 billion in the U.S. edtech market over the next three years. The acquisition will help expand BYJU'S U.S. footprint by providing access to more than 60 million students and over 100,000 schools in Tynker's existing global user base.