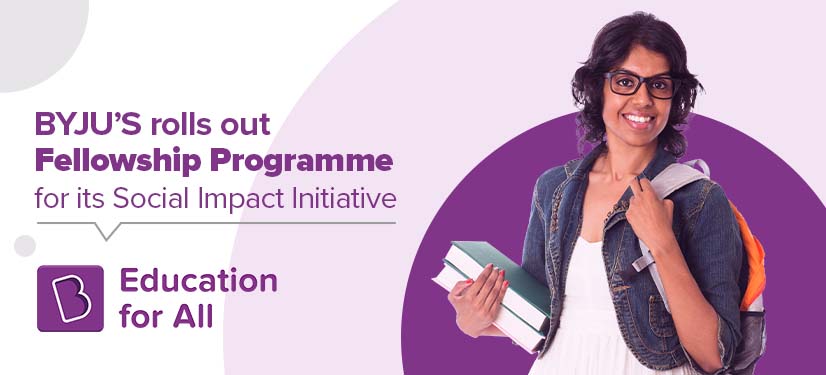 BYJU'S first-ever flagship Fellowship Programme aims to encourage students towards a successful career in the Edtech sector 
BYJU's has introduced a special two-year Fellowship Program as a part of its social impact initiative, 'Education For All' specially designed for young dynamic candidates interested in the social development sector.
The first batch of this fellowship programme includes 45 fellows selected from across the country with some experience in the field of social development who will be further trained on synergies in India's edtech and social development sectors. These students will participate in a special two-week training programme that includes workshops on various developmental subjects, BYJU'S product knowledge sessions, speeches by industry experts, village immersion and a two-day volunteer programme in remote places.  Being a part of BYJU'S partnership with NITI Aayog, the selected fellows will oversee BYJU'S social initiatives programmes in India's aspirational areas.
Additionally, fellows will help provide quality education to over 3,000 meritorious JEE and NEET aspirants from the underserved communities of over 60 aspirational districts.
After the successful completion of the two-year fellowship, the top candidates will get a chance to work as full-time employees for BYJU'S social initiatives.
Talking about this announcement, Mansi Kasliwal, VP – Social Initiatives, BYJU'S said, "Education is a catalyst for change. Today's youth are indispensable agents in the journey to make high-quality education and equal learning opportunities accessible to all. BYJU'S Fellows are on the exciting mission to drive social change and influence the lives of many students positively as well as encouraging their peers to follow."
The launch of this programmme is a significant step towards bolstering aspiring candidates towards a successful career in the Edtech sector and BYJU'S is making this a reality by teaming up with top government agencies and not-for-profit organizations in the country.
BYJU'S social impact initiative, 'Education For All', launched in 2020, aims to empower 10 million students from remote and underserved districts of India with access to quality education by 2025.