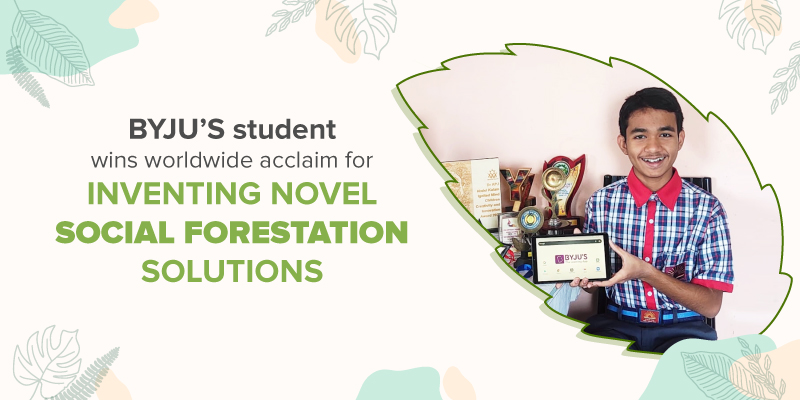 BYJU'S student, Bodhisatva Khanderao from Yavatmal, Maharashtra, is a self-driven conservationist, and has been educating people on the dire consequences of deforestation and global warming since 2013.
From the age of six, Bodhisatva has dedicated his life towards social initiatives like the Save Water Campaign, Swachh Bharat Abhiyaan, Mass Plantation Drive, and the upliftment of poor farmers and rural women, among others. An active voice towards embarking on notable environmental movements for society, Bodhisatva has held a record for being 'The Youngest Environmental Activist' by the India Book of Records.
He has also received awards from UNICEF, the UN, the UNDP, and the United Nations 75 Report for creating the Multi-Grain Cleaning Machine, Seed Ball, and other cost-free mass plantation technologies. Bodhisatva has also received the Vikram Sarabhai Science Foundation's Kalam Smriti Ideate National Award in 2021 and the Dr. A.P.J. Abdul Kalam Ignited Mind Children's Creativity and Innovation National Award in 2020, among other honours.
To support his passion and ensure that he doesn't miss out on his studies, Bodhisatva's mother enrolled him with BYJU'S in 2018. The interactive classes and learning methods helped him to learn in a conceptual manner. He would apply his on-ground learnings, and real-life experiences while ideating for solutions.
Amruta Khanderao, Bodhisatva's mother, reflected on her son's passion for climate change mitigation saying, "Bodhisatva has been a bright child, not just academically but also as an individual who believes in empowering people – a thought that I resonate with too. While Bodhisatva's visions were clear, we wanted to provide him with added exposure to learning newer techniques that would help him in this journey. This is when we decided to enroll him with BYJU'S learning app. The online classes have been really helpful and kept him on track with his syllabus. We are confident that with BYJU'S, Bodhisatva will be able to create more such innovations and continue contributing towards a better world."
The young student's recent innovations such as the Magic Socks Method and Green Pouch Method for cost-free mass plantation have been revolutionary and won him several accolades. What started as a science exhibition project in school, is now one of the most popular methods used in Maharashtra for planting seeds. 
His ideas have helped innovate simple machines such as the Mechanical Sieve, a Multigrain-Cleaning Machine that helps one clean 100 kilograms of grain within an hour; and a Swachhta Suvidha Brush, an easy-to-use brush for patients suffering from spondylitis, making bathroom sanitation easy.
Vinay MR, Chief Content Officer, BYJU'S, commented on Bodhisatva's notable environmental efforts saying, "BYJU'S extends a heartfelt congratulations to Bodhisatva and his parents for their achievements. Our core belief has always been to empower children and bring a positive change in their learning journey.  We strive to help children become active learners through personalized learning experiences with the use of digital learning tools, original content, watch-and-learn videos, animations, and interactive simulations. Bodhisattva's achievement is a true testimony to the efficacy of our platform. We wish him the best for his future endeavors."