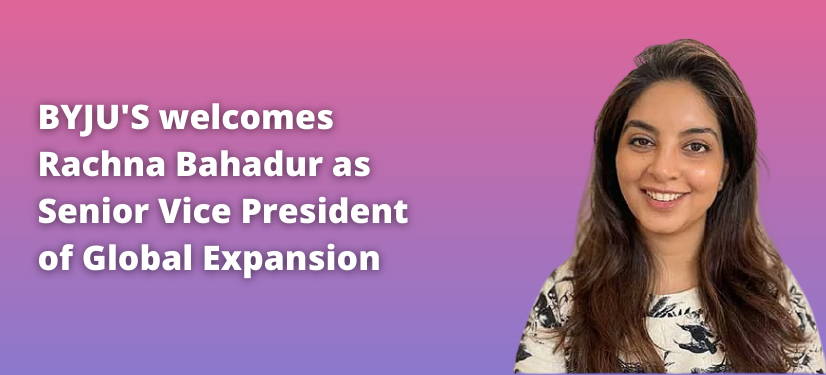 The appointment is a step towards strengthening BYJU'S leadership across verticals
BYJU'S has announced the appointment of Rachna Bahadur as Senior Vice President to oversee its global expansion efforts. Rachna will lead the overall planning, strategy, and roadmap for BYJU'S expansion into new and existing markets in her new role. This appointment is a step towards strengthening BYJU'S leadership across verticals as the company aims to further build world class products, teams, and partnerships.
Rachna will be responsible for strengthening the footprint of BYJU'S recent acquisition of EPIC in the US market, in addition to developing BYJU'S next growth phase, creating new partnerships, reinforcing sales, and solidifying the company's market standing around the globe.
"For a decade, BYJU'S has been at the front of generating value in a students life, and I am happy to be a part of the team that is at the vanguard of revolutionising the way education is given across the world," said Rachna Bahadur, Senior VP, Global Expansion, BYJU'S. "I'm looking forward to working with the team to strengthen the company's base and expand its development possibilities. I'm excited to design new strategies to move BYJU'S into the next phase of growth, from forming new collaborations to growing existing ones," she added.
Commenting on the appointment, Pravin Prakash, Chief People Officer, BYJU'S said, "As we continue to expand and broaden our business across the globe, we are focusing on attracting the greatest talent in the industry to further advance our vision of establishing a community of lifelong learners. Rachna has a strong track record as a leader. Her breadth of expertise, breadth of knowledge, and core background in consumer product practice will be invaluable to us. We are delighted to welcome her on board and look forward to assisting her in building a high-impact and high-growth network for BYJU'S".
BYJU'S is enhancing its leadership to drive excellence globally as it enters the next chapter of expansion in its ongoing mission to help students fall in love with learning. BYJU'S is a purpose-driven, student-centric organisation dedicated to creating world-class learning experiences through a shared passion and excellent teams, with the aim of transforming the way millions of students learn.