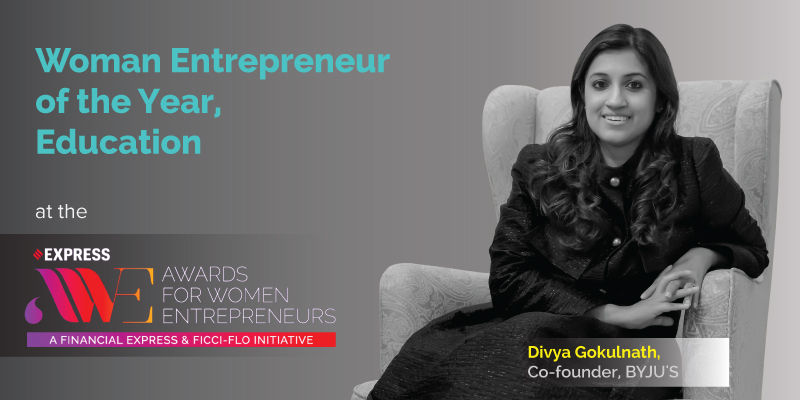 BYJU'S teacher and co-founder Divya Gokulnath was awarded the title of Woman Entrepreneur of the Year, Education at the prestigious Express AWE Awards 2022. 
The Express Awards for Women Entrepreneurs, instituted by Financial Express and FICCI-FLO, honours women who have not only shown the courage to take on leadership roles, but have also overcome countless obstacles to reach the pinnacle of their fields and set an example for future generations.
The virtual event, held on January 14, was inaugurated with a keynote interview of Sheryl Sandberg, COO, Meta and celebrated exemplary women entrepreneurs in India. The awards were selected by a high-power jury including Mr Deepak Parekh – chairman HDFC, Ms Zia Mody – co-founder & managing partner AZB Partners, Ms Kiran Mazumdar-Shaw – executive chairperson Biocon, Ms Preetha Reddy – vice-chairperson Apollo Hospitals and Ms Arundhati Bhattacharya – chairperson & CEO Salesforce India.
"Education has the power to change lives. It can help learners, of all ages, with the right tools to empower themselves. At BYJU'S, we often like to say education is one sector where you can create a double impact: You do good, you will end up doing well, and where you will do well, you will end up doing good," Divya said. 
The world of women's entrepreneurship is large, diverse, multifaceted, economically significant, and a source of empowerment for women all across the world. According to a global survey of about 22,000 organisations, companies with approximately 30% women in managerial roles are more lucrative than companies with lower percentages. Women offer a different perspective than their male counterparts, according to research looking at the impact of female corporate executives. As a result, women leaders are frequently establishing innovative business ideas, driving change, and transforming the way people work globally. 
A role model for countless women, Divya firmly believes that young women must have other women role models to look up to. Women leaders channel their emotional intelligence, defining the paradigm for empathetic leadership. Seeing a woman in a place of accomplishment plays one of the most critical roles in inspiring young girls to pursue higher goals. "I am fortunate to have built a career around my passion for science and technology but this isn't the case for most women in our society. However, things are steadily changing with key stakeholders such as policy makers and investors making room for women-owned businesses. And here's to helping learners around the world unlock their true potential!"