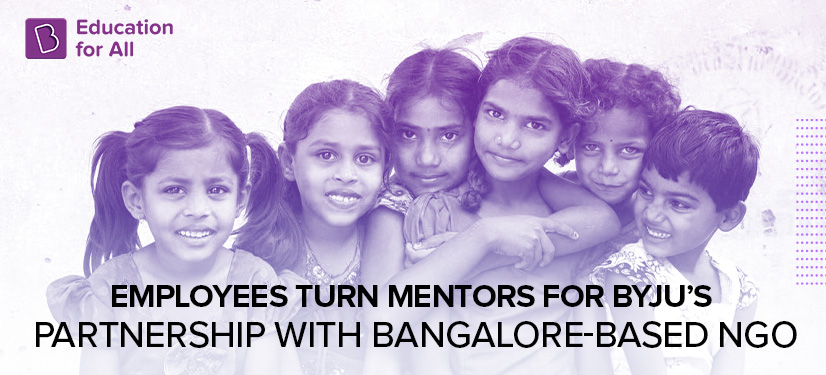 Under this partnership, BYJU'S and NGO Right To Live aim to bring technology-driven learning to nearly 8,500 students in government schools across Karnataka
With the firm idea that education is a sector where it is possible to do well and do good, BYJU'S has always focused on the need for quality education in shaping a child's future and empowering children with digital learning tools. To this end, BYJU'S 'Education for All' has announced a partnership with Bangalore based NGO, 'Right To Live' to provide quality education to the underserved children of Karnataka. 
Through this partnership, BYJU'S aims to bring technology-driven learning to nearly 8,500 students in government schools across Karnataka.
What makes this initiative special and sets it apart from other social impact initiatives, is that BYJU'S employees have themselves taken the initiative to teach Basic Conversational English to these children.
As a part of BYJU'S collaboration with Right To Live, 338 licenses have already been rolled out to students of Government Girls High School in Karnataka's Chikkaballapur district which will help the students access BYJU'S learning program and one-on-one mentoring program with the volunteers for seamless learning.
For this initiative, 65+ BYJU'S employees are teaching students from several government schools across the state, aged between 9-15, on a weekly basis.
Mansi Kasliwal, VP-Social Initiatives, BYJU'S, said, "We appreciate the spirit of our employees in initiating this noble deed of coming forward to impart quality education to students from lower-income backgrounds. We are extremely proud of the impact of our 'Education for All' initiative and are thrilled to see our employees put in every effort to further our vision in making it successful."
BYJU'S had launched its flagship social impact initiative, 'Education for All' in 2020 with the aim to transform the educational journeys of 10 million students by 2025. This initiative was majorly aimed at countering the effects of the COVID-19 pandemic which led to a sudden shutdown of schools and a massive fallout of students from the education system. 
It is a proud moment for BYJU'S as employees don the role of proactive volunteers and spend two hours of their weekly time to mentor underprivileged students across the state, mirroring BYJU'S motto to provide equal learning opportunities to every child.