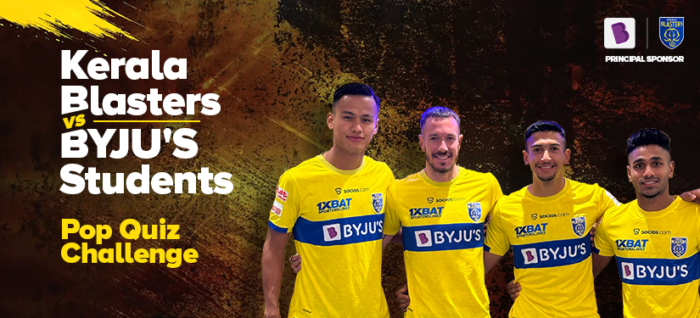 Young BYJU'S learners challenged the talented Kerala Blasters players over a mind-bending fun quiz during their recent tour to BYJU'S office in Bangalore. Jeakson Singh Thounaojam– the defensive midfielder and the only Indian player to score a goal in a group match against Columbia during the FIFA U-17 World Cup in 2017, accompanied his fellow 'Blasters' Victor Mongiil, Sahal Abdul Samad and Rahul Kannoly Praveen, in their maiden visit to BYJU'S office.
Kerala Blasters Football Club KBFC (commonly called "The Blasters"), is an Indian professional football club based in Kochi, Kerala. One of the seven clubs that competes in the Indian Super League (ISL), this squad has a sizable fan base supporting throughout Asia. 
Rahul Kannoly Praveen plays, the winger or forward for the Kerala Blasters is known for his speediness, explosiveness, and a top-notch dribbling style.Sahal Abdul Samad, positioned as a midfielder for both the Kerala Blasters and the Indian National Team is known for his technique of combining creativity with his playing strategy.
Jeakson Singh Thounaojam is the defensive midfielder for the Kerala Blasters and the Indian National Team. Victor Mongiil, the centre-back is known for his team-mindedness and can cover multiple positions on the team. He plays both as a central defender and a midfielder.
The Quiz
While Jeakson, Victor, Sahal and Rahul leave their fans star-struck when they venture out on the field, our BYJU'S students Joanna, Aditi, Aditya, Arnav and Anirudh gave them a run for their money. The competition was neck-to-neck, and the intellect of our young students even took the legend-making footballers by surprise. There was camaraderie and a healthy amount of competition between the students and players. All in all, there was a never-ending zeal for learning.
Watch the riveting game here.