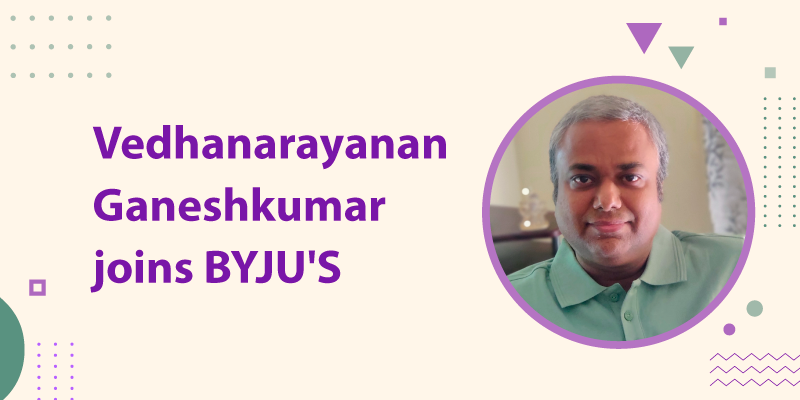 Technology is part of BYJU'S DNA. It is leveraged at scale to support students' entire learning lifecycle and ensuring that learning is accessible, personalised, engaging, and immersive for all.
In an effort to further accelerate BYJU'S plethora of innovative, impactful, and unique tech-driven learning products and solutions globally, BYJU'S has onboarded Vedhanarayanan Ganeshkumar as Vice President, Technology.
In his new role, Vedhanarayanan will be responsible for catalysing critical technologies to elevate BYJU'S tech prowess and define the future of learning. He will also build and lead a talented team of engineers, software development managers, software development engineers, product managers and program managers. 
Before joining BYJU'S, Vedhanarayanan worked at Amazon India as Senior Manager Software Development. He has a strong background in product vision, roadmap administration, stakeholder engagement, and project management. A business leader with over 20 years of experience in building analytical solutions, he brings on board his expertise in building and managing highly available, low latency, distributed systems.
Commenting on the appointment, Anil Goel, President – Technology, BYJU'S, said, "We are delighted to have Vedhanarayanan on board. His strong expertise in tech development will further strengthen BYJU'S commitment to create value in students' lives and provide them with high-quality learning opportunities. We look forward to working together and supporting him in achieving his goals."
Confirming his new role, Vedhanarayanan Ganeshkumar, Vice President – Technology, BYJU'S said, "Technology is a powerful instrument that has the potential to transform and reinvent how education is delivered. I am  excited to be associated with the tech team that forms the foundation of BYJU'S. The company is  already delivering cutting-edge technologies and is constantly innovating the educational ecosystem. I look forward to playing a key role in the development of next-generation education technology that makes quality education accessible, equitable, and contextual for every student."