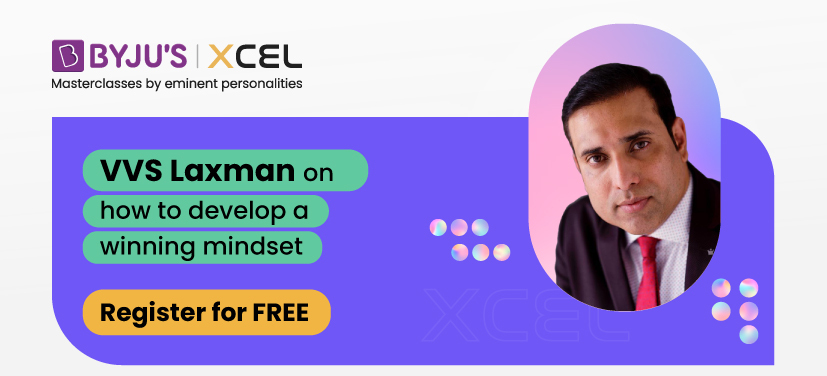 We at BYJU'S firmly believe that the ability to learn is the single most important skill for success as it helps one navigate through life's challenges, achieve one's goals, and more.
With this motto in mind, we bring to you BYJU'S Xcel, the latest offering from BYJU'S that is meant to make learning more meaningful and inspiring and tap your highest potential!
Starting May 7, 2022, this year-long programme will be a series of masterclasses for students, crafted around topics relating to Science, Technology, Creativity and Life. Every session will leave you wanting for more and inspired to truly bring about a change in this world.
Imagine your favourite cricketer talking about that moment that changed their life or a well-known TV star speaking about their greatest struggles and how they overcame them; or the CEO of the fastest-growing drone company tearing apart a Drone right in front of you and breaking down the science behind this amazing flying machine.
We begin our masterclass extravaganza with a power-packed session by VVS Laxman, legendary Indian cricketer, who will speak on developing a winning mindset to transform the way you shape your life. VVS Laxman's once-in-a-lifetime 281 against Australia at Eden Gardens in 2001 was ranked the Greatest Indian Test Innings in Wisden's survey. The well-known sportsman will share the secrets of withstanding pressure and taking surefooted steps to achieve your goals, whatever they may be, in studies or life. At the end of this session, you will learn how to build grit and resilience, manage yourself tactfully and take consistent steps towards your goals.
This is just the beginning of a series of power-packed masterclasses to follow. Keep watching this space for more!
The format
BYJU's Xcel is held live, and will be streamed in an interactive format with a BYJU'S Star Teacher and a guest – a celebrity from the world of Sports, Movies, Business and various fields or an expert from the world of Science & Technology – with each session lasting an hour.
Why is BYJU'S Xcel unique?
Every session features a fun, energetic host who brings out the best in the experts or guests creating a wholesome learning experience for our students and their families. The two-person format has been created to ensure there is never a dull moment.
The live format has been filled with interactive activities such as the 'Spotlight' where select students are allowed to ask their questions live to the guest; live quizzes with prizes, fun do-it-yourself experiments that you can do at home; exciting post-class contests; summary documents for your reference after the session and much more!
Students get to hear life stories of celebrities and experts and learn lessons that they can apply in their own life. Right from leadership, resilience, goal-setting or facing challenges to real-world applications of STEM like the science of drones or special effects in movies, each BYJU'S Xcel session teaches you something new.
This is your chance to watch and learn from the otherwise hard-to-meet personalities that inspire all of us, starting from famous cricket players, movie stars, entrepreneurs, writers and artists to science and technology experts.