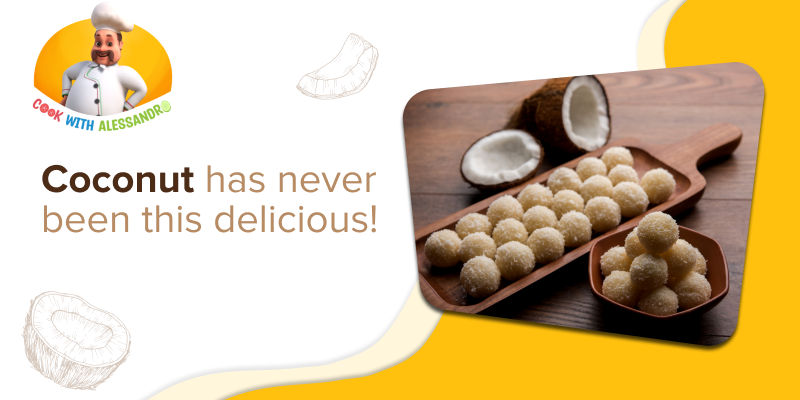 While tidying up the kitchen and waiting for Farmer Phil, Chef Alessandro sang loudly by himself – "The Phantom of the Opera is there inside my mind." 
The door of Alessandro Restaurant then swung open, and Farmer Phil walked in hurriedly. Gasping for breath, he asked Chef Alessandro, "Why did you require milk so urgently? I had to leave my farm friends."
Chef Alessandro replied, stating, "I require it to make the most mouth-watering coconut ladoos." Farmer Phil responded, "Okay, this milk is phil-tastic! Here you go, I'll be off now. My farm friends are left unattended. Do make me try the ladoo sometime."
Do you want to surprise your little one with this treat? Let us join Chef Alessandro to make the delicious ladoos with this simple recipe!
Ingredients
A cup of shredded coconut. 

½ cup of condensed milk 

¼ tsp of cardamom powder (optional) 

Finely chopped almonds for garnishing
Steps
Roast the shredded coconut in a pan on a low flame for approximately 2 minutes (Leave some aside to coat the ladoo with it once it's ready).

If you enjoy the taste, sprinkle in some cardamom powder. 

Add the condensed milk and keep stirring until the coconut blends well with the milk. 

Turn off the heat and leave the mixture aside for it to thicken. 

Dab some ghee or unsalted butter on your palm, scoop the mixture in your hand and shape it into small-sized balls. 

Finally, roll the ladoo in the shredded coconut, garnish it with almonds and serve. 
Use it as a post-meal treat for your child. You can store it in an airtight container and enjoy it for a week as it is. 
Let's see what Jax and Jane have to say about this delicious sweet! Try out the recipe and see if it puts a smile on your child's face. Do share with us how it turned out for you in the comments below!