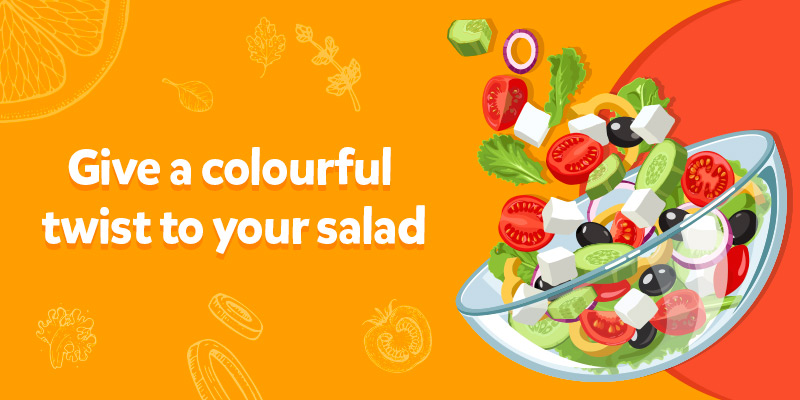 Getting children to eat fruits and vegetables is a challenge for most of us. One fun way to get them to eat nutritious food is by slipping it as a snack. Preparing healthy snacks for kids is a great way to engage with them and foster healthy eating habits. Giving quirky names to food items and indulging children in a variety of nutritious and colourful fruits and vegetables is a great way to get started.
Here's how you can prep a healthy snack for your child.
Rainbow Salad
Ingredients
1 carrot – finely diced
1 tomato – finely chopped or 7 cherry tomatoes
1 cucumber – peeled and finely diced
1 cup green gram (moong) – sprouted
1 cup chickpeas – prepared at home or tinned – optional
1 cup sweet corn
1 beetroot – boiled and finely diced
1 onion – finely diced or spring onion
3-4 lettuce leaves or any salad leaves of your choice
1 apple – finely diced
1 pear – finely diced
1 green capsicum*– finely diced 
*You can also use red or yellow capsicum if you have access to the same
For the seasoning
Fresh lemon juice as per your taste
Salt and pepper as per your taste
Drizzle of olive oil (optional) 
Method
Take a large bowl and put all the fruits and vegetables in it and keep it aside

In a small cup, add the lemon juice, pepper and salt. Add the olive oil too if you are using it. Mix well

Pour the seasoning mixture over the mixed vegetables and fruits. Toss them well

Serve when ready
Pro tip – Get your child to mix the ingredients together and help them learn about different textures, benefits of the fruits and vegetables that are part of the salad.