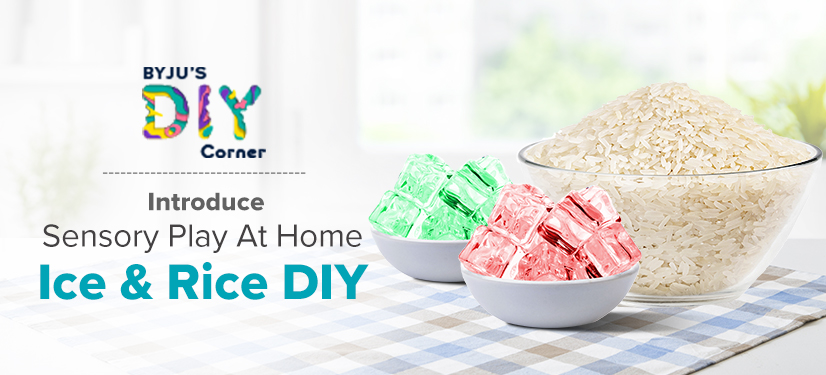 In our earlier post, we discussed sensory play and how to set up sensory bins for young children. Today, we will talk about how to introduce sensory play to young children through an activity that involves coloured ice & rice. It teaches children about colour mixing and it rhymes too! 
Let's go!
Here Are A Few Things You Will Need
How To Make Coloured Ice Cubes
First, put an equal amount of water in three containers

After that, drop a few drops of colour in each container

Then, close the lid of these containers and shake them. 

Later, when the colours are thoroughly mixed, pour the coloured water into the ice cube moulds

In the end, put the ice cube moulds in the refrigerator to set
Let's Play!
Requirements: Coloured ice cubes, Uncooked rice, Tray
Parental Involvement: High 
Instructions:
Divide the uncooked rice into multiple small batches on the tray. 

Encourage the child to pick up an ice cube and place it on the uncooked rice. 

Ask the child what happened? (The water and the rice changed colour.)

Repeat the same with the remaining coloured ice cubes. 

Then, ask the child to pick two different colours and put them together on a tray with uncooked rice. 

Ask questions such as what is happening, what do you think will happen next, can you name the colours, etc? 

Do this till all the ice cubes melt. 
Tip: More colours would make it more interesting. You can also make coloured rice and compare the differences between coloured ice and coloured rice. 
This sensory bin activity teaches the child about observation, comparison, eye-hand coordination, cause and effect, and concentration. These are important skills that every child should master. 
Are you excited to try this out at home? Do you think your little one will enjoy this activity? Let us know in the comments below or drop a note at storyweavers@byjus.com.