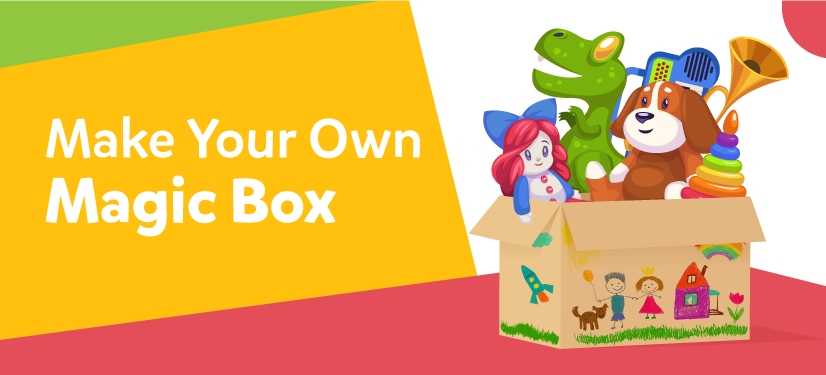 Dreams, aspirations and stories of wonder are a huge part of a child's life. Keeping their imagination alive and sparking their curiosity remains at the core of every interaction or project that we do with them. This easy cardboard craft for the creation of a magic box is a fun DIY to help them make their own beloved box of treasures. It can hold their toys, their collections of different items like shells, stones, feathers, their first paintings, clay models and so much more.
Creating a magic box will help in fostering creativity, recycling unused material, exploring their varied interests and learning to organise their things. It helps them develop a sense of accountability and responsibility for their own stuff. Also, it is a great way to learn more about what excites them.
How to get started?
Things you need
Unused clean cardboard box (bigger the better)

Paint

Plain paper or different coloured sheets

Glue

Scissors

Tape (optional)

Markers

Stickers or other decorative items like glitter, shells, buttons etc (optional)
Method
Discuss with your child what they would like to keep in the box. Some options to explore are a space-themed box or a dinosaur-themed box or a pirate's treasure chest. 

Get to know what they would like to put in it and help them design it.

Use the paints or cover the box with paper and make different imprints on it. You can

use vegetables too to make impressions

and designs on the box.

When done, keep it aside to dry.

Once the box is ready, you can get your child to tell stories about their special magic box and help them keep their things safely.
Another great way of bringing magic into your child's life is through Disney.BYJU'S Early Learn program that comes with a magic box for your child. You can explore more here.