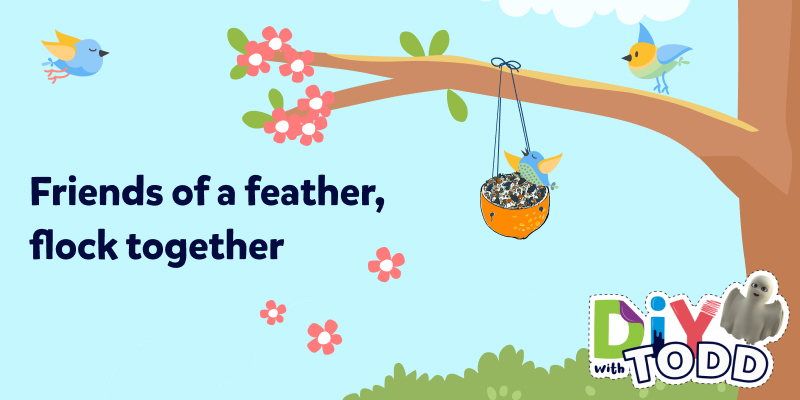 Hey there!
I am Todd! My friends say I am a talented  DIY artist. And today, I shall show you one of my favourite DIYs – a natural bird feeder. 
Let's get cracking!  This is your chance to learn a new craft and also get friendly with some of the birds in your neighbourhood!
Things you will need
1 orange
1 spoon
1 knife (adult supervision required)
1 ball of string
1 cup grains or pulses of your choice
1 nail
1 child-friendly glue (optional)
Method
Take the orange and cut it in half

Scoop out the orange pieces with a spoon and keep the two halves  aside to dry

Use the nail and make four holes in each dried orange cup 

Make handles with the string to make a basket out of the orange peel cups

Ensure it is tied properly and use the glue if required to secure it better. Allow the glue to dry completely

Pour the grains into the orange cups and hang them outside
And, we are done! Cheers to us for making new friends!
You can also look at the step-by-step process shared in the image below. Leave me a message in the comments section!