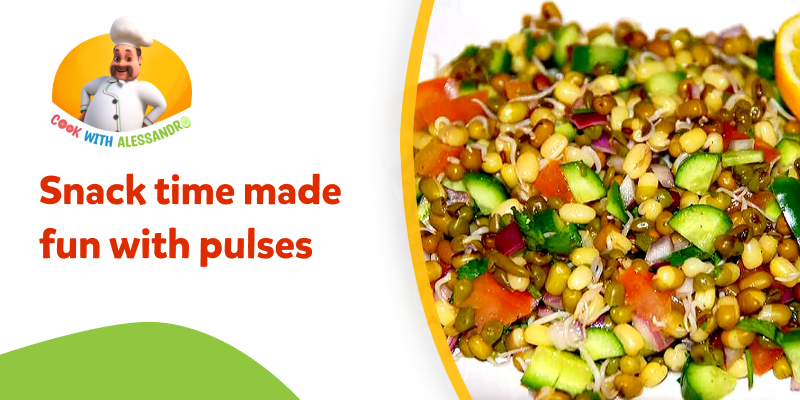 Hello, budding chefs!
Welcome back to another episode of Cook with Alessandro! I hope you enjoyed making delicious milkshakes, sandwiches and cookies with the help of my recipes. Today being World Pulses Day, we are going to make a tasty and healthy version of bhel puri,  with mixed pulses. 
This is a really nutritious, protein-rich snack that you can make with just what you have at home. But remember, you MUST take the help of an adult! Some preparations involve heat and sharp knives, so you need an adult's help for those steps.
Here goes the recipe: 
Ingredients
Green gram (steamed and cooked) –  ¼ cup 

Kidney bean (steamed and cooked)  – ¼ cup

Black eyed beans (steamed and cooked)  – ¼ cup

Peanuts (roasted) – ¼ cup

Puffed rice – 2-3 cups

Finely chopped onions – ½ cup

Finely chopped tomatoes – ½ cup

Sweet chutney – ½ cup

Lemon juice – 2 tsp

Chaat masala – 1 tablespoon

Garam Masala (if needed)

Salt to taste
Nutritional benefits
Before we learn how to make the snack, let us take a look at the health benefits! The pulses that we use in the bhel puri are rich in nutrients and minerals like:
These nutrients help you digest your food better and make your body function faster.
Instructions
Are you armed with your little chef hats, aprons, cups and spoons?
Ready with all the ingredients too?
Do you have an adult next to you?
Awesome! Let's begin! 
Ensure that the

adult

boils and steams the pulses before you begin cooking

Ensure that the

adult

chops tomatoes and onions into fine bits before you begin cooking
Once the vegetables and the sprouts are ready to be cooked, take a large bowl and first put the cooked sprouts

Next, add the puffed rice on top of the sprouts

Add roasted peanuts

Add the chaat masala 

Later, add the chopped onions and tomatoes

Add sweet chutney (Important: Add just the right amount of chutney so that it is neither too dry, nor too soggy)

Add very little lemon juice to make it tastier!

Add salt as per taste

Mix it all together… Mix, mix, mix well 🙂
And there you have it! Tasty, easy-to-make and really nutritious bhel puri,  all ready to be gobbled up!
Do prepare this snack and let us know how yummy it was! Also, do share more snack ideas with us in the comments.