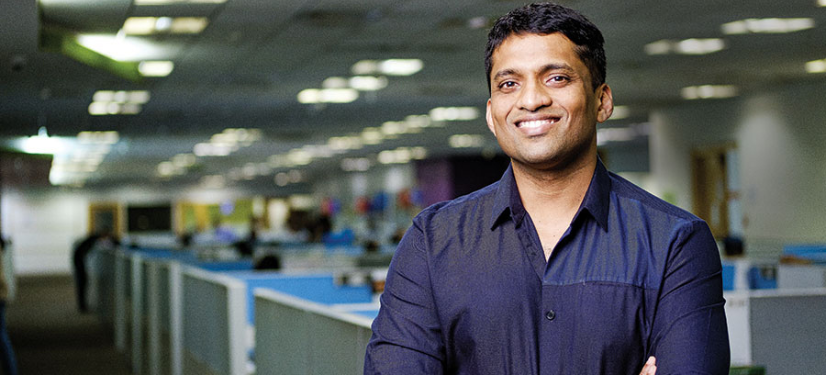 In an exclusive interview with Forbes India, Byju Raveendran discussed the move behind going hybrid, paving the path for the future of education, the company's growth trajectory to navigate the evolving education business ecosystem, and much more
Education is evolving at a faster pace than any other period in recent history. BYJU'S is at the forefront of the edtech revolution, ensuring each student gets access to a standardized and personalized method of learning that works for them. Byju Raveendran, Founder and CEO of BYJU'S, spoke to Forbes India's Rajiv Singh for the Forbes India Edtech Edition. 
Click here to read the article on Forbes India.
Here are some key excerpts: 
The importance of mistakes in learning
"It's important to reflect on the missteps, but you learn from them and take the next step. Everything in the segment that we are doing, we have to learn by doing it. There is no playbook. You will never get it right the first time because it's impossible. This is not a cut-copy-paste model," says Raveendran.
Balancing the roles of entrepreneur and teacher
Now, when the teacher dons the hat of a founder, Raveendran talks like an astute businessman who hunts for silver linings. "Our business was not built during the pandemic, and it's not that suddenly we got lucky. It's been built over a much longer period of time than what people think. I've been teaching now for almost 20 years, and 10 years in this format."
He continues, "Businesses which are built during this phase or scale during the phase… there would be a lot of structural issues, which won't be easy to solve. But the ones that are able to solve will come out stronger. That's the opportunity because at the other end of the crisis, you will find that only fundamentally strong businesses will survive. 
Navigating the headwinds 
If BYJU'S made the most of the pandemic tailwinds that helped edtech soar during the pandemic, then Raveendran knows how to navigate the headwinds. "How do you make the shift from a peacetime CEO to a wartime CEO, if you're assuming that this is wartime?" he asks. "Literally, it's wartime. But it's not a challenge," he adds. There were times when the company focussed on over-indexing more on the growth side and less on the profitability side. "But making a shift is easy because the company's foundation is built as a profitable company," he says. 
On dealing with controversy
As a businessman, Raveendran also knows how much criticism should be taken seriously and how much should fall on deaf ears. "There is always noise. In all the criticism, 80 percent is meaningless, and 20 percent is real feedback. But if you're not willing to listen to that, you're not willing to learn," he says.
Raveendran adds, "Everything is bound to work over a longer period of time and long term is generational for us. If I'm trying to increase my shareholding in the company it is because I believe that this is just the beginning. You won't find many, at this stage of the company, trying to increase ownership. I won't promote anything if I don't have the conviction to use it at home."
Developments on the business front
"Now are there challenges in terms of access to capital for all types of companies? It won't be as easy as it has been over the last two years. But it's not the first time it's happening. The importance of education during such times will only improve, whether it's foundational or rescaling and upskilling. So the sector is bound to benefit. The funding is going to become rational. But isn't that how it is always? Every crisis differentiates fundamentally strong, long-term businesses and entrepreneurs. Those who are taking a very long-term view have an opportunity to differentiate and come out even stronger."
Speaking about the IPO, Raveendran explains, "We are still figuring out the exact timelines, but in the current macro environment, we are also waiting and watching. But if you ask me today, my answer is that it will be nine to 12 months [for the IPO]."
Emerging from the pandemic
While conceding that funding is going to become rational, Raveendran underlines that businesses taking a long-term approach will have an opportunity to come out stronger. "The global edtech story is the Indian tech story. This is one of the sectors where India can create global champions. In this sector, there is cost and quality arbitrage. So, can India be the edtech capital of the world? We have a big advantage. Though you can't take anything for granted, we are far ahead of anyone else. Even if you are a US edtech company, and if you are building that without an India base in terms of curriculum, content and rest, they will struggle actually," he avers.
On association with SRK
"In a 10-20-second advertisement during IPL (Indian Premier League), how do you get the [viewers'] attention?"  asks Raveendran. He continues," SRK has played a big role in our advertisements because he creates excitement and the commercial gets attention. You won't see BYJU'S advertisements where he's coming and selling something. He is not doing that. He talks about the love for learning. This is not edutainment, this is serious stuff. Now, sometimes you have to talk about outcomes because otherwise parents won't get it"
Building on emerging trends: Hybrid learning
"There are things which can be done better online. And there are things which can only be done offline. But if you can find the best of both, that's the future of learning," says Raveendran, discussing the benefits of a hybrid model of education. He goes on, "Now, what is the best of both? Nobody knows. What should be done online? What should be done offline? Is it that we make them do conceptual classes at home and interactions in a classroom? For online learning to work, it's very important to create formats, which are appealing for students to learn on their own. Now the way we have built our curriculums… It's learning driven by the fear of exams and not learning driven by the love for learning. So, for online learning to really work, you should be able to hold on to the attention of a student. If it's done right, it can be a lot more powerful than what anyone can ever do in an offline setup. But it's not 100 percent online and it's not 100 percent offline."