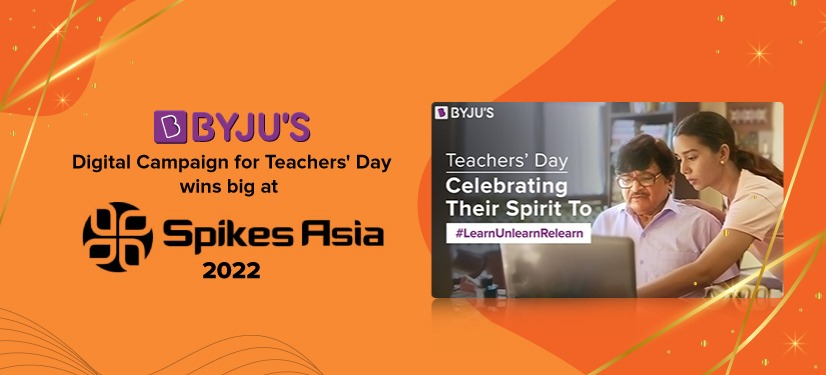 BYJU'S, the world's leading edtech company, has bagged four prestigious metals at Spikes Asia 2022 for its Teachers' Day digital campaign. The film received a Silver each in the categories of Direction and Casting, and a Bronze metal each in the categories of Script and Branded Entertainment, respectively.
BYJU'S was the only brand on the list of winners whose digital campaign was wholly  conceptualized, ideated and executed by the company's in-house brand team. With this award, the edtech company has surpassed some of India's most prominent advertising firms to place among the top three agency winners. BYJU'S is also one of the top four Indian brands in terms of trophies won, with a strike rate of about 80%, having received four wins out of five nominations.
Talking about the win, Vineet Singh, VP – Brand and Creative Strategy, BYJU'S said, "This is a huge milestone in our journey as it places BYJU'S in-house creative team among the finest in the industry. We are now among the top three agency winners in the country after surpassing some of the world's top advertising agencies. The win at Spikes Asia is testament to our entrepreneurial spirit, demonstrating how creativity can be a force for both growth and good. We are excited and committed to keep driving meaningful messaging for BYJU'S."
Released with the hashtag, #LearningNeverStops, the BYJU'S teacher's day ad campaign pays tribute to teachers who have made a difference in our lives while gently underscoring the struggles they may have experienced with the sudden shift to online classes. The film aims to shine the spotlight on how, despite personal upheavals, teachers have been steadfast in their roles as educators and mentors to ensure that the learning never stops for their students. 
Watch the award-winning digital campaign here:
Also read, about the teachers day questions answered by BYJU'S teachers.