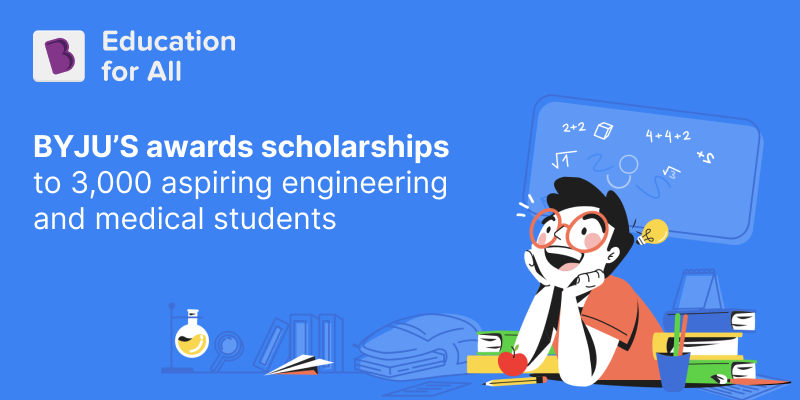 BYJU'S Education for All in partnership with NITI Aayog will provide scholarship holders with free learning material for JEE and NEET along with mentoring support and guidance
Education is not only a basic human right but it is also one of the most powerful tools in lifting communities out of adversity and eliminating disparities. As part of its Career Plus programme, BYJU'S Education for All has offered scholarships to 3,000 aspiring medical and engineering students from some of India's most remote areas, empowering them to take ownership of their future.
The scholarship exams were conducted as part of BYJU'S partnership with the NITI Aayog to discover and provide high-quality coaching to Class 11 and 12 students throughout India's 64 aspirational districts for JEE and NEET. The scholarship was awarded to the top 40 performers in each of the districts. Over 90% of the students who appeared for the Aakash+BYJU'S Admission Cum Scholarship Test belonged to low-income families and were among the 200 top-performing students in their respective districts.
"At BYJU'S, we believe that education is a basic right and every child should have access to it," Mansi Khasliwal, VP- Social Initiatives, BYJU'S said, commenting on the development. "Through the scholarships offered under the BYJU'S Career Plus Programme with NITI Aayog, we aim to empower and equip students with the power of education and ensure they are no longer left behind due to limited resources, location constraints, or socio-economic barriers. We remain committed to helping students reach their true potential and shape the future of the nation."
Aakash+BYJU'S Admission Cum Scholarship Test (ACST) attracted over 10,000 students from remote regions such as Balagir, Dantewada, Nandurbar, Kiphire, Dumka, Mamit, Singrauli with 3,000 students receiving scholarships. This cohort's classes will begin in the first week of June 2022, with applicants receiving mentorship and expert coaching in medical and engineering streams.
The test was conducted in three phases from December 2021 to April 2022 in the 64 aspirational districts amid challenging conditions. Exam supervisors from Baramulla and Kupwara in Jammu & Kashmir were caught in severe snowfall on their way to the exam centres. In another instance, the supervisor assigned to Kiphire in Nagaland had to travel for over two days to conduct the exam.
In the next phase of the Career Plus program, BYJU'S will provide students with learning material along with mentoring support and guidance. With the aim to ensure that every child deserves access to quality education, this partnership will provide children from socio-economically underdeveloped districts free access to BYJU'S high-quality and tech-driven learning programs. This initiative will combine the best of classroom and online learning, thus providing a hybrid model of education. Apart from dedicated centres for implementing support, students will also have access to digital infrastructure in the form of devices such as tablets or smartphones.