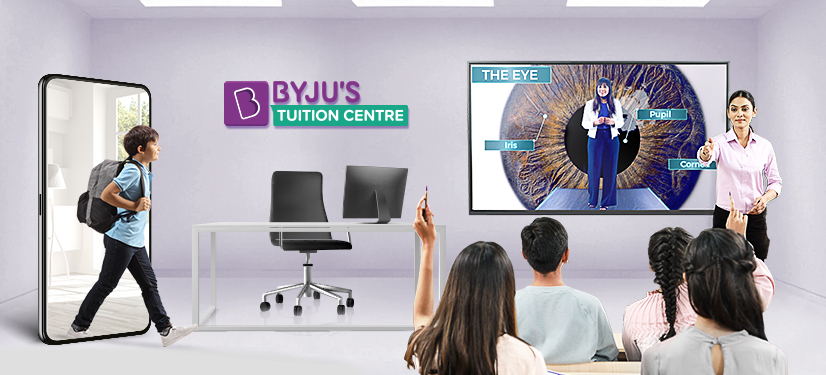 Personal connection has always been an essential component of education, helping teachers refine and develop instructional methods and create learning-rich classrooms. Taking a step towards bettering learning outcomes with innovation, BYJU'S has launched 'BYJU'S Tuition Centre' – a first-of-its-kind comprehensive program for students that brings together the best of offline and online learning experiences.
Available for students in classes 4-10, BYJU'S Tuition Centres will be tech-driven neighbourhood physical tuition centres that provide students with world class learning experience with a focus on engagement and better outcomes through the two teacher model.
Research indicates that having two teachers in one class leads to reduced student-teacher ratio leading to better learning outcomes, higher attention spans and better engagement. 
With the Two-Teacher advantage, one expert teacher explains concepts with the aid of powerful visuals on the screen, while the second teacher guides the momentum of the classroom, ready to instantly help resolve any doubts a student might have during the ongoing lesson. With access to high-quality teachers as well as personal guidance, students are presented with the best of both worlds.
BYJU'S Tuition Centre brings together the best of technology, teachers, and learning formats to provide students with a comprehensive and impactful learning experience. With strong positive feedback from the first 80 centres launched as a part of the pilot program, BYJU'S will be launching 500 centres across 200 cities in 2022. 
Mrinal Mohit, Chief Operating Officer, BYJU'S shared his thoughts on the launch saying, "The introduction of the 'BYJU'S Tuition Centre' is a watershed moment for BYJU'S and a critical step in the shift to a more blended, personalised format of learning. This offering will usher in a new era of education. BYJU'S Tuition Centres address the needs of a significant group of parents and students who prefer a physical component in addition to their online teaching support. These tech-enabled physical centres have been created to provide world-class learning and personalised education to students in order to help them reach their full potential while focusing on engagement and better outcomes. This, we believe, is our most significant distinguishing feature." 
BYJU'S Tuition Centre will not only redefine after-school learning with its 360 degree teaching and learning system but also create employment opportunities for over 10,000+ people across India within a year of operations. The future of learning is one that allows teachers to use their creative skills to provide opportunities for students to learn by incorporating new technologies into their lessons. This new blended method combines classroom and online approaches to education, offering more flexibility to teachers and a richer experience to students. Proactive steps like this in the online tutoring segment help in building the bridge between students and learning.
Sharing his thoughts on the launch, Himanshu Bajaj, Head of BYJU'S Tuition Centre, said, "BYJU'S Tuition Centre' strengthens our commitment to providing high-quality education to all of our students around the country. Students had to alternate between offline and online learning due to the pandemic, but this new BYJU'S offering will solve the multifaceted issues of students and parents across the country. BYJU'S Tuition Centres is the next step in personalised learning. With blended learning set to be the future of education in a post-pandemic world, the BYJU'S Tuition Centre is setting new benchmarks for this format. We hope that this new offering will stand as an example and achieve scale resulting in nurturing future-ready students, and a forward-looking and unique academic environment."
Keeping pace with the current scenario and student requirements, with this launch, BYJU'S is reaffirming its student-centric approach, and creating new and innovative experiences, products, and services based on learners' real needs. It will offer students access to the 'Two-teacher model' in tech-driven physical centres as well as access to BYJU'S online ecosystem, keeping students' requirements at the core. Finally, the important teacher-student personal connect will be supported by an analytics-led assessment of progress and performance, offering more flexibility to teachers and a richer learning experience to students.