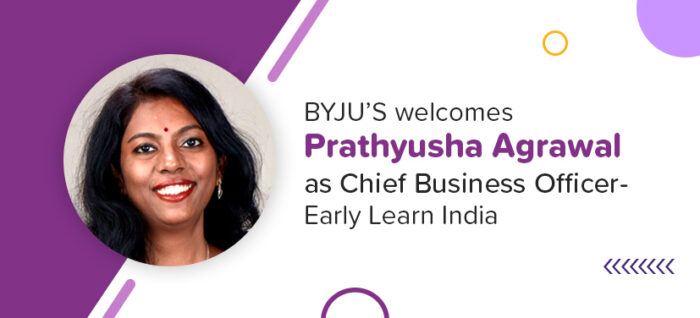 BYJU'S has announced the appointment of Prathyusha Agrawal as the company's Chief Business Officer (CBO), early learn. She will lead the BYJU'S early learn business vertical which offers personalised and interactive learning programs for children aged between 4 and 8 years.
BYJU'S early learn category offerings have expanded through strong partnerships and acquisitions such as Osmo, Epic and Whitehat Jr to include 'phygital' learning. This includes a seamless blend of online and offline, collaborative learning, digital reading and gamified approaches to lessons which will further accelerate and transform learning for young students.
As CBO, Agrawal will focus on charting the early learn portfolio strategy, define design and deliver a holistic learning consumer offering and drive top-line growth for the early learn business.
With a career spanning over 20 years across businesses and sectors, Agrawal has previously worked as a Chief Consumer Officer at Zee, where she was leading the business transformation initiatives and the brand growth mandate across TV and OTT verticals. She has also worked at TataUniStoreLtd as the Head of Marketing and at HDFC Life as the Vice President of Marketing and Analytics.
A post-graduate from IIM Ahmedabad with a degree in Electrical Engineering from IIT Madras, Agrawal also founded 'All OK Tech Support', where she worked with Market Gate Consulting. She honed her marketing skills at HUL for over five years and donned several sales and marketing roles.
Sharing her thoughts on her newest role at BYJU'S, Agrawal said, "I am pleased to be joining BYJU'S and working with a team that is passionate about creating an equal learning ecosystem in the country. BYJU'S has revolutionised the education landscape in India within a short span of time and I look forward to further adding value to the company with my experience," she added.
Welcoming Agrawal to the company, Chief Operating Officer Mrinal Mohit said, "We are delighted to have Prathyusha onboard with us to lead the Early Learn Business at BYJU'S. We look forward to working with her to strengthen our business further as well as support her to achieve her vision for BYJU'S."