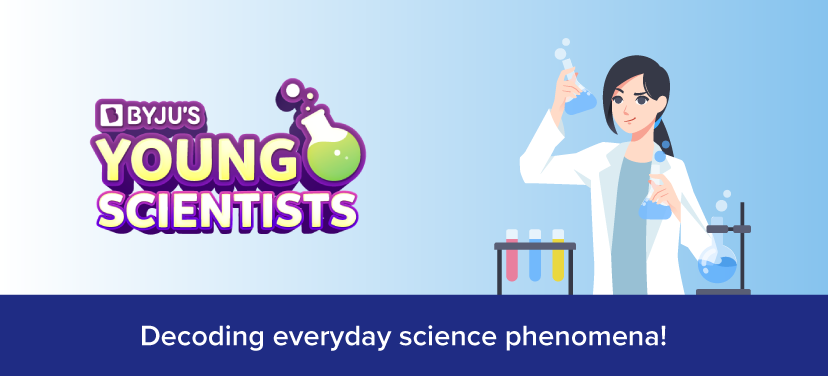 Welcome back Young Scientist!
Have you ever thought about the science behind floating oil on water? Or what's inside your thermos flasks that keeps water warm for a longer time? Perhaps you would like to try designing your own circuit board by adding multiple switches? If you are a curious soul who loves exploring science in everyday life, then you have come to the right platform. 
Introducing BYJU'S Young Scientists Club, where young and curious scientists like you get to answer some of the most interesting questions though the power of science. 
How to join the BYJU'S Young Scientists Club? 
Pick a topic and explain the science behind it.

Record it in a video (your video should be within 1 minute)

Send it to us using the link below along with your name, class, email and location.

Stand a chance to be featured on The Learning Tree Blog.
---
To submit your video, click on the link below.
---
In Episode 2 of BYJU'S Young Scientists, watch S Sri Varsha (class 8), Mahek Darshan Khakhar (Class 7), and Aditya Gajanan Samajle (Class 7) decode the science behind some interesting everyday mysteries. 
S Sri Varsha | Class 8 | Chennai
Mahek Darshan Khakhar | Class 7 | Ahmedabad 
Aditya Gajanan Samajle | Class 7 | Mantha
Missed Episode 1 of BYJU'S Young Scientists? Learn three more interesting science phenomena here: