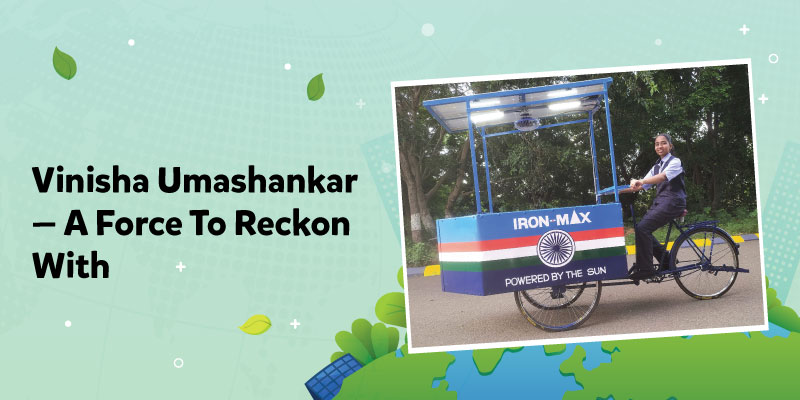 Climate change is real. Even as the world is trying to cope with the relentless nature of it, young climate activists like Greta Thunberg and Licypriya Kanjugam already seem to be a step ahead of the rest. Then there is Vinisha Umashankar, who received a standing ovation for her speech on the subject at a UN event recently. "Young people have every reason to be angry and frustrated at leaders who have made empty promises and failed to deliver. None of what we discuss today is practical for me. We need actions rather than promises to live in a habitable world," said Vinisha, while speaking at the 26th UN Climate Change Conference of Parties (COP26) in Glasgow on November 2, 2021.
The 15-year-old's speech was a part of a meeting that discussed clean technology and innovation and among her audience were world leaders like British Prime Minister Boris Johnson, US President Joe Biden and our Prime Minister Narendra Modi.
Speaking to Team Storyweavers about her experience at the Climate Summit, Vinisha shares, "My experience at the Climate Summit was definitely something new. I think this was one of the biggest opportunities I've received so far, and I'm really glad that I was able to be a part of it. I met so many new people, and most of them were well accomplished in their fields. And I had a lot of fun at COP26, learning about different things."
Innovation at its best!
Vinisha, a Class 10 student from Tiruvannamalai in Tamil Nadu, came into the spotlight last year after winning the prestigious Children's Climate Prize for her innovation — a mobile solar energy-powered ironing cart to reduce the use of charcoal. The prize is given by the Swedish NGO Children's Climate Foundation and is said to be one of the most significant climate-related awards given to young innovators.
Her prototype is a life-size ironing cart that has solar panels on the roof. It is then connected to a 100 Ah battery. The panels produce 250 watts of power every hour and it takes around five to six hours to charge the battery. Once the battery is fully charged it directly powers the steam iron box for six hours. "The battery also has the capacity to store charge for a potentially rainy or cloudy day. Apart from that, the cart can be moved with a cycle attached to it and has USB ports that can be used to charge mobile phones. This prototype is with me at school and we're also connecting with potential investors. However, things are progressing at a moderate pace, because I'm still at school, have my board exams and have to manage everything at once," she explains.

Climate change is real
Vinisha adds that the main reason for her going to COP26 was to deliver a speech at the World Leaders' Summit at COP26. "Apart from that, I also gave a speech at Generation Earthshot,an event that is meant for schoolchildren, and it happened the day after my speech at the World Leaders' Summit. There I addressed schoolchildren and I told them about my innovation, plus what they can do to help save the environment. Besides that, I just explored the summit venue and saw most of the exhibits on display there. It was a whole new learning experience," she says.
The 15-year-old is still planning on working on new innovations. "I had an idea for a smart ceiling fan, in order to help avoid electricity wastage whenever we forget to turn them off. In my variant, I have attached two sensors, which detect the movement of a human or even an animal like a pet. Once detected, it will automatically turn itself on or off, thus saving electricity. I also have a few other ideas to help underprivileged people. I'm still working on those innovations. But I must say the fact that I'm a student is definitely slowing things down a bit. But I think it's normal. I'm doing my studies and designing innovations at the same time. One day, I will be manufacturing all my innovations. I just cannot tell when exactly," she shares.
Managing it all at once
We asked Vinisha how she juggles between her academics and innovations and whether she has a strategy for the same. Responding to this, she says, "I do. Students who work on multiple things at once would definitely understand. We just tend to prioritise things on a daily basis. For instance, when I have an upcoming exam, I would prioritise that; however, in between when I have some time on my hands, I could easily prioritise my innovations. So it depends on a day-to-day basis how much time I can allocate to academics and innovations. It just depends on what is more important for me at any given point of time — be it studies, hobbies or innovation. And, based on that, I allocate my time in a single day. I don't really follow a strict schedule. I just work around all my prior appointments, academics and keep ample time for relaxation."
Apart from innovating, Vinisha also loves to dance, sing, play the keyboard and practise yoga.
Team Storyweavers wishes the 15-year-old environment activist all the very best for her future endeavours. May the force be with her!