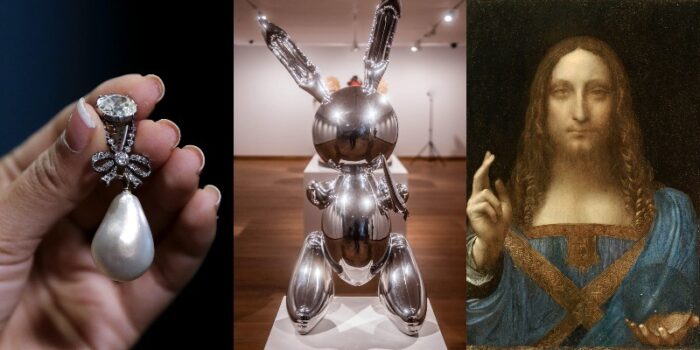 How much would you spend on a used pair of shoes? Probably nothing. So it might be shocking for you to know that one person bought a pair of second-hand sandals for more than $2 million!
However, the used sandals are special since they belonged to Steve Jobs, the former co-founder of Apple. The sandals were recently sold at an auction, which means a public sale where commodities or property are sold to the person who offers the most money.
But those sandals aren't the craziest or the most expensive items purchased in an auction. Read on to know more about some of the most overpriced items auctioned.
Buzz Aldrin's space jacket
Buzz Aldrin is one of the first people to have walked on the moon alongside Neil Armstrong. During the first step on the moon, Aldrin wore a fire-proof space jacket that sold for over $2 million.
Leonardo Da Vinci's painting
Leonardo Da Vinci's 'Salvator Mundi', a painting of Jesus Christ, currently holds the world record for the most expensive work of art ever sold at auction. The painting sold for $450.3 million in 2017 and is one of the 20 known paintings of Da Vinci that has survived any damage.
Elvis Presley's hair
We have seen works of art and clothes of famous people selling for millions, but some auctions can go to new heights of bizarre. Legendary singer Elvis Presley was recognised for his unique voice, fashion style, and his hair! So it wasn't surprising when a lock of his hair sold for $1.15 million in 2002.
Super Mario video game
A PlayStation 5 is easily available nowadays, but did you know there are some games quite rare and more precious? A classic game of Super Mario 64 that is generally played on a Nintendo sold for $1.5 million, making it the most valuable investment in a video game. Talk about child's play!
Pokemon card
The most expensive card ever sold at an auction was a Pokemon card – specifically a Pikachu illustrator card. The card, which was evaluated to be in perfect condition, was purchased for $5.2 million in August this year.
The 'Lady Blunt' violin
This violin is Stradivarius, named after the Italian family Stradivari who built string instruments during the 17th and 18th centuries, and is the rarest and most desired instrument. The clear and exceptional sound makes it a perfect violin, which is why it was acquired for $15 million in Japan in 2011. The violin once belonged to Lady Anne Blunt, the granddaughter of Lord Byron.
Marie Antoinette's pearl pendant
Marie Antoinette was a noblewoman by birth and raised the bars of fashion level, so naturally, she had an extensive jewellery collection. Her pearl pendant sold for $32 million in 2018, making it the most expensive pearl ever.
Jeff Koons' Rabbit
The most expensive work of art is a 3-foot-tall (91.44 cm) steel sculpture of a rabbit made by artist Jeff Koons. The sculpture sold for a whopping $91.1 million in 2019.
Which item do you think was worth the price it sold for? Let us know in the comments.