There's no age limit when it comes to following your dreams and pursuing your passion. All you need is patience coupled with the curiosity to keep learning. For Prathamesh Jaju, a 16-year-old class 10 student from Pune, this proved to be the winning mantra. An aspiring astronomer with a passion for photography, Prathamesh's carefully-honed astrophotography skills helped him capture one of the clearest pictures ever of our celestial neighbour – the moon. Not only was this beautiful snap an achievement in itself, but it was also the key behind catapulting Prathamesh to internet stardom.
How did he do it? Hear it from the boy behind the lens!
Patience pays
His photo of the 'mineral moon' wasn't a one-shot miracle. There was a long exhausting process that went into producing this stunning image. The entire exercise involved capturing 50,000 lunar photos that Prathamesh took over a period of roughly four hours to take them. And then, the processing of the image took close to 40 hours. Fair to say, he wasn't joking when he said that patience is key! But the payoff, as you saw, is ultimately beautiful. "When I finally saw the image, I was overwhelmed. It made me very happy," he said of his initial reaction to seeing the photo.
Prathamesh first uploaded the photo on his Instagram page in May, with a caption describing the behind-the-scenes effort he had put in. According to that caption, it took him 186 GB of data to churn out that one single photo. Soon, people started sharing the photo and several news publications took notice. The rest as they say is history!
Space saga
Prathamesh says that his love for outer space was kindled by iconic pop culture media when he was a child. "It's because of movies and shows like Star Wars and Star Trek that my love for space was born," he says. "The technology shown in those movies always made me wonder about the vastness of space. We don't know much about what's beyond our solar system. That's fascinating and terrifying at the same time!"
The young astronomer has his eyes set on galaxies and nebulae (clouds of dust and gas that are considered to be the birthplace of stars) next. He tells us, "I've clicked photos of almost all of the planets in our solar system except Mercury and Neptune. Mercury sets too early or rises around the same time as the Sun, so it's hard to photograph it. But for my next project, I'm planning to go to the Spiti Valley in the Himalayas. This is where one can find the best and the darkest skies in the world."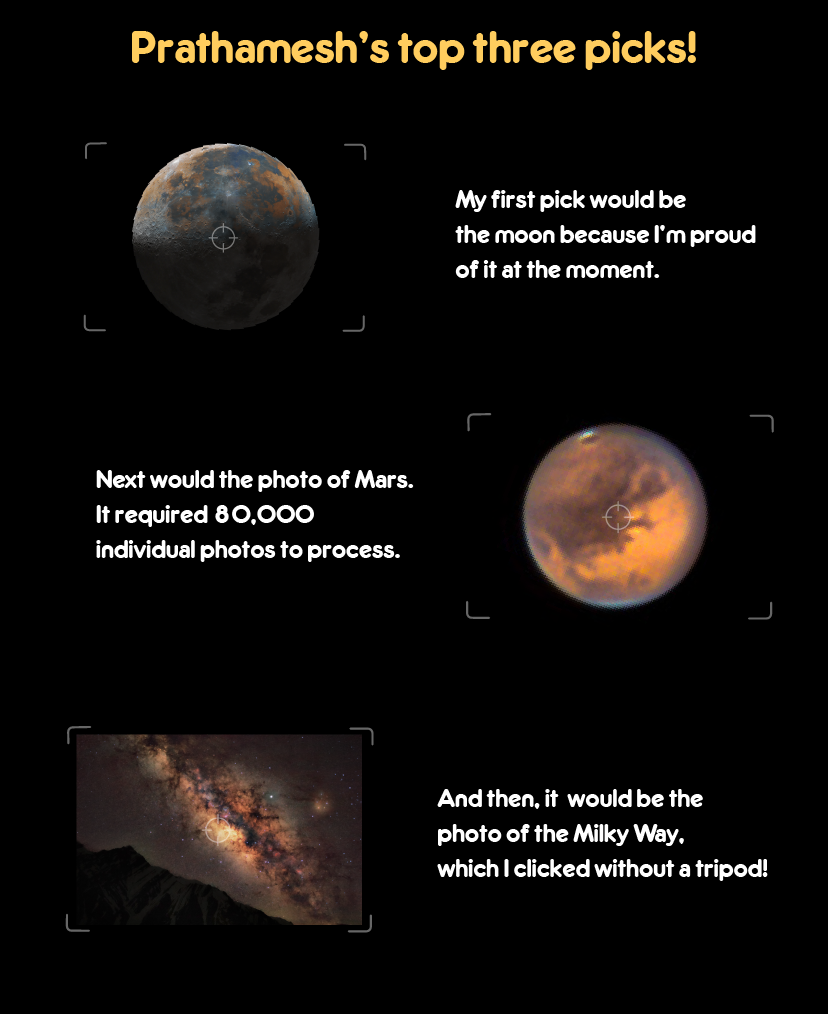 Star of the family
Supporting his passion for all things universal are his parents. Prathamesh credits his father for encouraging him to join Jyotirvidya Parisanstha (JVP), India's oldest astronomy club in Pune, at an early age.
"Listening to the sessions conducted by scientists at JVP further piqued my interest in astronomy. I can't put it in words, but they were really instrumental in inspiring me." 
How do his parents feel about the moon photo? "They're proud!" Prathamesh shares. "They don't quite understand all the intricacies about the process when I explain it to them, but the international recognition that's poured in is making them really happy." He adds, "Initially, they used to be worried since this hobby requires me to stay up late at night to capture the right shot. But now they're okay!"
Astro advice
One interesting facet of Prathamesh's approach to astrophotography is his firm belief that anyone can do it. "Nowadays, because of advancement in technology, you can pursue astrophotography even with your mobile phone. You can fiddle around with settings like long exposure and manual mode to adjust the shutter speed and get started," he says. His piece of advice for beginners?
"Astrophotography is all about trial and error. To shoot pictures of the moon and planets you don't need to travel to special locations. You can do it from home too. All you need is curiosity and some patience."
Liked this? Read more here!
Mission Red Planet: The story of life on Mars through rovers
There's a Traffic Jam in Space and It Could Turn Dangerous