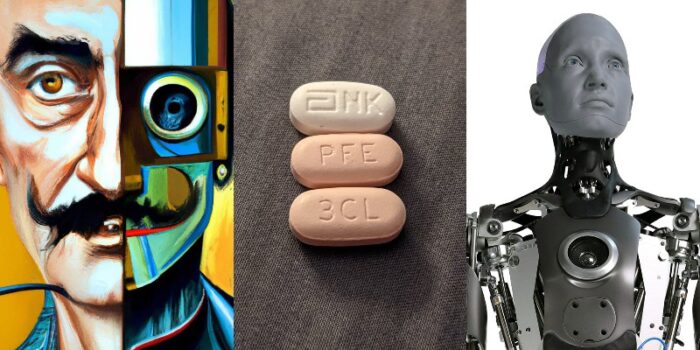 This year was a prominent year for scientific innovations and inventions. From new AI technologies to advancements in healthcare, here are the top inventions that we saw in 2022.
DALL-E
This Artificial Intelligence is one of the first openly available technologies that can take text descriptions called 'prompts' and turn them into images in under a minute. The tech that is accessible to all takes written prompts provided by you, compares them to billions of image captions and descriptions on the web, and uses a program called GPT-3 to generate an image based on the given text. It has already gained popularity and poses a job threat to artists, architects and more!
Ameca, The Humanoid Robot
This year, we saw the debut of Ameca, the humanoid robot, which leads to the possibility of a future full of robots coming true. It's designed to look like an actual person and has the ability to move like a human. It functions on AI, making it an intelligent robot that can learn fast.
Colour changing cars
Wouldn't it be amazing if you could change the colour of your car as you wish? It will soon be possible with auto giant BMW's new car range, set to be released in 2023. This car uses 'E-ink', a flexible display technology that allows the car to change from black to white and back with a click of a button. The tech will also help reduce energy consumption with the electric car.
Smart ring
Smartwatches and smart rings are already in use nowadays. A new smart ring called 'Movano Ring' was recently launched that specifically tracks women's health, like heart rate, blood oxygen levels, number of footsteps, lifestyle changes and more to keep your fitness in check!
AR Glasses
With talk of the Metaverse, Augmented Reality and Virtual Reality are fast becoming part of our reality. This is made possible with the launch of new, slim AR glasses that offer virtual screens of over 120 inches. It has specific software that produces a virtual map of the surroundings based on sensor data and makes it easy to track the wearer's location.
Pill for Covid-19
While Covid-19 vaccinations have saved billions of lives, we're still to come up with an effective medicine that directly eliminates the virus. However, we have come one step closer to managing the effects of the virus more efficiently. Pfizer's Paxlovid tablet is the first oral treatment for the virus, which can be available in medical stores without a prescription. This could help save more lives and make it easier to treat Covid-19 at home.
Lab-grown meat
Have you ever heard of meat made directly from plants? Food company Beyond Meat made this possible by using plant proteins from peas, brown rice, mung bean and faba bean and turning them into juicy and nutritious meat that tastes nothing like the veggies we dislike. How amazing is that!
With technological advances like these, we can be hopeful that 2023 will see even more wondrous improvements and inventions.
What was your favourite innovation this year? Let us know in the comments.