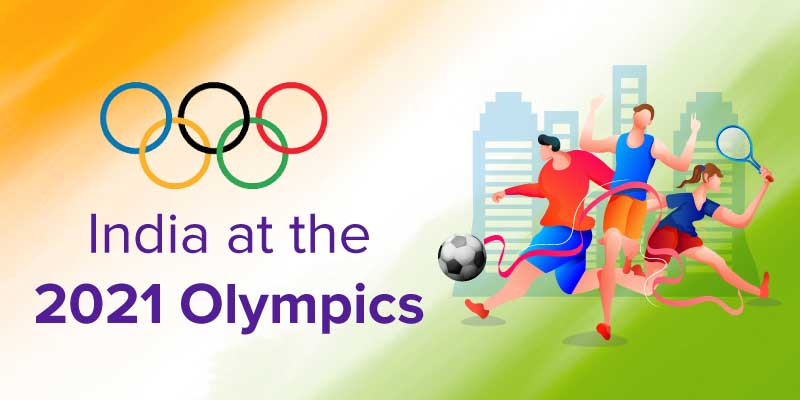 This is as big as it gets! Well, it's the Olympic Games after all! Despite the deadly Coronavirus pandemic wreaking havoc across the globe, the historic event is all set to kick off on July 23 with the ceremonial lighting of the Olympic torch. The games will continue until August 8 in the Japanese capital of Tokyo. 
The Tokyo Olympics was cancelled in 2020 due to the first wave of the pandemic. This year too, there had been talks of cancellation, however, the organisers were determined to make it happen. While athletes begin to arrive at the Games Village in Tokyo, not all seems to be good news. Nearly 30 positive cases have been reported among the athletes, personnel, and media. However, this won't quite stop the Olympic Games from taking place. 
As some of the finest athletes from around the world have already landed in Tokyo, India isn't far behind. The number of Indian athletes participating in the Olympic Games has seen a significant rise over the years. This time too, India is likely to carry on the trend with some of its expert athletes competing at the Tokyo Olympics 2021. In a recent interview, Abhinav Bindra, India's only individual Olympic gold medallist, said that India may be gearing up for its best-ever Olympics this year. 
A total of 127 athletes (including two alternate players and one reserve goalkeeper in the men's and women's hockey teams) will be a part of India's Olympic contingent at the Tokyo Olympics 2021. Out of the total 119 Indian athletes, 67 are male and 52 are female. 
Providing words of encouragement and support, India's first woman to win an Olympic medal and retired weightlifter Karnam Malleswari wrote on Twitter, "Best wishes to Team India @Tokyo2020. You have worked hard and come this far with your grit and determination. Give it your best and win with grace and true sportsman spirit. There are no winners or losers. The nation is cheering and proud of you. Go Champions !! Jai Hind."
Here's the complete list of athletes from India at the 2021 Olympics:
Archery
Deepika Kumari, who is now the number one archer as per the world rankings, is the lone Indian competitor in the women's individual event. Deepika won three gold medals at the Archery World Cup Stage 3 in Paris. Along with winning the women's individual event, she also won a gold in women's recurve team event and mixed event along with her husband Atanu Das. Archery is one such event where India is yet to win a medal at the Olympics, however, this time all eyes are on Deepika and the other athletes.
Tarundeep Rai, Men's Recurve

Atanu Das, Men's Recurve

Pravin Jadhav, Men's Recurve

Deepika Kumari, Women's Recurve
Athletics
Although never a strong suit for India, this category might see a few hopeful frontrunners this year with emerging javelin throwers like Neeraj Chopra and Shivpal Singh.
Shivpal finished eighth at the Asian Games in 2018 and won the silver medal at the 2019 Asian Championships. His personal best is 86.23 metres, achieved at the 2019 Asian Championships in Doha. In 2016, Shivpal also won the men's javelin throw event at the Budapest Open athletics held in Hungary. The 23-year-old Indian athlete Neeraj had qualified for the Tokyo Olympics in January, 2020 in South Africa. He is the reigning Asian and Commonwealth Games champion and holds the national record of 88.07m.
KT Irfan offers significant hope as he became the first Indian athlete to qualify for the 2020 Olympics. India's sprint ace Dutee Chand is all set for her second Olympic appearance.
Shot-putter Tajinder Pal Singh Toor qualified for the Olympics with an Asian and national record throw at the Indian Grand Prix 4 in Patiala.
The full contingent includes:
KT Irfan, Men's 20km race walking

Sandeep Kumar, Men's 20km race walking

Rahul Rohilla, Men's 20km race walking

Gurpreet Singh, Men's 50km race walking

Bhawna Jat, Women's 20km race walking

Priyanka Goswami, Women's 20km race walking

Avinash Sable, Men's 3000m steeplechase

Murali Sreeshankar, Men's long jump

MP Jabir, Men's 400m hurdles

Neeraj Chopra, Men's javelin throw

Shivpal Singh, Men's javelin throw

Annu Rani, Women's javelin throw

Tajinderpal Singh Toor, Men's shot put

Dutee Chand, Women's 100m and 200m

Kamalpreet Kaur, Women's discus throw

Seema Punia, Women's discus throw

4×400 Mixed Relay

Men's 4x400m Relay
Fencing
Bhavani Devi became the first Indian fencer to qualify for the Olympics. The sabre fencer hailing from Chennai sealed the deal through the Adjusted Official Ranking (AOR) method at the Budapest Sabre World Cup, an Olympic qualifying event, held in Hungary in March.
World champion PV Sindhu will be aiming for a gold this year when she hits the court in Tokyo.
Other athletes:
B Sai Praneeth, Men's singles

Satwiksairaj Rankireddy and Chirag Shetty, Men's doubles
Boxing
Vikas Krishan (Men's, 69kg)

Lovlina Borgohain (Women's, 69kg)

Ashish Kumar (Men's, 75kg)

Pooja Rani (Women's, 75kg)

Satish Kumar (Men's, 91kg)

Mary Kom (Women's, 51kg)

Amit Panghal (Men's, 52kg)

Manish Kaushik (Men's, 63kg)

Simranjit Kaur (Women's, 60kg)
Table Tennis
Tennis
Sania Mirza qualified for the Games through her protected ranking and chose Ankita Raina to be her Women's Doubles partner this year. 
Sania Mirza and Ankita Raina, Women's Doubles

Sumit Nagal, Men's Singles
Weightlifting
Mirabai Chanu will be India's only representative in weightlifting at the Tokyo Olympics. Ranked second in the world, the former champion is among the frontrunners for a medal in the women's 49kg weight division.
Equestrian
Fouaad Mirza is the first-ever Indian equestrian to qualify for the Games in 20 years. He sealed his spot at the Olympics with a fine show at an event in Poland sometime ago. Mirza achieved the necessary Minimum Eligibility Requirement (MER) on both his horses, Seigneur Medicott and Dajara, in the CCI44- Long eventing competition in Baborówko (Poland). He will become the third Indian Olympic equestrian, after Indrajit Lamba (1996) and Imtiaz Anees (2000).
Golf
Seasoned pro Anirban Lahiri qualified for his second successive Olympic appearance after finishing as the best-placed Indian golfer in the final Tokyo Games Rankings for men, released a few months ago. "Best surprise I have got in a while. @Tokyo2020 can't believe I will have the opportunity once again to represent the tricolor," Lahiri had tweeted.
 Contenders:
Anirban Lahiri

Udayan Mane

Aditi Ashok
Gymnastics
Pranati Nayak is only the second Indian woman gymnast to qualify in the history of Olympics. Nayak, who won a bronze in vault at the Asian Artistic Gymnastics Championships in 2019, is all set to compete at the Tokyo Olympics after qualifying through the continental quota.
Hockey
Men's National Team

Women's National Team
Judo
Shushila Devi Likmabam will be India's only participant in Judo this year. She qualified through the women's extra-lightweight (48kg) division as the highest-ranked Asian judoka outside the top 18 on the Olympic Game Quota (OGQ) rankings list.
Rowing
Arjun Jat and Arvind Singh
Sailing
Nethra Kumanan is the first Indian woman sailor to qualify for the Olympics at the Mussanah Open Championship in April early this year. This will be the first time that Indian athletes will be competing in more than one sailing event at the Games — Laser Radial, Laser Standard and 49er. 
Nethra Kumanan, Laser Radial

Vishnu Saravanan, Laser Standard

KC Ganapathy and Varun Thakkar, 49er
Shooting
Young athletes Divyansh Singh Panwar and Elavenil Valarivan are highest-ranked in the 10m Air Rifle men's and women's divisions, while Manu Bhaker also shows significant promise.
Anjum Moudgil, 10m Women's Air Rifle

Apurvi Chandela, 10m Women's Air Rifle

Divyansh Singh Panwar, 10m Men's Air Rifle

Deepak Kumar, 10m Men's Air Rifle

Tejaswini Sawant, 50m Women's Rifle 3 Position

Sanjeev Rajput, 50m Men's Rifle 3 Position

Aishwarya Pratap Singh Tomar, 50m Men's Rifle 3 Position

Manu Bhaker, 10m Women's Air Pistol

Yashaswini Singh Deswal, 10m Women's Air Pistol

Saurabh Chaudhary, 10m Men's Air Pistol

Abhishek Verma, 10m Men's Air Pistol

Rahi Sarnobat, 25m Women's Pistol

Chinki Yadav, 25m Women's Pistol (replaced by Elavenil Valarivan)

Angad Veer Singh Bajwa, Men's Skeet

Mairaj Ahmad Khan, Men's Skeet
Swimming
Sajan Prakash became the first Indian swimmer to directly qualify for the Olympics when he achieved the elusive 'A' cut. Three Indian swimmers will participate in the Games for the first time.
Sajan Prakash, men's 100m freestyle, 100m butterfly, 200m butterfly

Srihari Nataraj, men's 100m backstroke

Maana Patel, women's 100m backstroke
Wrestling
Seema Bisla, Women's Freestyle, 50kg

Vinesh Phogat, Women's Freestyle 53kg

Anshu Malik, Women's Freestyle 57kg

Sonam Malik, Women's Freestyle 62kg

Ravi Kumar Dahiya, Men's Freestyle 57kg

Bajrang Punia, Men's Freestyle 65kg

Deepak Punia, Men's Freestyle 86 kg