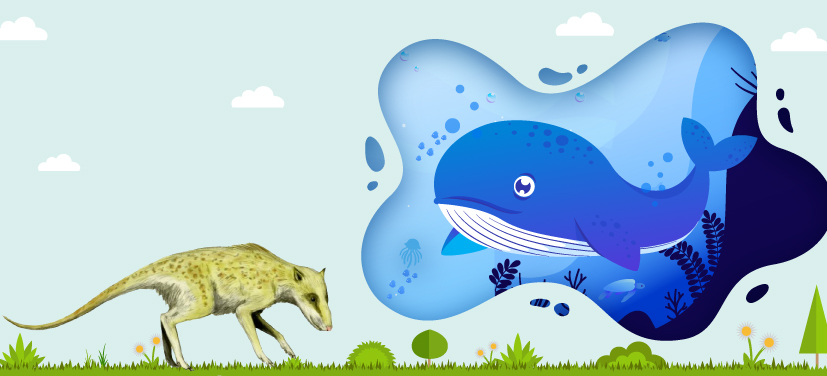 Whales, one of the biggest creatures in the world, have some very interesting origins. Scientists have long struggled to figure out the early evolution of this majestic ocean-dweller, which belongs to a small group of marine mammals.
Recently, thanks to fossils found in Kashmir, scientists have determined that the large, mighty whale evolved from a tiny deer-like creature called the Indohyus! Let's look at what fascinating answers these fossils revealed about the whale's evolution.
Up in the mountains
Hundreds of fossils found indicate that the 48-million-year-old Indohyus lived in the hilly regions of Kashmir. The fossils were first discovered by the Indian scientist A Ranga Rao in the 1960s. However, after his death, they were passed on to professor Hans Thewissen for further study.
Thewissen found that the skull and ears of the Indohyus were very similar to that of cetaceans – a classification of animals including whales and dolphins.
It's all in the bones
On further examination, scientists found more clues about the living habits of the Indohyus. They realised that its bones were much thicker compared to that of other mammals of the same size. This is usually seen in animals that spent long hours slowly swimming in water – like the hippopotamus! This tells us that the Indohyus spent a good amount of time in water bodies possibly looking for food.
Scientists also found that the Indohyus was a herbivore. This came as quite a surprise since it was always assumed that the whale's ancestors were carnivores that moved into water bodies to look for food aka fish. However, it seems that the whale's ancestors were herbivorous first, and spent large amounts of time in water and then turned into carnivores much later.
Such are the mysteries of evolution that bring out the links between mountain-dwelling creatures like the Indohyus and the oceanic whales. Want to know more about how evolution works? Explore BYJU'S study videos on biology here!
What was your favourite part of the article? Let us know in the comments below!
Like this? Read more here!
There's a Traffic Jam in Space and It Could Turn Dangerous 
You've Heard of Cat Whiskers, But What About Metal Whiskers?
Mission Red Planet: The story of life on Mars through rovers