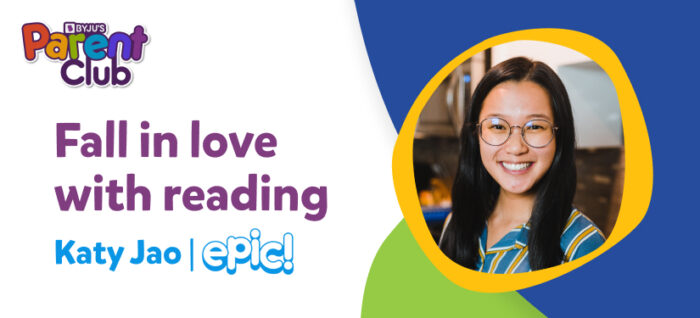 Katy Jao, Educator Relations Manager at Epic, a digital reading platform acquired by BYJU'S in 2021, flagged off the March edition of the BYJU'S Parent Club with an insightful session on how to help kids fall in love with reading. The webinar was attended by several parent bloggers and their children from all over India who actively participated in the session and received solutions on how to make reading more entertaining. Jao's interactive session  included how to make bookmarks and discussions about the participants' favorite books, genres and characters, making it a fun ride for kids.
Jao enriched the session with her vast experience with young readers and discussed the observations she came across while interacting with close to 700 mothers throughout her career. 
Incorporating reading habits into the daily routine:
Jao started the session by focusing on a simple but effective way to help children kickstart the  habit of reading – by making it a part of their daily routine. It can be added as a quiet time for the child or during breaks in between two activities. You can create some quiet reading time for your kids after they come back from playing with their friends and before dinner, Jao said. .
Children love their daily routine and quickly adapt to anything that becomes a part of it. Thus, incorporating reading into what they already do on a regular basis is the most effective way to get children interested in reading. Another way of getting children excited about reading is by creating their own space where they can quietly read in peace, a space that is their own. This way the child will be able to leave behind all their distractions and focus on the text and pictures in front of them.
Modeling healthy reading habits
Jao emphasised on the fact that children often learn to read by imitating their parents. Hence, if parents are avid readers, their children naturally will develop an interest as well.. This way, both child and parent can talk about their respective books and spend time together reading
Asking them about their favorite character and how they would respond to the situations their characters are in will not only stimulate their imagination but also create a sense of empathy among children, which will lead to their emotional growth.
A parent asked Jao for suggestions on how to get her son to read as he is exclusively interested in cars. To this, Jao said, encourage him in his interest in cars and try to get him to read books about it. That way, he will be able to inculcate reading into his interest for cars and eventually will branch out to other areas of interest that he may have stumbled upon while reading on cars.
 Reading isn't always all about reading
Jao also addressed the issue of boredom in children. As active young minds, sometimes children don't want to just sit and read in one place. As one parent pointed out, "My son quickly finishes a book just so he can move onto another activity". To this, Jao said at a young age, this is very natural for kids. In this case, it would be a good idea to include activities into the exercise of reading. Jao asked both parents and kids to draw a character from their favorite book and showed some examples of what her students had drawn. It's a good idea to include arts and crafts to extend your child's reading activity, she said.
All reading is good reading
To most parents' relief, Jao agreed that whether it's graphic novels, comic books, DIY art books, cook books or audiobooks – all are books, and reading any of these would help children. Graphic novels, she shared, are instrumental in engaging young readers with their bold illustrations, dialogues and immersive storytelling. This can be a great way to create a habit of reading among children who are not very excited about books.
DIY books enable children to explore various areas of interest and create hands-on learning experiences.
Audiobooks hone children's listening comprehension skills and allow them to access stories that are way beyond their reading capabilities. Through audiobooks children are able to access a vast vocabulary that they would not find in their age-appropriate books.
"As children grow up they switch from learning to read to reading to learn", Jao said, talking about how it is imperative for a child to fall in love with learning at a young age. When children are young, they will read for fun and for pure entertainment, she said. As children gradually grow up, they start reading books that are more curriculum-based. Thus a child who loves reading will easily be able to read academic books due to his natural curiosity for more information."
The BYJU'S Parent Club session culminated after the floor opened up to parents who voiced their own personal experiences, observations and successes. With a focus on making learning fun for young children, the March edition helped parents explore the myriad ways in which children can cultivate an interest in reading and experience the joy of storytelling through graphics, comics, narration and compelling text.