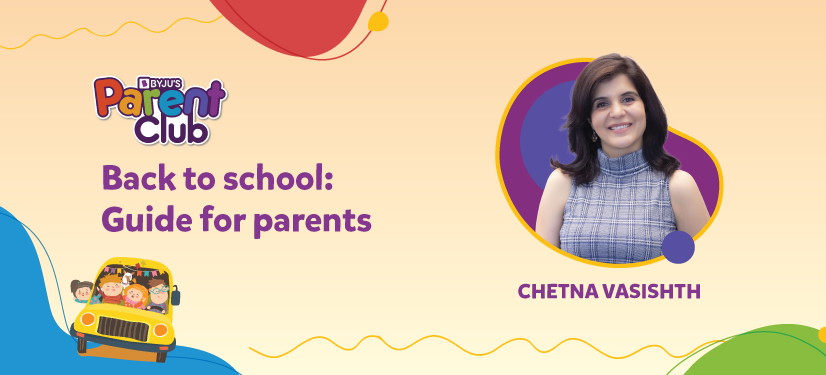 As schools reopen after a two-year long hiatus, both parents and students are readying to get back into their old routine. Young parents with children who reached a school going age during the pandemic are looking for ways to understand how kids will cope in new social settings. Keeping this in mind, BYJU'S Parent Club conducted a session that focussed on helping children ease into their school-going routine. The session was conducted by Chetna Vasishth, Head of Content Marketing and Faculty at BYJU'S, the world's leading edtech company and attended by over 80 parent bloggers across the country. 
Chetna began the session by asking parents about their routine during the pandemic. To this, most parents responded that there was a lack of routine in the past two years which is why when schools finally started reopening there was much chaos and panic among parents as to how to get the children to fall back into routine. For some parents, their children attained a school-going age during the pandemic and this was the first time they would be away from their parents.
Chetna asked the parents to then shift their focus to what the child might be going through mentally, at the prospect of going to school and stepping away from the comfort and safety of their homes. Social anxiety was a common fear among parents who weren't sure if their children would be comfortable in a social setting after being in isolation for so long.
Understanding the child's need
Often parents project their needs and worries onto the child, as a result, the child's needs end up getting neglected. Chetna suggested a couple of methods to get the child to open about their day in school which in turn would give the parents an insight into what the child's needs are and the problem areas that need attention. Several parents voiced the questions they would ask their children about their day but most of these questions could be answered by a simple yes or no, which would defeat the purpose of the activity. Chetna suggested some questions on the lines of, 'what was the favorite part of your day', 'did you have fun during lunch break', 'what the teachers said', and 'how did you like the bus ride'. The questions should be focused and not generic so that children would be able to gather their thoughts on one topic and discuss about their day.
Help them ease into their routine
After a two-year long break, suddenly falling back into the school-going routine will not happen naturally and for many kids this is the first time they'll be going to school. So parents need to take certain measures that will help children seamlessly ease into the routine and minimize anxiety. Chetna suggested parents enact a day in school in the safe and known environment of the home which will not only give children an idea as to what to expect when they start going to school but also create a positive outlook towards it. Secondly, parents should also help children set a daily routine with special focus to their sleep and wake cycle. Some parents said they themselves would pretend to sleep early with the child so as to get the child to fall into the habit of sleeping early while some parents said they created some activity-based reinforcements for the children which motivated them to wake up early.
Prepare them for a hybrid future
The biggest concern among parents was their children's lack of interest in studying from books and attending classes. Since parents used visual aids like videos and slides to teach their kids during the pandemic, going back to traditional methods used in schools is a challenge for kids, some parents said. Chetna suggested that parents could get children to relate the text in their books with the videos they were watching and the activity of using visual aids to study could still continue when the child was studying at home. One advice shared by Chetna was that parents could show their child videos of the topic that will be covered in class the next day. This way the child is introduced to a topic in their chosen way of learning and once they have seen the video they will easily be able to follow what's being taught in school without getting intimidated. It is best to still remain equally involved in your child's learning journey as you were in the last two years and focus on their problems areas and try to solve them by using modes of learning that are best suited to your child's needs, Chetna said.
Easing their mind
Parents should always enforce that going to school is fun, this holds true for first-time school goers and returnees. This can be done by incentivizing going back to school through delicious lunch meals or DIY crafts that they can give their teachers or share with their friends, they should be encouraged to be open to new experiences and people.
Easing your mind
As children start going back to school, both children and parents are likely to feel separation anxiety which is normal. As children step away from the safety of their homes, parents might experience feelings of panic, fear and helplessness but it is important to not project these feelings onto the children. With the ongoing COVID-19 pandemic, hygiene is the primary focus for everyone. While it is important to ensure your child is following measures to keep themselves safe it is also important to not suffocate them with too many pointers to maintain hygiene.
The session culminated after the floor opened up to parents who voiced their own personal experiences, observations and successes. With a focus on how to prepare to go back to school, the June edition helped parents explore the myriad ways in which parents can help children ease into their new routine which would now include going back to school and garner a positive attitude towards it.