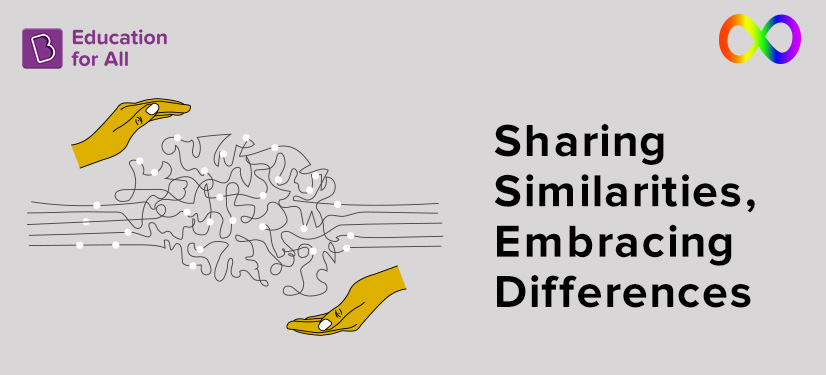 "Diversity is being invited to the party, inclusion is being invited to dance."
When you think of the word "diversity", how far do your thoughts take you? There's Biodiversity, Cultural Diversity, Gender Diversity, etc., but how familiar are you with the term 'Neurodiversity'?
Coined by Australian Sociologist Judy Singer, Neurodiversity is an amalgam of two terms – 'Neuro' which talks about the nervous system or the brain, and 'Diversity' which means being different.
The differences in the structure and the function of the brain leads to neurological variations, which occurs in some individuals affected by certain neurodevelopmental conditions like Autism Spectrum Disorder (ASD), Attention Deficit Hyperactive Disorder (ADHD), Tourette's Syndrome, and different learning disabilities (dyslexia, dyscalculia, dysgraphia, dyspraxia).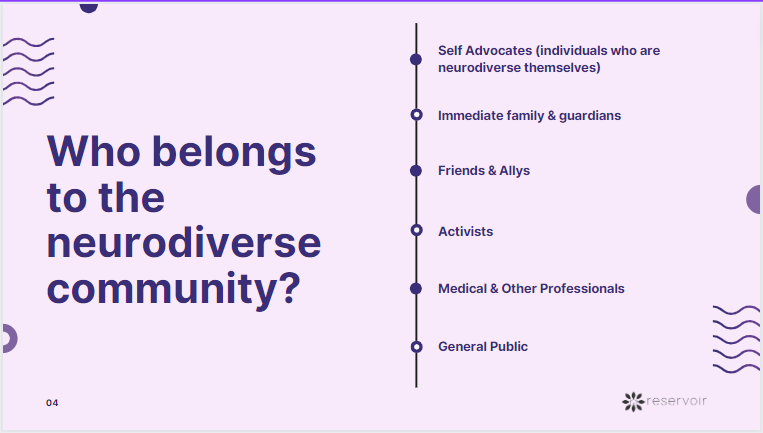 While some of these conditions may seem familiar, it is imperative that we understand them better. At this point, the narrative around these needs to change because they aren't defects, but just differences. We need to be able to understand that the people who are neurodiverse do not need a cure, they are just wired differently. And at any party, we need to be able to "ask them to dance".
To further create this awareness amid BYJUites, we conducted a session "Made Equal: Share Similarities, Embrace Differences", hosted by Shreya Jain, Head, BYJU'S UNO. The idea is to ensure that we as BYJUites can accept the differences and make everyone feel included.
"The workshop allowed us to channel our intention of being a truly inclusive organisation into affirmative action. The idea was to create a safe space where people can ask questions and share what their ideas of what inclusion means to them," Sheya shares.
Discussing Differences
Shreya kicks off the session by saying, "I want to talk about prejudice as a concept. I want all of us to be able to relate to the feeling of being different."
Soon after, BYJUites shared their experiences at the discussion, talking about how they've been isolated and felt different at many instances. Be it the language barriers or the cultural differences, they shared how they felt like they didn't belong and have often masked the differences to feel "normal"
Understanding the Neurodiversity Community
The session then moves on to discussing the neurodiversity community, before which a small quiz was conducted to understand the awareness levels of the participants about the community.
"I realised that neurodiversity as a community is so large, but we need to generate awareness to make this community bigger," Shreya shares.
She then moves on to asking the hard questions: If you had a company, would you hire a neurodiverse person?
Followed by another question of a similar kind, it became clear that many of us have an unconscious bias towards members of the neurodiversity community. While many of these members keep their differences hidden to "fit in", it can be difficult for them to maintain that pace. And a neurotypical person, from the outside may not be able to perceive the same.
For example, in certain situations, we may not be able to understand why an employee is underperforming. Unconsciously, we may perceive them through a negative light, but in reality, they might be facing their own set of challenges.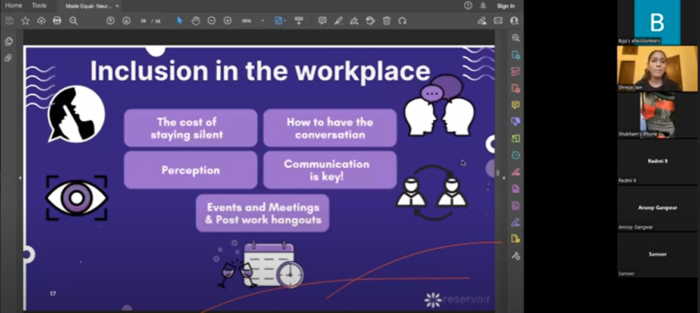 Shreya says, "As a company, we should make people feel welcome, even if they do tell us that they are neurodivergent. We need to make them feel safe, and for that, communication is key."
Roleplay Exercise
Shreya then gave the participants a particular situation which they had to analyse and share their response. The first one was about how we as a parent would explain to our child how to make a neurodivergent child feel included.
Talking About Disability
The session moves on to talking about how a disability may not always to be visible difference.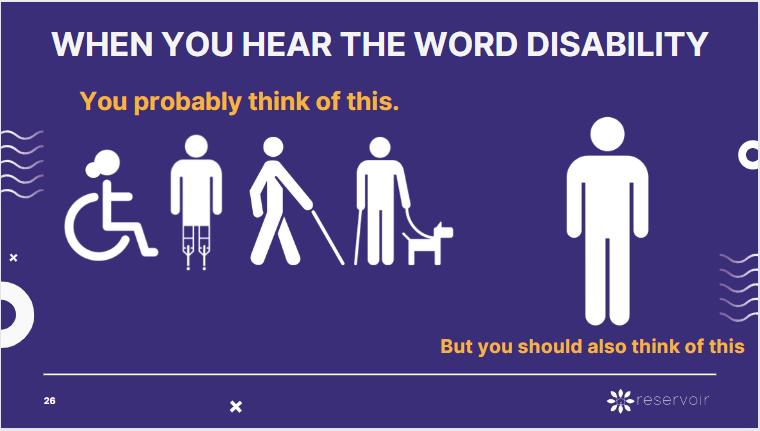 While disability may be perceived as a shortcoming of one person, it actually is more of a trait. A trait that makes it difficult for a person to interact with the world around them.
Shreya then talks about how we can be more inclusive for persons with disabilities, by creating a universal design. She further stresses on how we need to set processes and create products that can be used by anybody and everybody despite the differences in ability.
The session then moves on talking about the different types of neurodiversities and what their strengths are, quoting some renowned examples as well.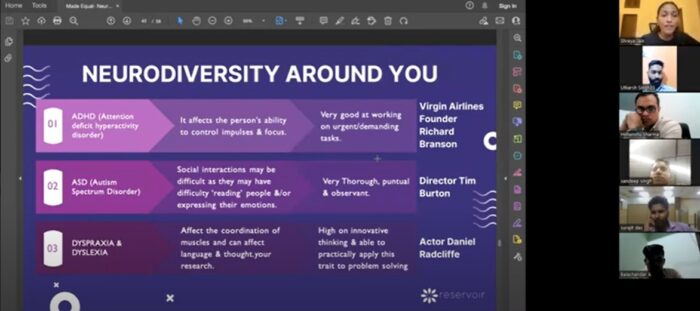 The next point of discussion were the laws and regulations around the community, along with the medical assurances and benefits for people with neurodiversities. Shreya also highlights some of the outdated words and terminologies that were used for persons with disabilities, with the right and inclusive versions used today.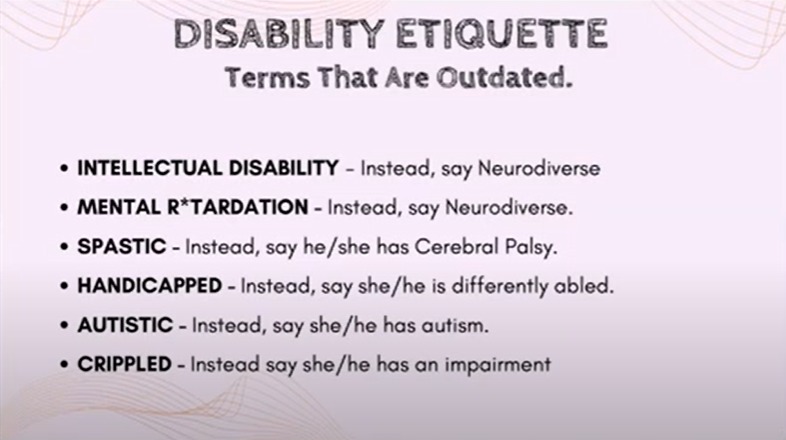 An Eye Opening Session
Most of the BYJUites found the session to be an eye opener, as they got to learn and discuss neurodiversity to a large extent.
"The event was helpful and valuable in many ways. I could say that I had an opportunity to discuss 'Neurodiversity' with an expert who was approachable and helpful. My horizon was expanded in the area of neurodiversity, which made me quite aware of certain medical conditions that are widely prevalent in our society," says Ahil Kannan.
"The session was lovely. I felt that we had very little idea about it prior to the session.
But it was an eye opener and it was great to see that BYJU'S is taking a step in inclusion of diversified people," shares Deepthi Subnivis
We would love to conduct more such sessions in the coming days and spread the idea of being an inclusive workspace. We hope that we can create more awareness around neurodiversity together, and make the members of the community feel safe and included.
For any queries or to discuss neurodiversity in detail, please reach out to Shreya Jain: jain.shreya@byjus.com
Also Read: A Hope to Create Unity in Neurodiversity: Akhil Lad on Living with Autism