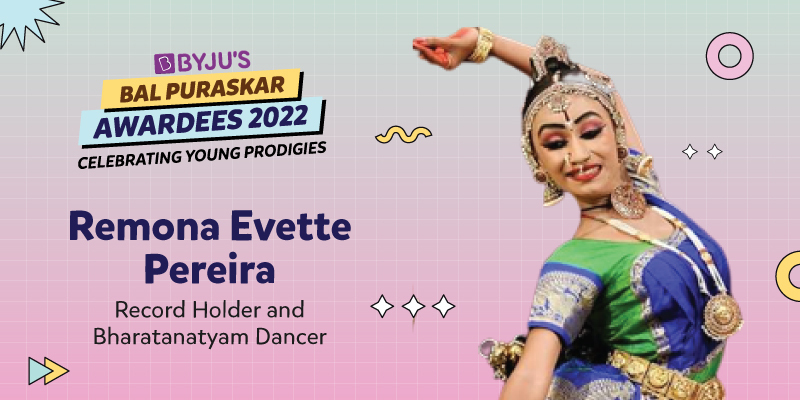 For Remona Evette Pereira, dancing is like meditation. "When you dance, you forget about the chaos and all that's happening around you. You just focus on what you love doing. This is what happens to me too while dancing, and it brings me peace," shares the 16-year-old Bharatanatyam prodigy from Mangaluru, who recently bagged the prestigious Pradhan Mantri Rashtriya Bal Puraskar.
Remona has received 105 accolades for her art form at the national, state, and district level over the years and has several records in this field. One of the significant ones is the Golden Book of World Records, an internationally recognised honour she received for performing a semi-classical dance continuously for one and a half hours with as many as 30 props, including fire, skates, and hula hoops. 
---
The Pradhan Mantri Rashtriya Bal Puraskar is a civilian honour in India. The award has two categories — one being Bal Shakti Puraskar, awarded to Indian citizens under the age of 18 for outstanding achievement in innovation, scholastic achievements, social service, arts and culture, bravery, or sports. The other is Bal Kalyan Puraskar, awarded to individuals or organisations that have made outstanding contributions in child development, child protection, or child welfare. 
---
Dancing without fear
This year's awards were announced in January, where Prime Minister Narendra Modi had asked Remona about her inspiration to continue her dance practice and if she faced any fear while using props like fire or dancing on broken glass pieces. "Yes, sometimes I get hurt while using these props as they quite risky. However, I trust my mother because she first tests all of them — though she isn't a trained dancer — and then gives them to me for my performance," the 16-year-old says with confidence. Remona has danced using numerous props such as using fire, glass pieces, glass tumbler, copper plate, mud pot, nail pad, wooden roll, hula-hoops, skating shoes, and more. There have been many accidents on stage while using the props, but that hasn't deterred Remona's spirit to continue performing.
Remona started dancing when she was just three years old, and her mother is her biggest role model. "My dad passed away before I was born. So it has been my mother all along who has taken care of me and my older brother. I remember I was just three years old and didn't have any idea about dance. But my mother had always been very passionate about dancing and wanted to learn herself but couldn't get the opportunity in her time. She used to show me various Bharatanatyam dance CDs when I was young. When I first enrolled into a dance class, my mother joined me too, to ensure that my interest would eventually grow for this dance form," recalls Remona.
Passion is the key
Remona currently practises for two hours a day as she also has to focus on her academics. "As long as there is passion and dedication to learn and perform the dance forms, I don't deem it difficult at all to manage my practice and studies at the same time. You have to give equal time for both. I am also learning Western, hip hop, Bollywood, and Latin dance forms. I wish to take up dancing professionally and also do a PhD in Bharatanatyam," shares the Bal Puraskar awardee. During the pandemic, she got more time to practise which was an added bonus.  "The pandemic and subsequent lockdown did hamper our studies and shift everything to online. But on the other hand, I got a lot of time to practise at home, learn new dance forms online, and focus more attention both on my academics and dance," she says.
Finally, the young dancer and Bal Puraskar awardee feel that classical and Indian dance forms are not as popular compared to western dance forms nowadays. And she thinks that a classical dancer must ensure that today's youth is aware of their rich Indian heritage. "I feel that western dance is more popular than classical since most youngsters do not find it interesting to learn classical dance form, which is quite unfortunate. But I feel we can change this scenario and make them realise what they are missing out on," concludes Remona.
Read more stories about this year's Bal Puraskar awardees on the BYJU'S blog:
I Want to Become Like Arijit Singh: Youngest Multilingual Singer Dhritishman
Bal Puraskar 2022: Banita Dash — The Innovator Who Discovered An Asteroid