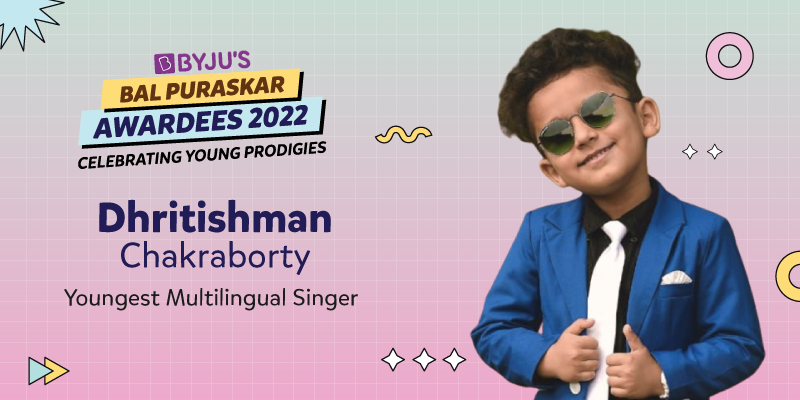 When we asked 5-year-old Dhritishman Chakraborty what he wants to become when he grows up, he was quick to reply, "I love singing and listening to songs. I want to become a rockstar like Arijit Singh." Dhritishman has also mentioned to his mother that he wouldn't like to trim his hair and intends to keep it long, just like his favourite singer!
The young prodigy, hailing from Sivasagar in Assam, has been awarded the Pradhan Mantri Rashtriya Bal Puraskar this year. The five-year-old was dubbed the youngest multilingual singer by India Book of Records in September 2022 — he could then sing fluently in five languages. At present, he can sing in eight — English, Hindi, Assamese, Bengali, Sanskrit, Marathi, Sinhalese and Kannada. 
---
The Pradhan Mantri Rashtriya Bal Puraskar is a civilian honour in India. The award has two categories — one being Bal Shakti Puraskar, awarded to Indian citizens under the age of 18 for their outstanding achievement in innovation, scholastic accomplishments, social service, arts and culture, bravery, or sports. The other is Bal Kalyan Puraskar, awarded to individuals or organisations that have made outstanding contributions in child development, child protection, or child welfare. 
---
This year's awards were announced in January, when Prime Minister Narendra Modi applauded Dhritishman for his achievements at such a young age. "At the tender age of 5 years, Dhritishman Chakraborty can sing fluently in five languages, holding the record for being India's youngest multilingual singer. I congratulate Dhritishman for winning the Rashtriya Bal Puraskar and wish him success. May he keep pursuing his passion," PM Modi had written on Twitter. The young prodigy was one among 29 children from all over the country, who received the award for their outstanding achievements.
Dhritihsman's mother Sonam Chakraborty beamed with happiness as she shared that it was a dream come true for the child and his family. "This is a huge achievement for our son. Both me and his father are speechless," she quips. Dhritishman began singing at the tender age of three and now has almost 50 music video covers under his belt, all uploaded on his own YouTube channel. He first grasped the lyrics of a song when he was just 11-months-old, recalls the young prodigy's mother. 

His YouTube channel has more than 5,000 subscribers and Facebook page has over 12,000 followers. Dhritishman hasn't begun taking any formal music training yet; instead he learns from his mother, who is a trained classical singer. He also likes to play instruments such as drums and the ukulele. "We have plans to train him properly in classical music. Once COVID restrictions are lifted and things get back to normal, we will enroll Dhritishman for music lessons," concludes Sonam.
Read more such inspiring stories on the BYJU'S blog:
Here's How BYJU'S Helped Rajdeep To Win Gold In Olympiad and Manage His Class 10 Studies
How BYJU'S is Helping This Swimming Champ Achieve Her Dream Of Becoming A Surgeon