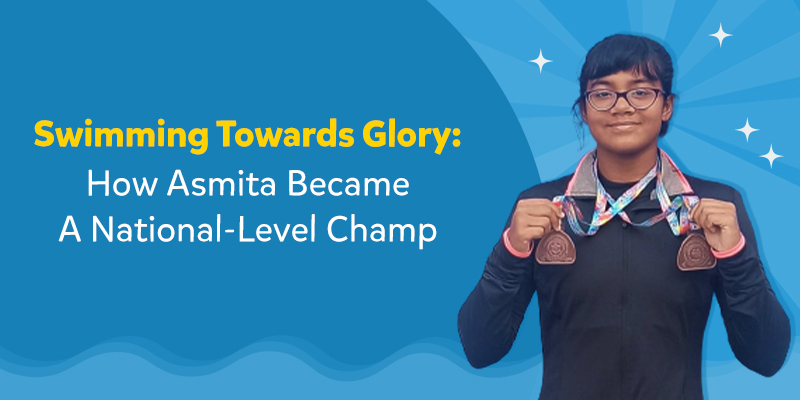 Asmita Karmakar, a Class 11 student from Kolkata, began swimming when she was just six years old. "I used to live in the US earlier and that's where I first learned how to swim. When my family and I moved back to Kolkata, in 2012, I started swimming for around one to two hours a day, for maybe five days a week. It was just a casual way of keeping up my physical health. In the beginning, I did not like it and cried all the time when I waded into the water. But it eventually got better and became a hobby as I grew up," the 16-year-old shares.
One of Asmita's earliest swimming memories was when she was around the age of six. "Whenever I used to go to practice, I used to hate going into the water and cry constantly. And my parents would have to sit in the stands on the opposite side of the pool and constantly show me a thumbs up as a sign that I was doing well. That was the only reason I would actually continue learning how to swim," she recalls.
From crying incessantly when younger to now going on to win over seven gold, 10 silver and 15 bronze medals, swimming has become an inseparable part of Asmita's life now. "At this point of time, I am in love with swimming right now and I can't imagine my life without it. It is what I would call my safe space. I can go and swim anytime in the morning or evening and it helps me to escape the stress of academic pressure," she says.
Swimming away to glory
Asmita began swimming professionally when she was 10. "It was one of my senior coaches who referred me to a bigger club, which would, according to them, improve my overall ability underwater and help me succeed professionally." Her most recent achievement was winning a bronze medal in the senior nationals in Bangalore last October.
Asmita now practises swimming twice a day for at least six days of the week. This is followed by regular on-ground exercises and gym sessions. This, coupled with focused energy at practice helps Asmita concentrate better in her studies.
"Swimming definitely keeps me healthy and makes me stronger. Apart from that, mentally, it helps me get rid of my negative thoughts, relieve external pressure and get my mind off things while I completely concentrate on my studies," she adds.
However, taking it up as a career is still an undecided scenario for her. "Swimming is an escape from reality for me. It's a place for me to be myself, and thus I do not wish to take it up as a career option as long as my financial situation depends on it," she says.
Sky's the limit with BYJU'S
Asmita's main aim is to become a surgeon when she grows up. For her dream of becoming a doctor, the 16-year-old is leaving no stone unturned, as she has BYJU'S as her constant learning companion.

With the app, Asmita found out that she can easily study at her own convenient time as she is mostly busy with swimming practice. "I compete in around five national championships a year so it becomes unbelievably hard sometimes to manage school and swimming. I couldn't attend regular school classes at various points and that's when the BYJU'S app helped me catch up on topics. I can carry my tablet anywhere and learn on-the-go," she says, adding, "The videos really helped me study at my pace, and helped me understand the concepts better. I am actually studying for NEET and JEE right now. With the online classes, I can actually adjust my time schedule a bit so I can attend those right after my swimming practice."
Team Storyweavers wishes Asmita all the best for her future endeavours.
Want to read more such inspiring stories? Then check these out on the BYJU'S blog:
"If You Study With BYJU'S, Success Will Automatically Follow": Rushi Parmar