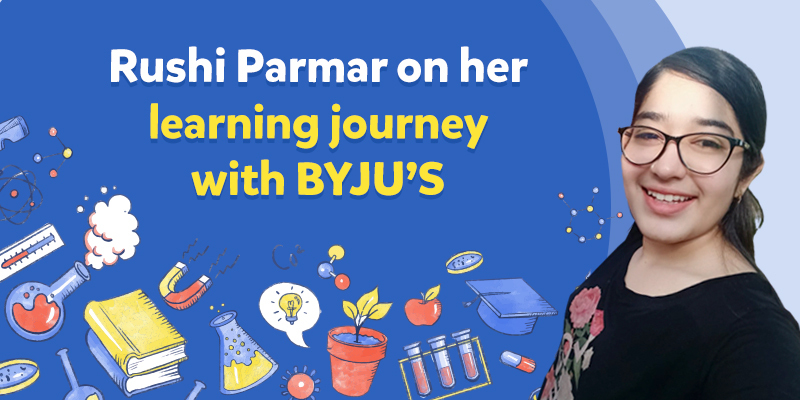 Five years ago, when internet connections were just being set up in Keshod, a small town in the city of Gujarat, Rushi Parmar came across the name BYJU'S. Nobody in her neighbourhood knew about the company or the app then, and there weren't many ads to create enough awareness in the far reaches of the country.
"I searched on Google and found out that it is a learning app. I still remember when I started watching their free videos. Magnetism was the first-ever chapter I studied on the app. The teachers used real-life examples to explain the concept. That's when I told my father to check this app out. We didn't know then that one could purchase courses and other material on the app," she recalls.
Soon after, her parents spoke to the executives at BYJU'S and decided they would get it for Rushi.
The journey that was
Rushi was in Class 6 when she attended her first BYJU'S class. Currently she is in Class 11, preparing for the NEET examination, and continues to be a BYJU'S student.
The learning app has been a complete game-changer for Rushi. "When I first subscribed to the app it was a turning point in my life. I was always a topper in class but I was never satisfied with just that. What mattered to me the most then was just scoring high marks. I did not stop and think about whether I was gaining knowledge or not. I was just memorising my lessons to score top marks in class, admits Rushi.
"However, since BYJU'S came into my life, I saw learning from a completely different perspective," she shares, adding, "I did not understand a lot of things when taught in school and always felt the need for proper guidance and hand-holding to comprehend certain subjects and concepts better. BYJU'S showed me the meaning of true learning and why curiosity is the key. With BYJU'S, I began to acquire knowledge and not just score good marks. I also understand how this knowledge can be applied in real life experiences," the 17-year-old shares.
Rushi purchased the app in September 2016.

The quality of teachers and faculty that BYJU'S provides is unparalleled, exclaims Rushi. "I have not come across anything better than what I have experienced so far in the app during my five-year-long journey with BYJU'S. I have joined several other coaching centres but the way BYJU'S teaches its students helps us immensely with understanding core concepts and hence strengthening our base understanding. They teach with such passion that listening to the video lectures and classes on the app encourages and motivates students to learn and have fun while at it. When I see them teach, I get inspired everyday and strive to do better," she says.
BYJU'S: A friend, guide and confidant
Rushi tells us that the learning app has only evolved to become better and cater to everything a child needs throughout their formative years and beyond. "The interface has changed drastically. There's so much more that kids can do these days on the app. Five years ago, we only had video lectures and used to solve question papers. Now we have personalised journeys, instant doubt resolution, unlimited practice tests, one-on-one mentor support and so much more," adds the dedicated BYJU'S student.
When we spoke to Rushi five years ago, during her initial days, she had expressed her dream to become a doctor when she grows up. And that hasn't changed even now. She is still determined to become a doctor. "I love the Biology lectures on the app. With the video content available readily, I can remember all of it like a movie in my head. I solve a lot of worksheets and that helps me revise my lessons," she shares. Rushi and her parents have also taken up the app for her younger brother, who is in Class 4 now.
Team Storyweavers wishes Rushi all the best for her journey in becoming a successful doctor.
Did you enjoy reading her story? Then check out other exciting student stories on our blog.
Rushi Parmar, building on her dreams to become a doctor with BYJU'S
Here's how BYJU'S Student Mrinank Bhattacharjee Juggled Studies and Hobbies To Become an Olympiad Champ
Here's How Avantika Kampani's Seekh Is Revolutionising Learning