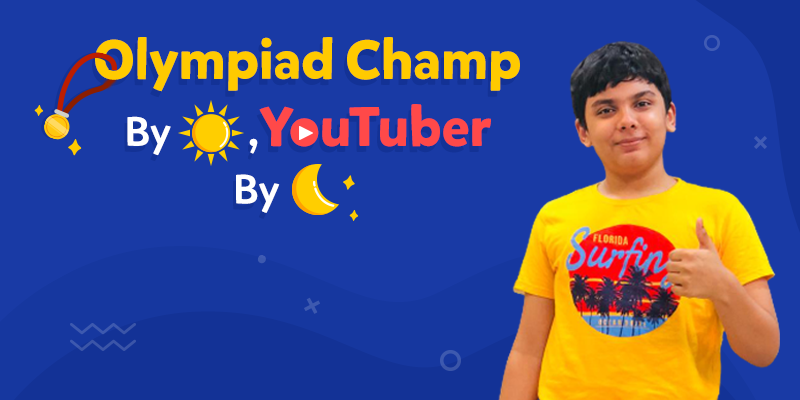 Mrinank Bhattacharjee, a Class 8 student from Mumbai, is not your regular 13-year-old. He is an Olympiad champ by day and a YouTuber by night. Mrinank won the International Science Olympiad in January 2021 and secured first place from his school. He also stood second in the English Olympiad from his school this year.
Mrinank runs his own YouTube channel along with his younger brother Dheer Bhattacharjee, who is eight-year-old. "I have always liked watching different types of videos on YouTube. I decided one day that I would start a YouTube channel of my own, so I began learning how to edit videos. I experimented with a lot of video editing apps, what different buttons and actions could do and also watched other editing content on YouTube to learn more," he shares. Mrinank's YT channel is called Dark Panthers and he posts funny, interactive videos on it almost regularly. "We post all kinds of stuff starting from travel vlogs, gaming to videos on baking, cooking, crafts and whatever we do in our daily lives," adds Mrinank.
The Olympiad experience
When we asked Mrinank about the Olympiads, he couldn't contain his excitement. "I love the Olympiads," says the chirpy 13-year-old. And it's not just Science or English; he often participates in Mathematics too, which are all held both at the national as well as international level. Olympiads may sound like a daunting and terrifying task for a lot of kids out there, but for Mrinank it's a great way to instil confidence in students. "Olympiads are not just about winning or having a desire to prove your worth. Instead, they act as a great way to inculcate critical and deep thinking, especially in subjects like Science, Mathematics and English," he adds.
The International Science Olympiad (ISO) exam is a global Olympiad competition where students from different schools across countries can take part. It gives budding talent a platform to test their skill sets. Indian Talent Olympiad (ITO) conducts the Science Olympiad every year. The ITO team conducting Olympiad exams comprises professionals from various science fields who understand the exact requirements of students. The test questions are mainly based on applied science. It aims to uplift the existing knowledge of students on different topics of physics, chemistry, and biology and the exam has two levels. The International English Olympiad too is conducted by the same body and it tests a student's knowledge of grammar, prose, poetry and more. The two-level exam is open for students from Classes 1 to 10 and consists of only multiple-choice questions.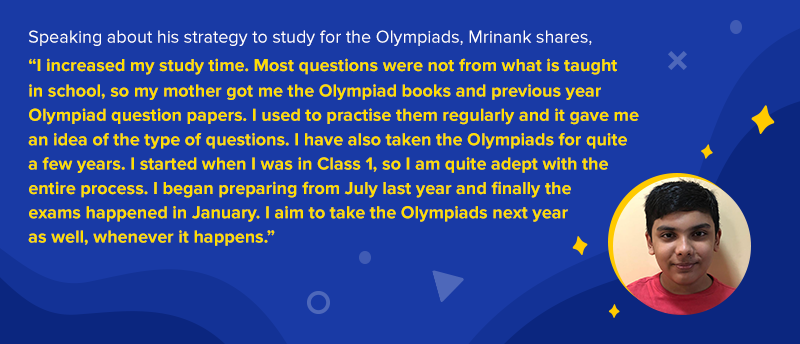 BYJU'S be the best
While he prepared for the Olympiads, BYJU'S has been Mrinank's constant companion. "BYJU'S helped with my Olympiad preparation as the lectures and videos on the app also teach us concepts, topics that aren't always taught in school. This gives me an edge over other students and helps me to stay ahead every single time," he says.
Mrinank started taking BYJU'S classes in 2020. "BYJU'S classes simplify all the topics that I learn at school, and help me to understand them better. My favourite subjects are Physics and Chemistry and the way in which all the experiments, laws are explained with the help of videos and 3D visualisations of concepts, it makes them more interesting. As I continue watching them, I get more intrigued to learn what is ahead. The app has also helped me and my younger brother make learning absolutely stress-free. We both save a lot of time understanding the concepts and we learn smart," he adds.
Mrinank wants to become an engineer when he grows up. Apart from being an Olympiad champ, he has also begun taking coding classes at WhiteHat Jr.
Team Storyweavers wishes Mrinank all the best for his future endeavours. May he achieve everything that he wants in his life.
Want to read more such stories? Visit The Learning Tree blog: No Internet, No Problem! How BYJU'S and an Undeterring Spirit Helped Reshma Score 100% in Her Boards
BYJU'S And NCERT Textbooks Helped This 16-Year-Old Score 99.6% In His Board Exams