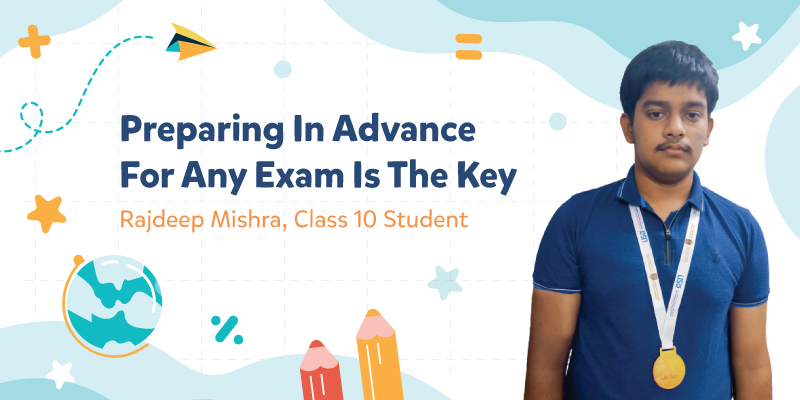 Rajdeep Mishra, a Class 10 student from Odisha, was among the six students who represented India at the 18th International Junior Science Olympiad (IJSO) and went on to win the gold medal. Held online last year, from December 12 to December 21, the Dubai event is one that he did not expect to win at all!
"I did not take the Olympiad exam thinking I would win. When the time came, I gave the exam and I was also not quite confident that I would make it into the final team. But when I did, I was extremely happy that I got to represent my country," shares the elated student.
Go for gold
The International Junior Science Olympiad is a competition in Science for students who are fifteen years or younger. It is typically held in December every year and is considered one of the most difficult and prestigious exams. The Olympiad aims to promote interest in science among school students, exposing them to problem solving, critical thinking and experimentation. IJSO aims to test both theoretical and practical abilities of students participating. Their exams are designed to address students' understanding of concepts, and their ability to apply concepts to the real-life situations described in the exams.
Currently, around 50 member countries participate every year in the competition. Some of them include Australia, Bangladesh, Brazil, Denmark, Egypt, Germany, Indonesia and more. Students from various countries take part as teams in five stages — Stage I: National Standard Examination in Junior Science (NSEJS), Stage II: Indian National Junior Science Olympiad (INJSO), Stage III: Orientation cum Selection Camp (OCSC) in Junior Science, Stage IV: Pre-departure Training Camp (PDT) for IJSO, Stage V: Participation in International Junior Science Olympiad (IJSO). A normal team consists of six students and three leaders. "Out of a total of 300 students, I reached the top 35, along with the other five of us who represented India, and we all won gold medals," says Rajdeep.
Elaborating more on what the exam is all about, he adds, "It usually consists of questions from Physics, Chemistry, and Biology that we have learnt until Class 10. However, this is not always the case as questions from higher levels can be included, such as Class 11. So, for that reason, I studied some advanced topics. When I was in Class 9, I began studying topics from the Class 10 syllabus. Similarly, I was already reading Class 11 material while in Class 10."
A friend in BYJU'S
While Rajdeep prepared for the Olympiad, BYJU'S has been his constant companion. "Apart from my regular school work, I spent two to three hours preparing for the Olympiad. I also took some IJSO-related coaching. BYJU'S enabled me to gain an advantage over my peers by reading advanced topics. It helps me to understand well, because the whole process is animated and explained through diagrams. So once we understand something that's shown visually, I think we are able to retain it much better. I also solved previous year question papers from 2012 onwards," the 15-year-old tells us.
According to him, the main advantage of BYJU'S classes is that it makes students understand concepts through videos and animation. "It kind of gets imprinted so whenever I think about the topics I get reminded about those images and that's how I am able to retain it. I also took the mock tests for my term one board exams and that has helped me to understand where I stand and what else I have to study to do better," he adds.
Juggling board exams and Olympiad
Rajdeep shares that he wasn't quite worried about boards because he had started preparing for it beforehand. "Before going for the final round at the Olympiad, I had prepared for the term one exam. Currently, I am preparing for the term two exam, which is in two months and I am quite confident that it will be fine," he assures.
Rajdeep has also taken the Olympiads conducted by the Science Olympiad Foundation every year, when he was younger. He used to fare in the top 10 or top five students in those exams as well. Apart from cracking all kinds of Olympiads and studying for his boards, Rajdeep also likes to play the keyboard, spend time listening to music and playing chess.
Team Storyweavers wishes Rajdeep all the best for his future endeavours.
Enjoyed reading this? Check out more such inspiring stories on the BYJU'S blog:
How BYJU'S is Helping This Swimming Champ Achieve Her Dream Of Becoming A Surgeon
"If You Study With BYJU'S, Success Will Automatically Follow": Rushi Parmar