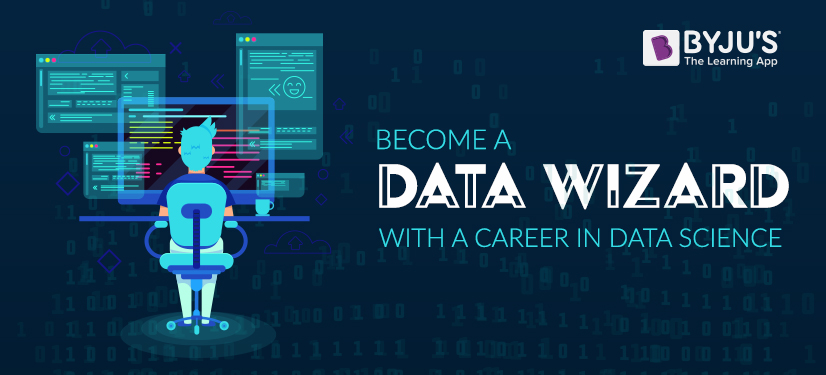 You will all agree that our dependency on technology, especially apps, has increased substantially. From shopping, planning tasks to learning something new, it can all be done via a screen today. But did you know that no platform would ever be effective in solving our problem if it wasn't for the people actually analyzing heaps of data generated at the back-end? For example, you need to get to school on time and you enter your destination on Google Maps,it would readily show you an estimated time of arrival via a certain route. How do you think that happens? This is based on data gathered from all the other people on the same route who are using the app, analyzed and curated by a team of people who specialise in the field of data science.
These are the people who collect data, analyse it, gather information and use algorithms and technology to solve analytically complex problems – forming the backbone of businesses and products today. To make sense of this data and create solutions  they make use of technologies like machine learning, artificial intelligence as well as mathematical principles.
On a lighter note, entering the field of data science is almost like being a detective. You will be given multiple cases to work with, each of which is a new field, understand how it works, acquire data and then work with it.
Are you feeling a little muddled about what it really is? Here are some simple applications of data science for you to get a better understanding:
Search engines like Google, Yahoo etc. make use of data science to deliver the best results for search queries in a fraction of a second. So, when you search for things like:

movie with funny snowman sisters

, the search engine is able to predict that the movie in your head is Frozen and leads you to the answer despite there being a gazillion other results on the internet.
Did you recently do some research on the latest John Green book? Social media platforms like Facebook will show you ads about John Green books, Top 20 YA novels of 2018 etc… They use your interactions to give more targeted ads to you.
An intense game of Mario Kart leaves us  all with the big question: How to pick the best kart- Yoshi, Bowser or  any of the other speedsters. Data science holds the answer to this problem and has changed the entire gaming industry. From picking characters or different pathways to crossing levels, everything is data-driven now and makes you feel as if the game has been made for you. Thanks to data science we can now have the best gaming experience for some of our favorite games – from Assassin's Creed to Candy Crush.
Data Science is an emerging and fast growing career choice
As you can see, data science is used EVERYWHERE and it is projected to grow by 28% by the year 2020, according to a report by IBM. In its 2018 U.S Emerging Jobs report, LinkedIn ranked Machine Learning Engineers and Data Scientists  among the top emerging jobs.
Data is everywhere now, and as per a Forbes report , by 2020, about 1.7 Mb of data will be produced every second by each person on Earth.With such a huge surge of opportunities, data science definitely seems to be the future and the only question that remains is – Are you ready?
Get started on a career in data science
This is a field which requires you to dabble in quite a number of disciplines and demands a wide range of skills- Mathematics, Statistics and Computer Science along with knowledge about the product or business you are dealing with.
Graduation courses: Mathematics, Statistics, Economics, Engineering, Computer Science, etc. can help you create a strong foundation.
Top UG Institutes:
Indian Statistical Institute

Delhi University

Indian Institute of Technology

Indian Institute of Science Education and Research
Post graduation courses:Business analytics, big data, data science, or subject specific courses like Mathematics, Statistics, Computer Science, etc.
Top PG Institutes:
Tier 1 colleges:
Indian School of Business

Indian Institute of Management

Indian Institute of Technology
Tier 2 colleges:
S.P Jain School of Global Management

Aegis School of Business

Great Lakes Institute of Management
According to the LinkedIn 2018 Emerging Jobs Report, the top skills required in this field are: Data Science, Data Mining, Data Analysis, Python and Machine Learning
One special course we came across is  a 11 month online PG course co-developed by IIT Bombay and UpGrad as a postgraduate program in Data Sciences. There are a lot of other opportunities  like this one where you can do online courses on data science.
How to stand out from the rest in this field? Build a strong foundation in Mathematics, Statistics and Programming. Don't forget to brush up your organisational skills!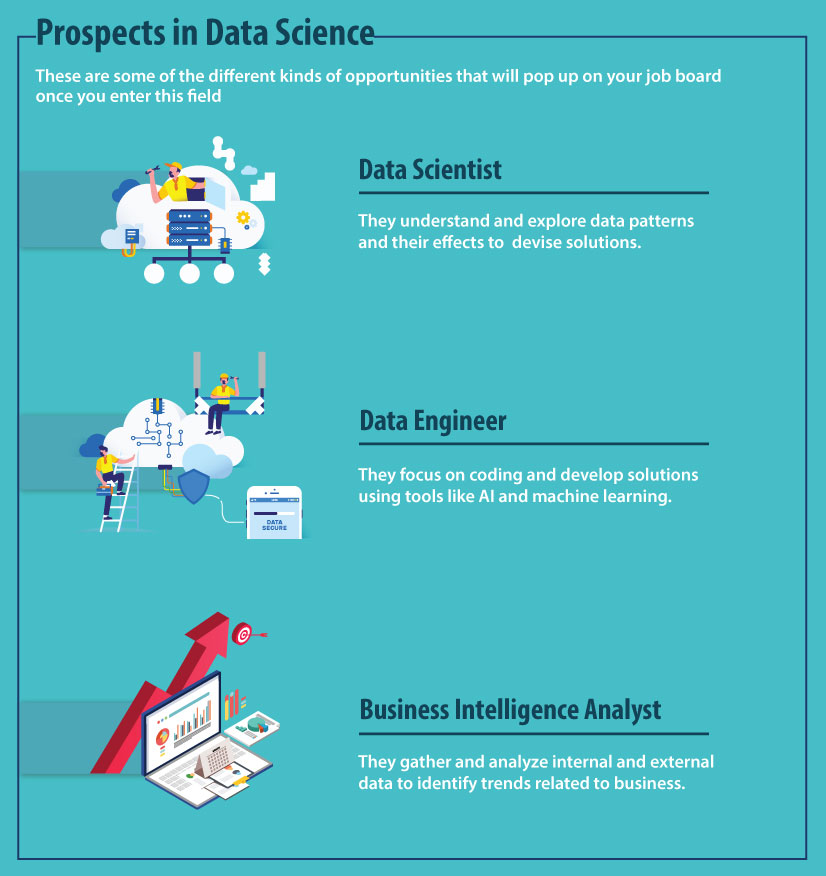 There are a multitude of roles which are open to you in this field. But, essentially it is all about discovery, insight, and innovation. You will be donning the role of a lifelong scientist and changing the world in amazing ways! Is this something that excites you? Then jump on board and start preparing for a career in data science.
Pro Tip: The first step towards this dream job is performing well in your 12th Board Exams. BYJU'S-The Learning App has programs designed to prepare you for your boards as well as competitive exams like NEET and JEE. With adaptive and engaging videos, sample test papers for each concept and personalised feedback, BYJU'S' visual learning methods will give you the necessary boost to do your best.
Give wings to your dreams with BYJU'S The Learning App!
Now, you can get a free counselling session with BYJU'S experts at your home to help guide you better.
Click here to book now